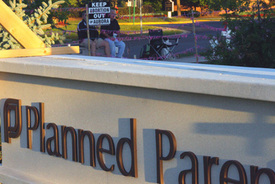 AURORA, Ill. — This large Chicago suburb is at the forefront of the latest round of reproductive health battles as the religious right attempts to undermine the opening of a new Planned Parenthood clinic. The clinic will provide sorely needed health services, including abortion and birth control, to the suburban population.
Pro-Life Action League, a leading opponent of a woman's right to choose, is mobilizing nationally to prevent the health center from opening. Other anti-abortion groups like STOPP International, Ohio Right to Life and a handful of local churches have mobilized as well, hosting prayer vigils, demonstrations and a round-the-clock picket of the facility. Abortion opponents have also filed complaints with the city of Aurora over Planned Parenthood's alleged fraud in zoning and building the facility.
One anti-abortion demonstrator claimed that dozens of people show up every night for the prayer vigils. When asked about his reasons for opposing the clinic, he said "They make $450 million. It's for profit," and "I wish we all could sit down and listen to the screams of the 49 million babies [who have been aborted]."
Questioned about the demonstrations themselves, he told of the large coalition of anti-abortion forces, including "all denominations — Catholics, Protestants, Jews" and complained about heavy media bias in favor of abortion rights.
A steady stream of people arrived to pick up Planned Parenthood yard signs and sign up to volunteer at the clinic.
Steve Trombley, CEO of Chicago Area Planned Parenthood, told a local paper that Planned Parenthood had followed all legal and public discourse requirements when planning the clinic. He also cited safety and privacy issues as to why a subsidiary of Planned Parenthood, called Gemini, was used to develop the property.
The site was already zoned for medical use, and to secure state bond funding, multiple public hearings had to be held. In a full-page ad in another local paper, he stated, "The corporation we established as the development entity for this center [Gemini] is listed in public records as being affiliated with Planned Parenthood/Chicago Area."
More than 100 protesters wearing "I support Planned Parenthood" T-shirts picketed outside Aurora's City Hall for the Sept. 11 city council meeting. City officials announced they had revoked a temporary occupancy permit issued on Aug. 16 that would allow the clinic to open on time. They also announced that an independent lawyer would review the legality of the Planned Parenthood's permit process.
In response, Planned Parenthood filed for an injunction in a federal district court asking that the court bar the city from preventing the clinic from opening. The filing claims, "Aurora's actions … are not related to any legitimate municipal concern, but instead are motivated solely by political opposition to the fact that Planned Parenthood provides abortion services." The judge denied the city's motion to dismiss and a further court proceeding will take place Sept. 20.
Once open, the state-of-the-art facility will serve thousands of patients monthly, many for free. The center will provide contraceptives, adoption referrals, gynecological services, including breast exams and pap tests, STD testing, and many other sexual health-related services to thousands of people every month.