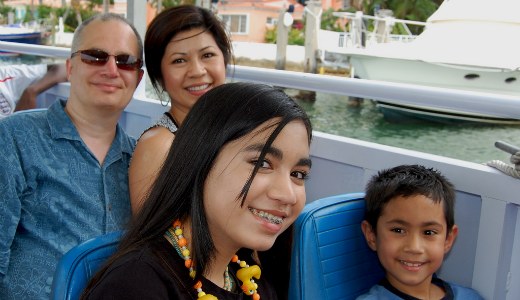 MIAMI – Bills that would criminalize undocumented immigrants might make good politics, especially for Republicans supported by the tea party movement, but they would cripple the state's economy, say immigrant and civil rights organizations.
Both chambers of the Florida legislature are considering bills opponents call "anti-immigrant." The House version is essentially a copy of Arizona's notorious SB 1070, which spurred national outrage and a federal court injunction.
The Florida House bill, HB 7089, introduced by State Rep. William Snyder, R-Stuart, would criminalize undocumented workers and impose 20 days in jail for those who have no identification. It would also mandate that employers use the flawed "E-Verify" system and that government bodies give any information they obtain over to the Immigration and Customs Enforcement agency.
The Senate version, SB 2040, likely to be voted on today, is significantly watered down, but, immigrant rights advocates say, it is still draconian enough to merit possible boycotts. Republican Gov. Scott Walker has vowed to sign any anti-immigration bill that comes across his desk.
"Obviously, there are distinctions, but these are distinctions without significant difference," Wade Henderson, executive director of the Leadership Conference on Civil and Human rights, said in a conference call this morning. "This is a bill that is still being shaped … largely to chart a narrow path that the federal courts will not find unconstitutional."
MoveOn Executive Director Justin Ruben said both versions of the bill pander "to fear and racism." He vowed, "If this bill becomes law, our members will take their tourism dollars elsewhere."
And tourism is big business in Florida. According to the state's statistics, 82.6 million people traveled here in 2010, and spend about $60 billion annually. Much of the coastal area sees an influx of young people during spring break every year. Obviously, the economic benefits for the state are enormous: Tourism provides more than 1 million jobs, and nearly a quarter of the state's sales tax revenue (there is no income tax).
Any decline in tourists would harm all Floridians. The immigrant and civil rights activists who hosted this morning's call say proponents of the anti-immigrant bill have thrown caution to the wind. If the bill is passed, the state can expect boycotts and, even without that level of organization, there would be a natural decline in the number of Latin American tourists, who make up a huge percentage of visitors, from both other states and from other countries.
"Florida is the gathering place for many of our students, where they go to have spring breaks, relax," said Carlos Saavedra, national coordinator of United We Dream. "It's going to be very hard to go to Florida if officials pass this [bill] … very hard to go to the beach, have fun, just because they're looking for our papers, looking a little too tan."
Thousands have already signed on at iwontvisitflorida.com vowing not to come to the state if the bill becomes law.
"Florida legislators are staring down a failed path," Janet Marguía, executive director and CEO of the National Council of La Raza, said, warning Florida to beware of becoming a "pariah" like Arizona.
"What has Arizona gained from pushing this extremist approach? Not a solution, but significant losses," Murguía said. "On tourism alone, Arizona has already lost $492 million, and a projected cost of $262 million in future convention booking. … Arizonans are paying dearly."
The outpouring of antipathy towards Arizona as a result of its SB 1040 has influenced public opinion in the state to such an extent that a second round of anti-immigrant bills failed there.
"Even Arizona doesn't want to be the next Arizona," Marguía said.
In addition to the loss of tourism money, Henderson said, Florida could expect to see millions of dollars spent on increased law enforcement and on civil rights lawsuits.
The various activists argued that the bills would do nothing to actually help Florida's ailing economy, and that the issue of fixing the nation's "broken immigration system" couldn't be solved by a patchwork of state laws, but by concerted, bipartisan efforts at the national level.
"The country as a whole must tackle the issue of illegal immigration and deal with this issue by enacting uniform, comprehensive and common-sense legislation," the state's Hispanic legislative caucus said separately through a statement, adding that the could not support the current bills.
The rights leaders did not say definitively that they would call a boycott if the law is passed. After all, they noted, the Senate bill was changed as early as this morning, and it is necessary to wait and see what actually is passed in the legislature.
Image: Visitors from around the world spend their vacations in Florida. Photo by David D'Agostino // CC BY-NC-SA 2.0