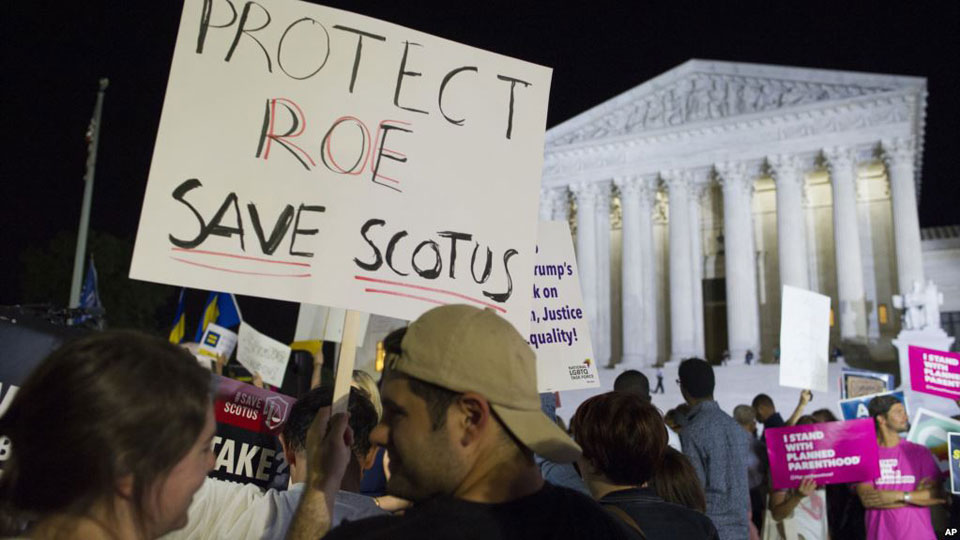 WASHINGTON—Sophia Marjanovic already knows something about unequal justice for women, minorities and people of color. And she declares Brett Kavanaugh would only make things worse.
And that's what brought her – and several hundred more people – to the U.S. Capitol lawn late in the afternoon on Sept. 4 to send U.S. senators a clear message: Don't put Kavanaugh, GOP President Donald Trump's pick for a vacant seat, on the U.S. Supreme Court.
"This won't be justice," says Marjanovic, who, belying her name, is a Lakota Sioux from the Fort Peck reservation in Montana. "We already know the Supreme Court is far to the right. Kavanaugh would push it further," she told People's World.
That threat to indigenous people – the subject of her handmade sign – women, minorities, undocumented people, workers' rights, civil rights, and freedom of reproductive choice plus unwarranted expansion of presidential power, led to the first of days of protests inside and outside the Senate Judiciary Committee hearings on Kavanaugh's nomination.
The hearings are scheduled to run through Sept. 7 and may extend into the weekend beyond. So, for now, are the protests against what opinion polls show to be the most unpopular U.S. Supreme Court nominee in history.
Trump named Kavanaugh to replace retired Justice Anthony Kennedy. If confirmed, Kavanaugh, now a 12-year federal appellate judge but before that, a GOP political hack in the Bush White House and during the infamous 2000 Florida recount, would create a hard-right 5-man GOP-named majority on the nation's top judicial tribunal.
And Trump himself is part of the problem, with speakers at the protest repeatedly declaring that no defendant in a criminal case gets to name his or her own judge – but that's what Trump, "an unindicted co-conspirator, in the words of his own lawyer to a federal judge," said speaker Neera Tamden – would be doing if he put Kavanaugh on the court.
But the prime object of the protests, in and out of the committee hearing room, was reproductive rights. Spectators at the opening Sept. 4 session repeatedly tried to make that point and were repeatedly hauled away by U.S. Capitol police. Some 70 were arrested.
"He (Kavanaugh) was selected because he'll oppose Roe v Wade and we all know that," Becky Galler of Evanston, Ill., said. "He's undermining the Affordable Care Act and he's a threat to our health care, especially to those of us with pre-existing conditions," added her friend, Holly Fingerie of Olympia Fields, Ill. She and her husband are cancer survivors.
"But he's also a threat to common sense, to gay rights, to civil rights and to worker rights," she added. "And what's the rush?" in naming him to the court before senators have the opportunity to inspect all Kavanaugh's writings, she asked. "Why not wait until we can see his full record?"
"And give" special counsel Robert "Mueller some time to finish his investigation" of Russian pro-Trump disruption of the 2016 presidential election – and Trump campaign cooperation with it –  Fingerie added. Trump named Kavanaugh "because he (Kavanaugh) is against a president being indicted," Galler chimed in.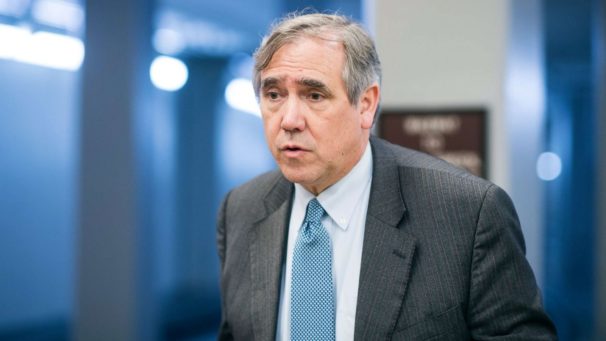 "There are so many reasons to say 'no,'" Sen. Jeff Merkley, D-Ore., told the crowd. "Start with the fact the president is an unindicted co-conspirator" in campaign finance violations. "Shouldn't we let the investigation be completely done?"
Democratic senators, inside and outside the Judiciary Committee, made the same point. The White House and the Bush Library dumped 140,000 pages of Kavanaugh records on the committee just hours before the hearing started, but there are still millions to go.
Kavanaugh "has this vision of an imperial presidency," Merkley continued. The president "shouldn't be indicted, he shouldn't be investigated, and if the court orders something and he doesn't like it, he shouldn't have to follow it."
Committee Democrats, led by Sen. Richard Blumenthal, D-Conn., tried to get the panel to adjourn or postpone the hearings as a result. Amid tumult in the hearing room, committee Chairman Charles Grassley, R-Iowa, gaveled the Democratic senators down and ruled them out of order. Protests continued.
Protest leaders, as might be expected, predicted victory in the anti-Kavanaugh fight. "Sept. 4, 2018, will be remembered as the day we turned the tide in this country back towards democracy and back towards rights for every woman," declared Ilyse Hogue, president of NARAL Pro-Choice America, which organized the evening rally.
"You could see the Republicans were getting frustrated and Grassley was getting disgruntled," she said.
Senatorial mathematics may be against that statement, though. The GOP has 51 senators out of 100,  to 47 Democrats and two Democratic-leaning independents. Unless two of the Republicans defect and all of the Dems and independents vote "no," Kavanaugh wins.
And Democrats Claire McCaskill of Missouri, Heidi Heitkamp of North Dakota, Joe Manchin of West Virginia and Joe Donnelly of Indiana are all seeking re-election this fall in states Trump won easily in 2016, so they're whipsawed.
So are two pro-choice GOP female senators, Lisa Murkowski of Alaska and Susan Collins of Maine. And 10 Alaskans traveled to D.C. to rally against Kavanaugh and lobby Murkowski. One reported to the crowd that she listened with an open mind.
"She was willing to sit with us and hear our concerns. I'm convinced she's thinking very hard about the issues, especially health care," Alaskan Jeff King told the crowd. A registered Democrat and one of tens of thousands who crossed party lines to write in Murkowski's name for the 2010 general election after a Tea Partyite beat her in the GOP primary, King praised his senator as "conservative, but independent."
The demonstrations against Kavanaugh, inside and outside the Judiciary Committee, will continue throughout the week.