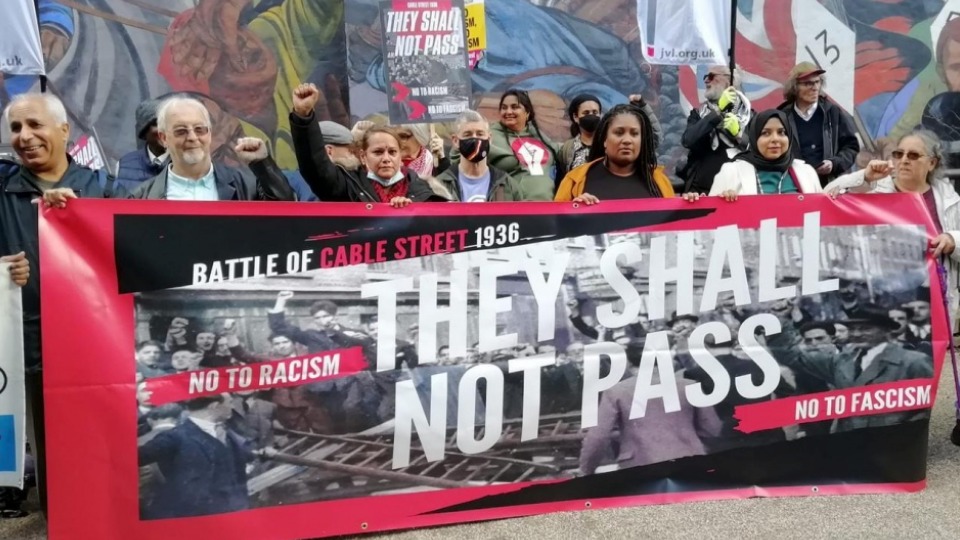 LONDON—Anti-racists took to the streets of London's East End Sunday to celebrate 85 years since the historic victory over fascism in the 1936 Battle of Cable Street.
Former British Labour Party leader Jeremy Corbyn was joined by trade unionists and campaign groups to mark Oct. 4, 1936, the date when an estimated 250,000 people stood up to Oswald Mosley's British Union of Fascists.
Mosley's Blackshirts had planned to march through a predominantly Jewish area of Tower Hamlets, but trade unionists, Communists, anarchists, the British Jewish community, Irish dockworkers, socialist groups, and other anti-fascists united to stop them.
They used trams, buses, and other materials to create improvised barricades while steadfastly resisting police attempts to force a way through for Moseley and his Blackshirts. The event became a seminal moment in the pre-war fight to defeat Hitler and Mussolini's supporters in Britain.
The anti-fascists' slogan, taken from the Spanish Civil War which had just started, was "No Pasaran"—They Shall Not Pass. It was displayed during the event, convened by the Communist Party of Britain's General Secretary Robert Griffiths.
Close to a permanent street mural on the gable end of the former town hall in Cable Street, Corbyn told the crowds that, despite Mosley's attempt to use anti-Semitism to divide the working class, something "totally remarkable" happened on that day in 1936.
"The Jewish community and the Irish community came together to say: They shall not pass."
Labour MP for Poplar and Limehouse Apsana Begum said the fightback was an "incredible triumph of humanity, a victory of people's power," before warning that anti-Semitism and hate speech are on the rise again in Britain and around the world.
The Rail, Maritime, and Transport Workers' Alex Gordon said the workers of his union were proud to be associated with the commemoration. He added: "We intend to be here in 15 years' time to celebrate the centenary and maintain the tradition of industrial trade unionism standing alongside anti-racists [and] anti-fascists in the community, making sure that the growth of the far right is stopped where we work and stopped where we live."
Author and poet Michael Rosen addressed the memory of his parents, who both fought at Cable Street, by quoting from one of his previous works:
"You both saw Hitler in the Pathe news, you both saw Hitler blaming the Jews, you both collected for Spain when Franco came, when round the tenements the whisper came, Mosley wants to march."