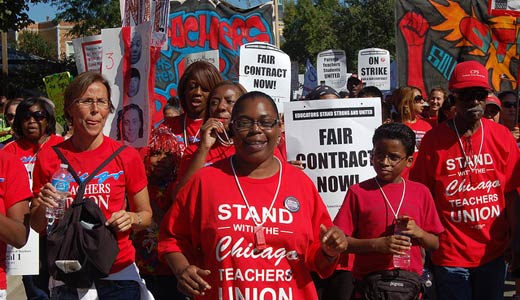 "Won't Back Down," the Hollywood movie portraying teachers unions as pretty much the devil, has set the record for the worst opening since 1982 for films appearing in more than 2,500 theaters. For this dubious distinction it beat out a list of amazingly forgettable titles like "Punisher: War Zone" and "Josie and the Pussycats."
The film, pushed hard by anti-union advocate Michelle Rhee and her StudentsFirst group, opened Sept. 28 to poor reviews nationally. It got a low 33 percent approval rating on film site Rotten Tomatoes' survey of movie critics and an even worse 18 percent rating from the site's designated "top critics."
Kenneth Turan at the LA Times called the film "so shamelessly manipulative and hopelessly bogus it will make you bite your tongue in regret and despair."
Mary Pols at Time Magazine said "Won't Back Down" is a "cheesy, wholly manipulative" film that presents the local teachers union as the devil. "Teachers unions are by no means perfect, but Won't Back Down turns them into public school enemy number one," Pols wrote.
The New York Times' A. O. Scott, noting that, "pious expressions of concern for 'the children' are usually evidence of a political agenda in overdrive," wrote that "Won't Back Down" is "an especially blatant example of this rule." The movie's "Manichaean core," he said, is this: "Once teachers give up job security and guaranteed benefits, learning disabilities will be cured, pencils will stop breaking and the gray skies of Pittsburgh will glow with sunshine. Who could be against that?"
"'When did Norma Rae become a bad guy?' one of the union heavies asks, and it is a question that might well be directed at the filmmakers," wrote Scott.
And the Philadelphia Inquirer's Steven Rea called it "a kind of 'Norma Rae' for the Paul Ryan set."
The film has been strongly criticized by parent activists like Philadelphia's Helen Gym.
On the day of the movie's opening, Working America posted a list of "10 Reasons Not to See 'Won't Back Down'."
It noted that the film "promotes the 'parent trigger' law, an ALEC-created policy proposal that turns public schools into privately-run charter schools." ALEC is the far-right policy group that has promoted "Arizona's draconian immigration law, Pennsylvania's disenfranchising voter ID law, and Wisconsin's union-busting Act 10," Working Families noted. So-called parent trigger laws have only been used twice in real life, and both instances have created "legal and community disasters," as a Salon.com review pointed out.
In addition to Michelle Rhee's StudentsFirst, the film is being heavily promoted by right-wing groups including the Heritage Foundation, Freedom Works, and the Chamber of Commerce.
"Won't Back Down" was produced by Anschutz Film Group, a subsidiary of Walden Media, both subsidiaries of the Anschutz Company, whose chair and CEO is billionaire Philip Anschutz. Anschutz funds right-wing groups and ballot initiatives. According to a New Yorker profile, he is a frequent contributor to the anti-union National Right to Work Legal Defense Foundation, and is close to the far-right Koch brothers.
Earlier Hollywood movies about schools such as "Stand and Deliver" and "Mr. Holland's Opus" were successful, as was the legenday "Norma Rae" which celebrated unions. So these topics can't be the reason why "Won't Back Down" bombed, as some suggest. Those other films did not have a crude far-right, anti-union agenda, however.
Perhaps audiences have better judgment than Michelle Rhee and the trendy anti-teacher-union crowd.
Photo: Teresa Albano/PW