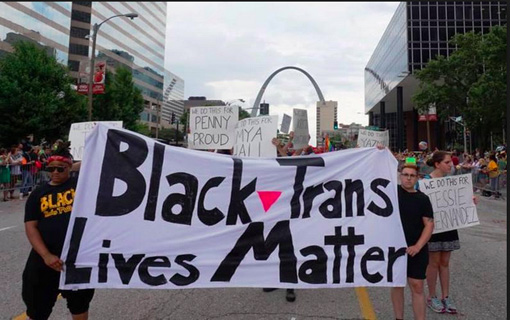 Last week, in the span of 24 hours, two transgender women of color were murdered.
On Oct. 6, as reported by The Guardian, Kiesha Jenkins, a 22-year-old transgender woman, was killed in Philadelphia. Jenkins was assaulted by a group of men when she got out of her vehicle. The men threw Jenkins to the ground, then fired two shots into her back. Just 24 hours later, in Detroit, a 30-year-old African American gay man known as Melvin was found shot dead. It was reported that he was clothed in women's apparel when his body was found.
Those two murders have brought the total of killings of gender non-conforming and transgendered people to a total of 21 this year alone. This number has already surpassed the total of 12 murders in 2014, as reported by the National Coalition of Anti-Violence Programs (NCAVP). It has been noted that these numbers also do not account for deaths that were never investigated or reported, nor individuals who were gendered incorrectly in death and never identified as transgender. Out of the 21 murders, 18, with the death of Jenkins, have been trans women of color. Of the killings in 2014 it was reported that all but one of the victimswere black or Latina. As reported in the International Business Times, nearly half of the 21 murders in 2015 have been linked to victims who engaged in sex work. All the murders in 2015 have also involved guns.
Although this year has garnered an increase in transgender visibility with transgender identifying celebrities such as Laverne Cox and Caitlyn Jenner, along with popular television shows Transparent and Sense8, the number of murders and violence against transgender people is on the rise. So much so that it has caused activists to declare a state of emergency for the transgender community. Months ago, activist and actress Laverne Cox gave an interview on Good Morning America where she explained, "We in the transgender community right now are reeling . . . Your life should not be in danger simply for being who you are. I think the reasons why trans women experience so much violence has to do with employment, housing, health care, etc., so we need to make sure that trans lives matter."
This sentiment was echoed last week by #BlackLivesMatter activist Elle Hearns in an interview with AlterNet. Hearns said, "Two more confirmed murders of black trans women should be a numbing sensation to the core of America's consciousness…. It should be a wakeup call that we as people are missing the mark. Black trans women should never have to live in fear that today will be their last day. It is a national emergency that we must pay attention to by taking action to support and sustain the lives of trans women who are under attack."
Tragedy post-mortem
The tragedy doesn't seem to stop with the death of the victims, but continues once justice is being sought. As reported by Think Progress, most of the killers in these cases have not been caught, often due to the misgendering of the victims because of law enforcement's reliance on legal documents. Some politicians have even stood in the way of justice, such as New Jersey Republican Governor Chris Christie, who recently vetoed a bill that would have removed the surgical requirement for updating birth certificates in his state. Christie reportedly laughed off the idea, and remarked that transgender people who hadn't undergone surgery were "beyond the pale," meaning they were outside the lines of acceptable behavior.This misgendering doesn't just stop at law enforcement but expands to media coverage as well. The media often reflect the incorrect police reports. This has caused activist organizations, such as GLAAD (formerly the Gay & Lesbian Alliance Against Defamation), to put out guidelines for journalists, hoping they will use all available information to properly identify the victims.
The NCAVP's research and education coordinator, Emily Waters, explained, "Transgender and gender nonconforming people – and especially transgender women of color – are disproportionately affected by severe violence and homicide." The NCAVP will be conducting an investigation on the weapons used in the violence against transgender victims. Along with this, a "U.S. Trans Survey" is being launched by a coalition of LGBT groups and researchers in order to better understand what life is like for those who are transgender in the United States. This comes years after the success of the 2011 National Transgender Discrimination Survey.
The crisis has grown to such a height that that presidential hopefuls, such as Hillary Clinton, are speaking on the issue. As reported by Buzzfeed, in a private meeting held last week with #BlackLivesMatter activists, one being transgender activist Cherno Biko, it was reported that Clinton remarked that the violence against trans women of color is a national crisis and that she hopes to help end it should she become president. The Ferguson Commission's Brittany Packnett was quoted when speaking on Clinton's words, saying, "She acknowledged that it's not her lived reality…. I don't think she offered yet a lot of specifics about how to protect the most vulnerable among us, especially trans women of color. But it seemed like she wanted to do more listening on the topic, which was encouraging."
As of October 2015 a majority of the 21 murders this year still go unsolved.
Photo: Chauncey K. Robinson/PW