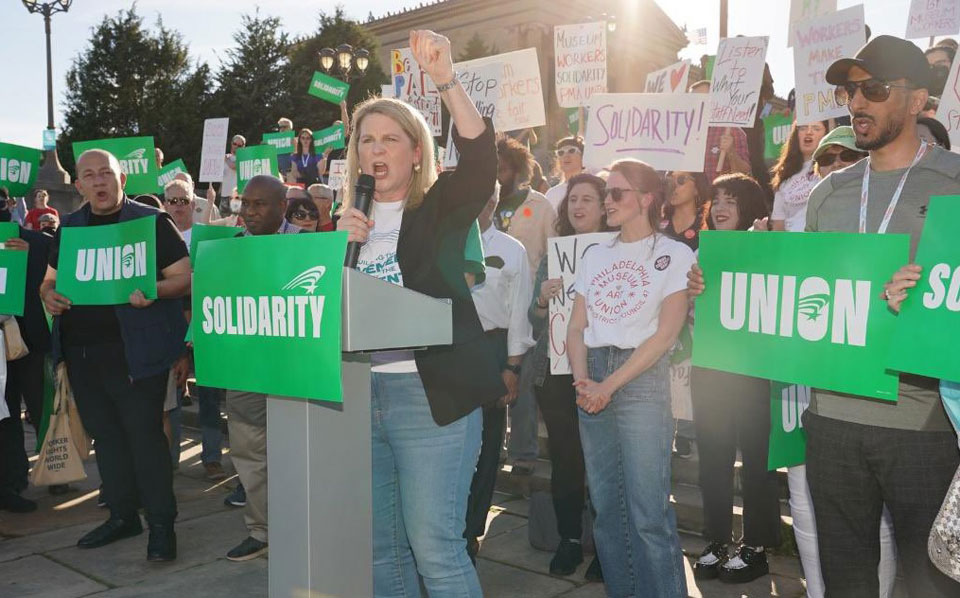 PHILADELPHIA (PAI)—Between the coronavirus pandemic and bosses' implacable opposition to recognizing and bargaining with the union their workers want, some of Adam Rizzo's colleagues at the Philadelphia Museum of Art haven't seen a regular weekly paycheck—or one above the level of fast-food workers—for three years.
And that combination, in the workers' fight for a fair first contract, brought Rizzo and his colleagues, members of AFSCME District Council 47, to the front steps of the classical structure just outside downtown Philadelphia to dramatize their cause.
Joined June 14 by union leaders and members from the nearby AFL-CIO Convention, the workers made the point that the museum, a non-profit institution, acts like typical corporate bosses in terms of respect, dignity, and decent pay on the job.
That includes firing 100 of the staffers a few months before the union won 89% of the ballots in the pre-pandemic recognition vote, Rizzo said in an interview during the protest. NLRB records the August 2020 vote as 181-22. There's been futile bargaining and no contract since.
"Workers across the country are fed up—and you have the might of 13.5 million workers beside you in this fight for a fair contract," declared AFL-CIO President Liz Shuler, one of several union presidents who spoke at the rally.
The remaining workers find the going hard. Rizzo explained that when the institution finally re-opened—only for four days a week—bosses didn't take everybody back. Instead, pleading part-time hours, they hired part-timers and temps, at much lower pay with no benefits.
"We're wildly understaffed" and "turnover is high" at the museum, he adds.
Rizzo is one of the few of the estimated remaining 180 or so workers who still has his head above financial water. As a museum educator, who both creates programs and gives art lectures, he still has a job. But his pay is frozen at the level of three years ago.
His colleagues have had to scramble for low-paying retail jobs or work as restaurant servers. "The majority were making less than $50,000 a year, and 90% were making less than $15 an hour" in a high-cost city, plus they're now buffeted, like other workers, by rising inflation.
So, needless to say, pay is the lead item on the table for the workers, along with benefits such as pensions and health insurance. If they ever get to the table, that is.
"Management has been dragging their feet for 22 months," Rizzo explained. "And then they show up with lawyers from Morgan, Lewis and Bockius," a notorious union-buster, at their side. "And they low-ball their offers."