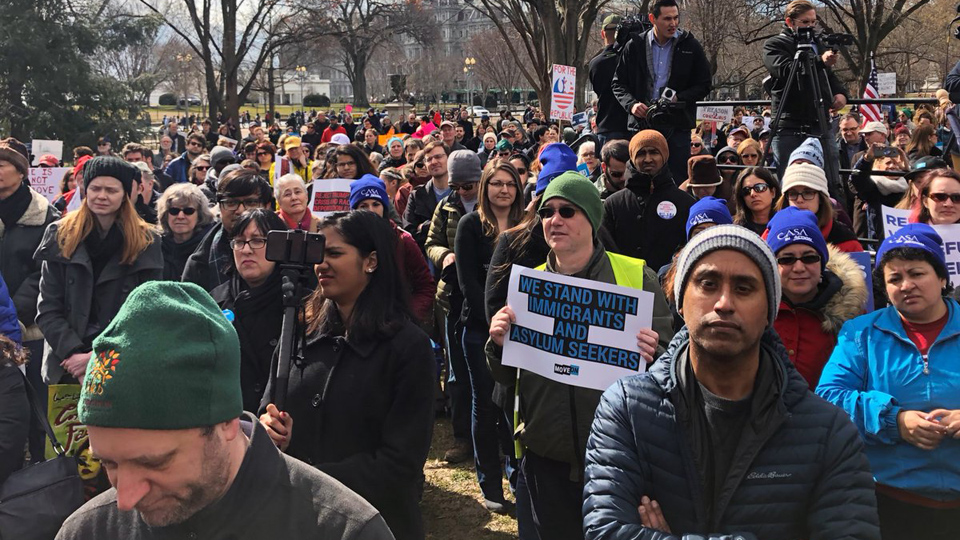 WASHINGTON —The same people, led by GOP President Donald Trump, who spout the racist prejudices he uses to justify his Mexican wall are those who virulently oppose unions and workers' rights, the leader of an anti-wall demonstration in D.C. says.
Christina Jimenez of United We Dream made the connection as she emceed a Feb. 18 demonstration against the wall in Lafayette Square, opposite the White House. The protest there drew more than 1,000 people. It was one of 234 nationwide on the Presidents Day holiday.
"They're the same people who are against women's rights, who won't let working people unionize, that want to put more people of color in jail and that demonize LGBTQ people," said Jimenez of both Trump and his parrots, in and out of Congress. "That's why we are all together, and that's why we will win."
Progressive groups – including AFSCME and the Teachers (AFT) — called the protests to campaign against Trump's declared "national emergency" to grab $6 billion in federal funds to build his wall along the U.S.-Mexico border.  They were one facet of massive resistance to Trump's wall and his emergency declaration.
Other protesters went to court. California Attorney General Xavier Becerra led a coalition of 16 states suing Trump in federal courts to stop Trump's ersatz emergency. They declared it an unconstitutional usurpation of powers. Dozens of cities, the ACLU and Public Citizen also sued Trump.
"The president does have broad authority. But he does not have authority to violate the Constitution," explained Becerra. "The separation of powers is being violated. We're going to go out there and make sure that Donald Trump cannot steal money from the states and people who need them since we paid the taxpayer dollars to Washington, D.C. to get those services."
The demonstrators had the same demands. Many also called for de-funding the Immigration and Customs Enforcement Service (ICE), whose agents conduct raids nationwide to grab undocumented people. Other marchers and speakers demanded Congress do its job and revoke the emergency or both.
Many speakers said Trump himself is the emergency and must be evicted from the Oval Office. Signs festooned the Washington crowd, gathered opposite the White House, calling for his impeachment. "Hey, hey, ho, ho! Donald Trump has got to go!" was a common chant.
"#FakeEmergency #FakePresident" one big handmade sign in Lafayette Square said.
"There is an emergency, an occupation and an invasion – of the White House by a president whose racism knows no bounds," said Rob Peyser of Public Citizen. "He (Trump) does not care about our democracy. He does not care about our Constitution."
"This crisis is a crisis created by Trump," said Patrick Carolan, executive director of the Franciscan Action Network, a Catholic group. "It is not just legally and constitutionally wrong, but it is morally and spiritually wrong." For contrast, he added: "The only difference between my parents," who immigrated from Ireland in 1950, "and the parents who are migrating here today is that my parents are white."
MoveOn, Credo, Indivisible and Win Without War, who organized the hastily called events, calculated that more than 30,000 people — a figure that was probably low — turned out in 48 of the 50 states. Other large rallies were at Federal Plaza in Chicago's Loop and Union Square in New York City.
Smaller communities saw anti-emergency rallies, too. Their common theme: Denouncing Trump's "national emergency" declaration of Feb. 15, which lets him siphon $6 billion from other priorities to build his Mexican Wall.  "Trump just declared a national emergency to fund his white supremacist agenda. Call your senators and representative now to demand that they use their power under the National Emergencies Act to rein him in and revoke it now," Credo demanded online in announcing the rallies.