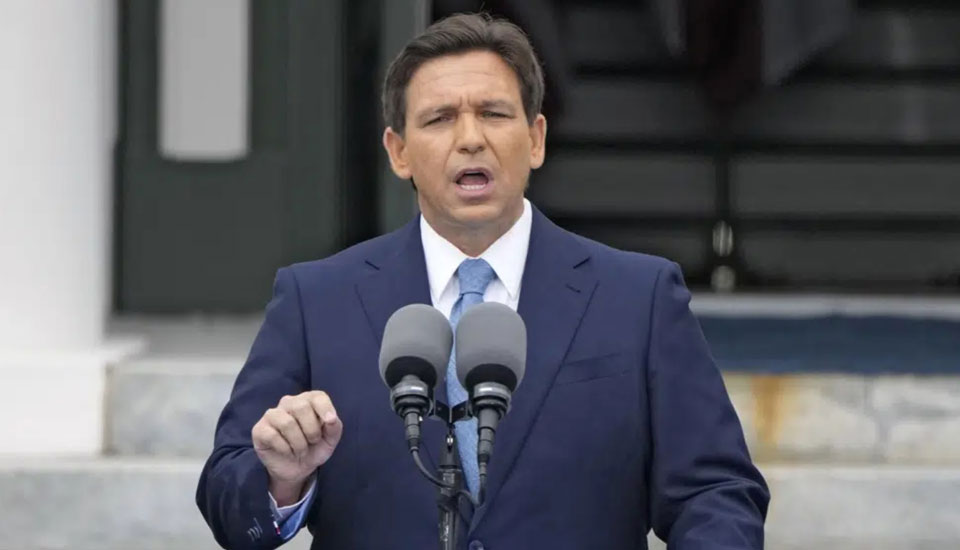 The self-proclaimed "anti-woke" Florida Governor Ron DeSantis has made headlines this past week for his state's rejection of an Advanced Placement (AP) Studies course centered on African American Studies. Florida will not allow schools in the state to offer a new AP course on African American history, claiming it "significantly lacks educational value" and violates state law. The Florida's Department of Education (FDOE) informed the College Board of this decision in a letter dated Jan. 12, although— as reported by the New York Times— there was no specific law noted in the letter.
This decision comes months after DeSantis signed Florida's HB 7 (commonly called the Stop WOKE Act). The bill expanded on the language of the Florida Civil Rights Act to include the prohibiting of certain kinds of diversity, equity, and inclusion training. The bill says that subjecting any individual to required employment training that "espouses, promotes, advances, inculcates, or compels such individuals to believe" specific concepts will be unlawful. DeSantis, along with his supporters, uses the word "woke" as an acronym meaning "Wrongs to Our Kids and Employees." This is in contrast to how left leaning activists defined the word early on to mean being aware of systemic and societal issues in the world.
The Florida governor described the Act as "a legislative proposal that will give businesses, employees, children and families tools to fight back against woke indoctrination."
It would appear that we are beginning to see the ramifications of the DeSantis agenda, as courses and history deemed by the right-wing politician as bringing attention to institutionalized racism and discrimination may not be able to ever see the light of day in Florida classrooms.
Although the AP African American Studies course in question is currently being taught at 60 schools nationwide DeSantis kept firm on the rejection, insinuating that the course wasn't really educational at all. At a press conference on education this week in Jacksonville, Florida the governor defended the FDOE decision stating, "If you fall on the side of indoctrination, we're going to decline. If it's education, then we will do it."
DeSantis also, for some reason, managed to sprinkle a hint of homophobia in his justification for the rejection, by criticizing that the AP course included elements of "queer theory."
"Now who would say that an important part of Black history is queer theory? That is somebody pushing an agenda on our kids," the governor said. "When you use Black history to shoehorn in queer theory, you are clearly trying to use that for political purposes."
It may come as no surprise that the "can't say gay" governor would go as far as to seemingly suggest that there were no, and currently aren't any, Black Americans who identify in the LGBTQ community that may be of note in a history course.
DeSantis also took issue with the fact that some of the points in the course aimed to hold discussions about abolishing prisons and lessons on intersectionality— a term coined by activist Kimberlé Crenshaw that refers to the way in which race, sex, and class can overlap and affect people.
It should be noted that at this press conference concerning education— where the governor spoke of banning a course on Black history— he also rolled out his agenda on education for the state legislature to pass this year, which included weakening teachers unions by prohibiting union dues from being automatically deducted from teacher paychecks.
The rejection of the AP African American history class has drawn condemnation from a number of public leaders and activists.
Democratic Orlando State Sen. Geraldine Thompson told the press that the FDOE under DeSantis is attempting to rewrite history to marginalize people of color. "We don't solve our problems by sweeping them under the rug, and pretending like they don't exist," Thompson noted. "This is a guise for dismissing the contributions of a whole portion of Florida citizens."
Vice-President Kamala Harris, who was in Tallahassee, Florida on Sunday attending an abortion rights rally, condemned the ban.
Harris expressed in a statement released by the White House that "every student in our nation should be able to learn about the culture, contributions, and experiences of all Americans — including Black Americans — who shaped our history. Unfortunately, in Florida, extremist so-called leaders ban books, block history classes, and prevent teachers from freely discussing who they are and who they love. Anyone who bans teaching American history has no right to shape America's future."
Dr. Bernice A. King, who is the CEO of The Martin Luther King, Jr. Center for Nonviolent Social Change (The King Center),  issued an official statement admonishing the FDOE decision. King stated:
"In the same week we witnessed the world celebrate my father's legacy in the battle against racism, Florida leaders and the State's Department of Education rejected an Advanced Placement course about African American Studies.  The cryptic rationale for banning the course suggests Florida would prefer its students not learn about our nation's well-documented history of genocide, slavery, discrimination, and oppression imposed upon Black people — those who arrived at the U.S. border and shores involuntarily, marking a 244-year era of unmitigated dehumanization, persecution, torture, and murder.
No amount of propaganda, fear-mongering around wokeness or political aspirations can cause us to unlearn that history. We, as citizens, must demand the truth. Florida's leaders should not appear comfortable and accomplished in rejecting this course. The College Board should lay bare the curriculum here and challenge Florida to explain exactly what they deem inappropriate in the course and why they, as political appointees, have the expertise to determine what African American Studies is all about."
Dr. King went on to note that the time was now to "stop the propaganda and disinformation, and show them how you will stand for justice and truth."
Democrat State Senator Shevrin Jones, who represents part of Miami-Dade County, is quoted as saying that Florida is "just the testing ground."
"People across the country should be concerned that legislators and governors across the country are going to do exactly what Florida is doing. And we have the potential of raising an entire generation of Black children who will not be able to see themselves represented in their own state or in education," Jones told Morning Edition.
This incident is another example in the increase of right-wing political figures advocating for subjects dealing with people of color and LGBTQ issues to be taken out of the education system. According to a report published last year by the literary and free expression advocacy organization, PEN, school districts in 26 states have banned or opened investigations into more than 1,100 books.
The study points out that 41% of the titles in the Index contain protagonists or prominent secondary characters of color, 22% directly address issues of race and racism, and 33% explicitly address LGBTQ themes, or have protagonists or prominent secondary characters who are LGBTQ.
From statistics like this, and the very words of DeSantis himself, it would appear that the main indoctrination afoot is one that wants to paint the struggle and existence of Black Americans and other marginalized groups as non-essential to American History. This, coupled with DeSantis aiming to attack Florida teachers' union bargaining power, could be seen as a layered approach to gutting the educational system that is responsible for teaching the future workers of America.
It is an approach that those around the country, and not just in Florida, should continue to watch closely. For as a famous saying goes, "A generation that ignores history has no past— and no future."