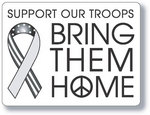 WASHINGTON — Peace activists from 23 states and the District of Columbia converged on Capitol Hill, May 22, to lobby their senators and representatives for an end to the Iraq war, just as reports of a massacre by U.S. Marines of 23 innocent Iraqis, including at least seven women and three children, exposed the brutal nature of the U.S. occupation of that country.
The grassroots lobby effort was sponsored by United For Peace and Justice (UFPJ), the nation's largest peace and justice coalition.
In a May 19 statement, UFPJ condemned the massacre in the village of Haditha, Iraq, last November, which some are comparing to the infamous My Lai massacre of 500 women and children by U.S. troops during the Vietnam War. The Pentagon attempted to cover up the Haditha massacre but Time magazine exposed it, forcing the U.S. Navy to launch an investigation. The Pentagon claims that the Iraqi civilians were "collateral damage" killed accidentally during a firefight with Iraqi insurgents.
But Rep. John Murtha (D-Pa.) debunked that cover-up. "It's much worse than reported in Time magazine," he charged during a May 18 Capitol Hill news conference. "There was no firefight. There was no IED [improvised explosive device] that killed these innocent people. Our troops overreacted because of the pressure on them and they killed innocent civilians in cold blood."
Murtha, a Marine veteran, said the massacre is more proof that it is time to withdraw U.S. troops from Iraq quickly as called for in a bill he has introduced. As if to underline his point, U.S. warplanes killed an estimated 50 innocent people in an air raid in Afghanistan, May 22.
UFPJ spokesperson Rahul Mahajan said the Haditha massacre is the "tip of the iceberg … the largest documented example of the deliberate mass murder of civilians" in Iraq that also includes many innocent Iraqis slaughtered during the U.S. siege of Fallujah in 2004 and the assault on Tal Afar.
The UFPJ statement added, "Marines who are guilty of murder should be severely punished, but the policy-makers should not be left off the hook. As long as the occupation continues, crimes like the Haditha massacre will as well."
After gathering in the morning at the Methodist Building on Capitol Hill, the crowd fanned out to visit House and Senate offices to urge support for legislation such as Massachusetts Rep. Jim McGovern's bill, HR 4232, to terminate funds for all military operations connected with the occupation of Iraq, limiting funding to money needed to withdraw U.S. troops and for the reconstruction of Iraq.
Demi Miller, a member of Progressive Democrats of America (PDA) from St. Paul, Minn., said, "Our soldiers in Iraq are being sucked into massacres just as they were in Vietnam. Look at Fallujah. They declared the whole city a free-fire zone." The lobby effort brought home to him the need to end right-wing, pro-war Republican control of the House and Senate in the Nov. 7 election so McGovern's bill can see the light of day.
"The election this year could make a difference," he told the World. "We have three seats in Minnesota now held by Republicans that the Democratic Farmer Labor Party could pick up, the 1st CD, 2nd CD, and 6th CD. We have very good candidates running for those seats and we've built very good coalitions to support them. We can win this."
He cited the race by former FBI agent Colleen Rowley against Republican John Kline in Minnesota's 6th CD. Rowley is the whistleblower who warned FBI headquarters repeatedly that mysterious men were enrolled in pilot schools learning to fly, but not land, airliners. After the 9/11 attack, she blasted them for ignoring warnings like hers.
"She was a Republican but she is running as a Democrat," Miller said of Rowley. "She has come out against the war and went down to Crawford, Texas, to join Cindy Sheehan. She has a good chance. We need to help these candidates get elected to show them where their real base is."
Abby Fox, a college student from Cleveland, was one of several Ohioans who had just visited Rep. Sherrod Brown (D-Ohio). "I think it's important to thank him and urge him to keep on working to bring the troops home," Fox told the World. "He is definitely a better choice for the U.S. Senate than [the GOP's Mike] DeWine. I'm optimistic that people are going to make the right decision next November when they get into the voting booth."
UFPJ National Co-Chair Leslie Cagan told the crowd during a training session at the University of the District of Columbia, May 21, "Go up on Capitol Hill and let them know what you think about this war. Return home and work at the grassroots level to mobilize more opposition to the war" leading up to the 2006 elections.
She urged the crowd to "make connections" to other burning issues, such as immigrant rights, but starting with the danger that Bush will attack Iran. "We cannot let that happen," she said. "All our member groups focus their work in a lot of different ways … public protests, the rallies, the vigils, all the ways that people are out there to advance our work. We need to do it all in ways that complement each other."