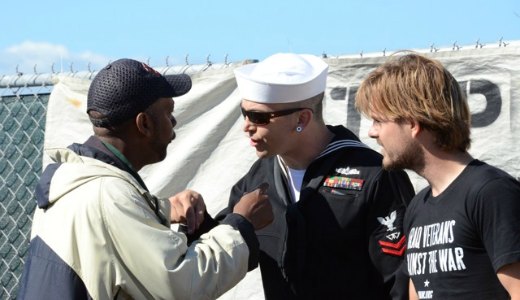 SAN FRANCISCO – Every October the San Francisco Bay Area is "invaded and occupied" for five days by a gargantuan display of U.S. military power called Fleet Week. This October 6 through 10, the Blue Angels precision jets screamed overhead, aircraft carriers and ships docked in the harbor for tours, hundreds of sailors and soldiers fanned out over the city, thousands crowded the Embarcadero waterfront with wall to wall recruiter booths and displays of the hardware of war, and this year's Columbus Day Parade on Sunday Oct. 9 was dominated by what amounts to an overwhelming advertisement for American armed forces. One Marine's T-shirt read. "Pain is weakness leaving the body."
A team of nearly two dozen, including members of Iraq Veterans Against the War, Civilian-Soldier Alliance, and Veterans For Peace staffed a prominent booth, passing out hundreds of pieces of literature, hanging banners and signs, and most importantly actively engaging families, veterans, and young people, in "civies" and in uniform, about military service.
Operation Recovery, a project of national IVAW to stop the deployment of traumatized troops was the focus theme of the weekend tabling – to counter what is often indifference or outright hostility from those in the huge crowds. One banner read "32 Veterans Attempt Suicide a Day; 18 Succeed – Army Times, April 2010."
Perhaps because of the nationwide "Occupy Wall Street" encampments and widespread protests over the economic injustice of the past four years, police and security along the main staging ground of the waterfront took a hands-off approach to the antiwar presence. "I'd say that the response was 80% positive," said six-year Navy vet Josh Shepherd, a leader in the local IVAW actions.
Photo: IVAW's Josh Shepherd and Aaron Hinde in a heated discussion with a veteran. Nadya Williams/PW