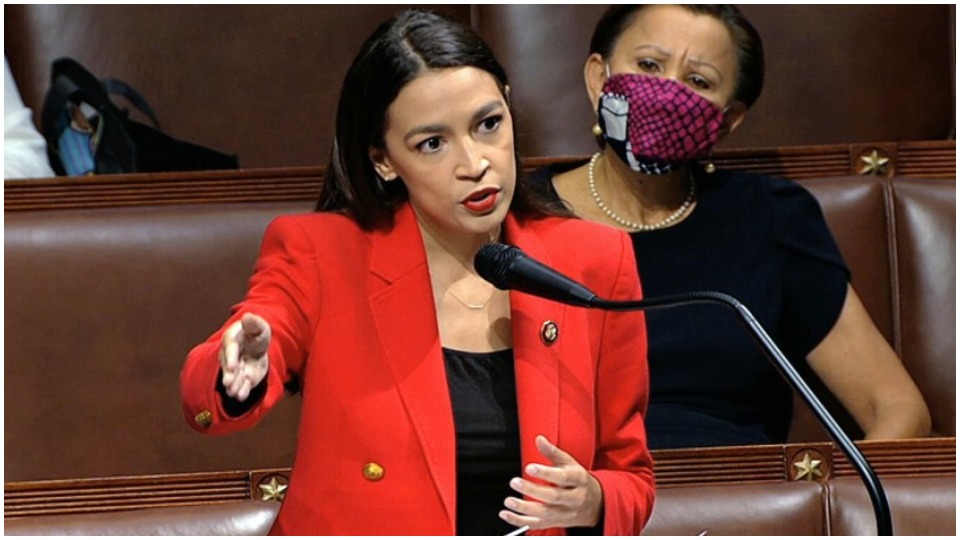 On the Holocaust Memorial in Washington, D.C., there is a list of a dozen easily recognized features of a society headed toward fascism. High on that list is the oppression and denigration of women—in short, sexism. Yesterday, New York's Rep. Alexandra Ocasio-Cortez, the leading socialist in the U.S. Congress, rose to the floor and changed forever how sexism will be understood by the nation's political leaders.
She demanded that women be given respect as individuals, declaring that it is not enough that they get respect simply because they are daughters, wives, or mothers. She demanded this respect for women as individuals regardless of their class or economic status. That goes for working-class women on the job and at home, and for those in high office, such as Hillary Clinton, who has been called a bitch countless times by men, including those who consider themselves "progressive."
Women and men in the U.S. and as far away as India yesterday saw and heard an historic condemnation of sexism and how it has cheapened and weakened our world. And Ocasio-Cortez did not hold back one tiny bit.
"Rep. Yoho called me, and I quote, a 'fucking bitch,'" Ocasio-Cortez said. "These are the words Rep. Yoho levied against a congresswoman."
Earlier this week, Republican Rep. Ted Yoho of Florida, spewed his vulgarities at Ocasio-Cortez as she was walking up the steps of the Capitol. Yesterday, he issued a non-apology, apologizing actually for Ocasio-Cortez "misunderstanding" remarks he said he never made. "I cannot apologize for my passion or for loving my God, my family, and my country," he said in his cowardly remarks, designed to try to save face. Even more disgusting, not one single Republican in that august body, the House of Representatives, chose to condemn his remarks. Every single Republican male has remained absolutely silent, confirming the blistering indictment of our culture delivered by Ocasio-Cortez.
In her speech, Ocasio-Cortez incinerated not just the acceptability of the vulgarities coming from Yoho but the entire culture and political and economic system that says it's OK for men to use the kind of language that fosters oppression and abuse of women.
"I honestly thought I was going to pack it up and go home—it's just another day," Ocasio-Cortez said, ready to ignore the vulgarities Yoho spewed at her and she talked about how being called abusive names was almost business as usual for her, having been a waitress and a bartender in New York. She mentioned how she had thrown men out of her bar when they had directed that kind of language at her. She mentioned how she ignored Florida Gov. Ron DeSantis when he had used abusive language toward her.
After thinking about it for a while, however, she changed her mind. She said she did not want her nieces and other girls to see that it was OK for this kind of behavior to happen in the Congress of the United States. And she said that when Yoho mentioned his own wife and daughters in his non-apology speech, it was too much for her to take.
"Mr. Yoho mentioned that he has a wife and two daughters. I am two years younger than Mr. Yoho's youngest daughter. I am someone's daughter, too," she said. "Having a daughter does not make a man decent. Having a wife does not make a decent man. Treating people with dignity and respect makes a decent man. And when a decent man messes up, as we all are bound to do, he tries his best and does apologize."
Sexism, of course, was not the only evil at work in Yoho's outrageous remarks. His behavior was a blatantly racist act permitted by this culture's toleration of racism. An older white man felt totally comfortable, because of this racism, in attacking a young Latina woman, smacking her down into the place where he felt she belongs.
There is a positive in this ugly incident and in the heroic response of Ocasio-Cortez. The movements against racism and sexism have resulted in a Congress that now has many women and many non-white members. Because of this, Ocasio-Cortez could, in this day and age, step up and challenge sexism and racism on the floor of the Congress. Years ago such a move could have ended her political career. Yesterday, she struck a blow for decency and strengthened the movements that can put an end to the evils she is challenging.
As a result of her speech, women—and men, too—who are angry about what sexism and racism are doing to weaken our society are now even more motivated to come out and turn Trump and the sexists and racists behind him out of office.
"We're not soccer moms," the "Wall of Moms" that came out to confront Trump's secret police in Portland, Oregon, were saying. "We are individuals who have banded together to confront your violence against our people." More and more walls of moms are going to appear between now and the election.
The activists in the anti-Trump campaigns across the country are overwhelmingly women. The majority of voters who potentially will turn Trump out of office are women. All of us have these women and Alexandra Ocasio-Cortez to thank for what they are doing. It is incumbent upon us all to join them.
Like free stuff? So do we. Here at People's World, we believe strongly in the mission of keeping the labor and democratic movements informed so they are prepared for the struggle. But we need your help. While our content is free for readers (something we are proud of) it takes money — a lot of it — to produce and cover the stories you see in our pages. Only you, our readers and supporters, can keep us going. Only you can make sure we keep the news that matters free of paywalls and advertisements. If you enjoy reading People's World and the stories we bring you, support our work by becoming a $5 monthly sustainer today.