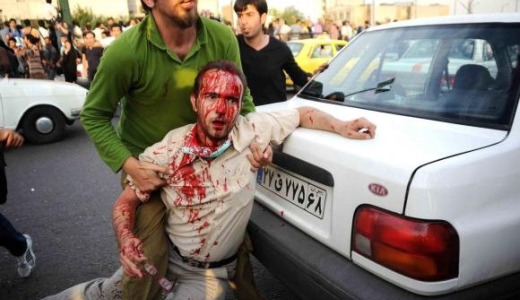 The Tudeh Party of Iran, Iran's communist party, has issued an appeal for "solidarity action with the working people of Iran campaigning for peace and progress" and with the broad Iranian progressive and democratic movement.
Since early January, the party's Feb. 21 message says, the Ahmadinejad regime "has embarked upon a new wave of repressive measures designed to suffocate the opposition forces demanding a return to the ideals of the 1979 revolution in Iran: democracy, human rights and social justice."
Thousands of people have been arrested, nearly 100 protesters have been killed either by government security forces during protest demonstrations or under torture in detention centers, and 11 detainees have been condemned to execution, the Tudeh appeal says.
Among those arrested are activists and leaders of Iran's student movement, trade union movement, women's movement and well known academics and progressive writers and journalists.
"International solidarity with these victims of suppression in Iran is of vital importance," the Tudeh Party says. "International pressure on the Iranian regime, to oblige it to abide by the internationally accepted norms and conventions governing treatment of peaceful political protest, needs to be maintained."
The appeal urges messages to the Iranian government supporting the following demands of communist, left, progressive and democratic organization around the world:
* The Iranian government to abide by the UN Charter and the Universal Convention on Human Rights.
* All death sentences to be commuted to terms of imprisonment decided in a court of law convened in accordance with the laws of natural justice and in which the accused have full access to defense lawyers and are able to defend themselves.
* All those detained to be protected from torture or other ill treatment, to be allowed access to their families, lawyers and any necessary medical treatment, and for them to be brought before a judge without delay so that they may challenge the lawfulness of their detention.
* Anyone held solely for their participation in protest demonstrations or for expressing their views to be released immediately and unconditionally.
* The authorities in Iran to ensure that their policing of any further demonstrations meets international policing standards, including a ban on the use of firearms and other lethal weapons
* An impartial investigation be conducted into the deaths of all those killed.
"The situation is very desperate and the need for international solidarity is great," the appeal concludes.
The Tudeh Party (Party of the Masses) has a decades-long history of struggle against the shah's dictatorship and the current theocratic Islamic regime, and has had a mass following with wide support among Iranian trade unionists, intellectuals and artists and others. During that time it has faced vicious persecution, with many of its leaders and members executed under both regimes, and has been forced to work underground and in exile.
Photo: A blood-stained protestor in Iran, June 17, 2009. http://www.flickr.com/photos/arasmus/ / CC BY 2.0