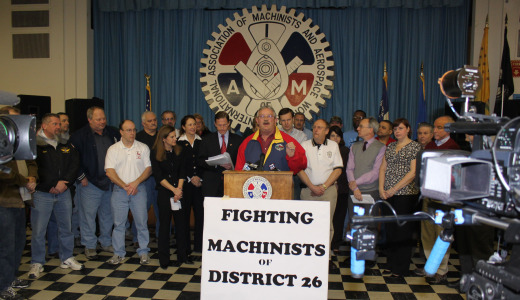 EAST HARTFORD, Conn. – Workers at Pratt & Whitney, owned by the profitable United Technologies Corp., have won a major court decision protecting their jobs. The Second Circuit Court of Appeals refused the company's request to overturn a February ruling prohibiting movement of machinery or jobs during the life of the current union contract which expires on Dec. 5.
International Association of Machinists District 26 won the initial court case on the basis that the company violated contract language that requires it to make "every reasonable effort" to preserve work.
The appeals court decision, issued on July 8, upheld the district court's permanent injunction against Pratt & Whitney closing its Cheshire repair facility and East Hartford CARO airfoil unit. The new ruling upheld the lawsuit brought by IAM District 26 on behalf of its members at Pratt & Whitney. The injunction remains in effect until the expiration of the collective bargaining agreement.
"This once again confirms what we've said all along – Pratt didn't give us a chance to address their concerns to keep the work here," said IAM chief negotiator Jim Parent. "It's more than 1,000 hourly and salary jobs – that's 1,000 workers who deserve a fair chance to keep their livelihoods, and a thousand families who depend on those wage-earners."
The unanimous 23-page decision from the three-judge appeals panel states, in part: "The district court concluded that Pratt had not made, and was not making 'every reasonable effort' to preserve bargaining unit work as required by the CBA [collective bargaining agreement]. We find no error in the district court's application of the fact-intensive inquiry bargained for by the parties … or in the district court's determination that Pratt failed to pursue the goal of preserving bargaining unit work in good faith. We therefore affirm the judgment."
IAM District 26 directing business representative Everett Corey called on the company to restructure its plans. "The court decision brings home the fact that UTC and Pratt leadership need to work with us, not against us, to keep Cheshire & CARO open," he said. "We're prepared to reach agreement – or fight it out – in contract negotiations. The ball's in the company's court right now."
The Machinists union fought hard for years to win the model language requiring the company to make every reasonable effort to preserve work in Connecticut and explore alternatives with union representatives.
Last July, when Pratt & Whitney announced its plans to relocate work to Georgia, Singapore and Japan, a 45-day "meet and confer" process began. Even after $80 million in wage cuts and other savings were offered by the workers, and after $100 million over five years was offered by the State of Connecticut, the company still refused to consider any alternative to moving the work out of state.
Photo: Courtesy IAM