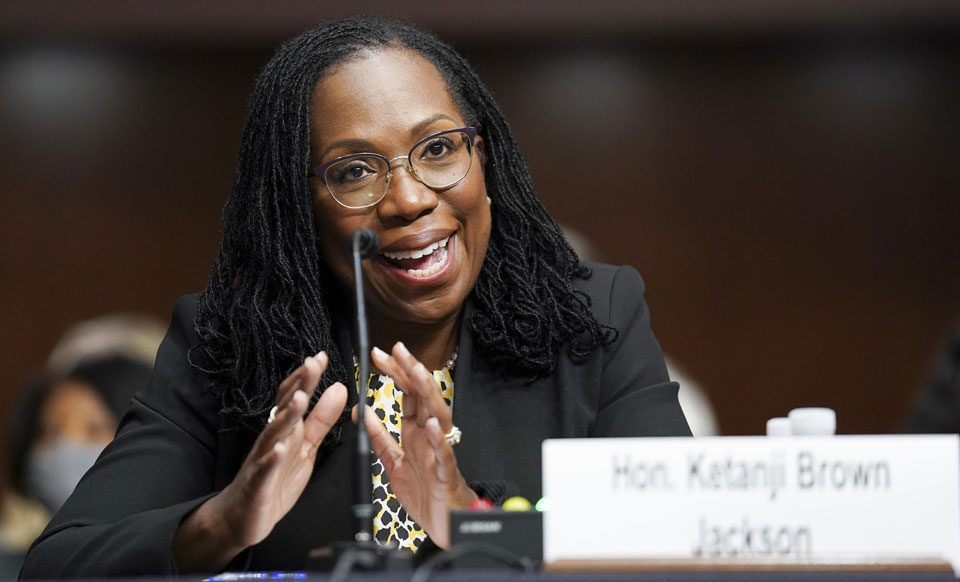 NEW ORLEANS —In a notable workers' rights win as a result of the coronavirus pandemic, the federal appeals court in New Orleans ruled in late spring that a Texas fracking company can't claim the virus is a "natural disaster" that lets it avoid the federal WARN Act—the plant-closing law—and lay off its workers without notice.
The June 15 ruling by Judge Carl Stewart of the Fifth U.S. Circuit Court of Appeals was one of several by federal appeals courts affecting workers' rights within the first six months of 2022, a People's World survey shows. Many notable decisions seemed to come out of Texas, and there's a reason for that.
It's called "judge shopping" by corporate chieftains and the radical right.
Former Republican Oval Office occupant Donald Trump didn't just stack the U.S. Supreme Court with the three far-right-wing justices—Amy Coney Barrett, Brett Kavanaugh, and Neil Gorsuch—who tilted the High Court against women's constitutional right to abortion, voting rights, the Clean Air Act and so much more.
Trump also, with the willing connivance of Senate Republican leader Mitch McConnell of Kentucky, achieved a long-held aim of the radical right, and particularly of the so-called Federalist Society: To stuff U.S. District Courts and U.S. appeals courts with rightist ideologues clothed in black judicial robes.
Especially in Texas, and in the Fifth U.S. Circuit Court of Appeals in New Orleans, which covers the Lone Star State and Louisiana. In other words, the Oil Patch.
So when corporations, their lobbies, the radical right, and their political puppets, often headed by the Attorneys General of Texas and Missouri, wanted to overturn pro-worker rules the Biden administration promulgated, they headed for federal courts in Texas—and won.
And that's what made the fracking decision by a three-judge Fifth Circuit panel so notable. The workers won. But then, Democrat Bill Clinton named Stewart to the bench.
In the fracking case, US Well Services, Inc., abruptly shut down without telling its workers, thus violating the federal WARN Act, popularly known as the plant closing law.
That measure, which organized labor pushed through Congress in 1988, says very plainly that if a firm employing at least 100 workers plans either massive layoffs or outright closure, it must give the workers at least 60 days' notice.
If there's a union, of course, the notice gives it a chance to bargain with the bosses on either averting the calamity or lessening its impact on the workers. The firm must also give the same notice to the surrounding community and to state unemployment officials, so they can seek alternatives (the community) and prepare to help workers with jobless aid.
US Well Services didn't do that, though. It claimed the pandemic was "a natural disaster," one of three exceptions the WARN Act allows to its 60-day mandate. If employers break the WARN Act, they get fined a day's pay per worker for each day the worker didn't get paid after losing the job until they win a judgment in their favor.
When oil prices crashed and customers deserted the fracking firm as demand dropped, it abruptly laid off Scott Easom, Adrian Howard, and John Nau on March 18, 2020, with no notice. They sued, saying US Well broke the WARN Act. The federal district judge who took the case ruled for the company.
Judge Stewart and his two colleagues didn't.
"The WARN Act's natural-disaster exception provides 'no notice…shall be required if the plant closing or mass layoff is due to any form of natural disaster, such as a flood, earthquake, or the drought currently ravaging the farmlands of the United States."
The coronavirus pandemic doesn't qualify, Stewart said. That's because a prior case declared causes "not mentioned were excluded by deliberate choice" from being natural disasters. And Congress, in enacting the WARN Act, didn't mention—or list–pandemics.
By 1988, "Congress knew how to, and could have, included terms like disease, pandemic, or virus in the statutory language of the WARN Act," the judge added. That's what it did after the Dust Bowl of the 1930s when it established federal crop insurance, he noted. "That it chose not to [do so] justifies the inference that those terms were deliberately excluded" and that US Well would have to pay Easom, Howard, Nau, and its other workers.
Stewart's ruling for the workers stands out among the worker-oriented cases in federal appeals courts because it was a worker win. There were few cases, but losses were more common, especially at the hands of Trump-named Republican judges.
One notable anti-worker decision, also from the Fifth Circuit—which Trump stacked—tossed out Democratic President Joe Biden's repeal of Trump's "independent contractor" rule. That upheld a lower court decision, also by a Republican-named judge, in rural Texas.
Anti-worker forces, led by the Associated Builders and Contractors and the so-called Coalition for Workforce Innovation—a front group for firms that deliberately rely on independent contractors—won that decision. The Fifth Circuit reinstated Trump's rule, letting firms classify more workers as independent contractors.
The pattern persisted in another notable labor rule case, where National Nurses United and the AFL-CIO sued the Occupational Safety and Health Administration in the U.S. Circuit Court for D.C.—often called the nation's second-most-powerful court—to force it to issue an Emergency Temporary Standard ordering health care employers to protect workers against the coronavirus. They lost, again to a Trump-named majority.
But a second case before that same D.C. appellate court wound up with a worker win against a Trumpite scheme—and the author of that February 18 decision was Judge Ketanji Brown Jackson, soon to be elevated by Biden to the U.S. Supreme Court.
The Government Employees (AFGE) challenged Trump's late 2020 dictate that said agencies could change personnel policies and working conditions without bargaining with workers' unions unless the change was major, rather than unless it was minimal.
AFGE challenged Trump's plan before the Federal Labor Relations Authority, the equivalent of the National Labor Relations Board for federal management-labor relations. AFGE lost there.
So it headed for the appellate court—and Jackson wrote for the three-judge panel that tossed Trump's ruling. It wasn't the first case Jackson handled pitting AFGE against the former Oval Office occupant.
While a district judge, Jackson had ruled for the union's challenge to Trump's three anti-federal worker executive orders. One virtually stripped the unions of their ability to represent workers, by barring shop stewards from doing so on their own time and on their own dime, taking away small union offices in federal buildings, and even depriving the unions of computers, telephones, and fax machines.
A second Trump order barred federal workers from even contacting Congress. Jackson tossed that one as a violation of free speech. She tossed the other two as breaking federal law governing labor-U.S. government management relations.
The D.C. Circuit, then-stuffed with a Trump-named majority of judges, overruled Jackson, whom Democratic President Barack Obama named to the district court. Not this time.
"The FLRA's decision to abandon its de minimis exception in favor of a 'substantial-impact' threshold was not sufficiently reasoned and thus is arbitrary and capricious in violation of the Administrative Procedure Act," which required public notice of such changes and hearings, too. There were none, Jackson wrote in February 2022.
"We, therefore, grant the unions' petitions for review and vacate the FLRA's policy statement," Jackson decided. Biden's FLRA has dropped the case and reinstated the old standard.