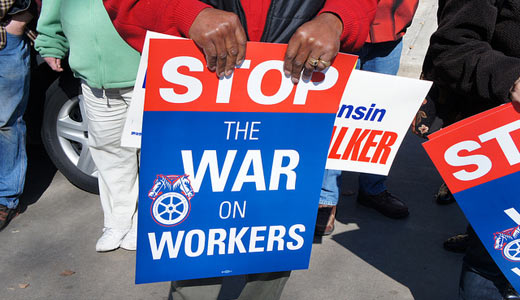 CHICAGO – In a big setback for public worker unions, the 7th U.S. Circuit Court of Appeals in Chicago has reinstated right-wing Wisconsin GOP Gov. Scott Walker's entire 2011 anti-union law.
The ruling in early January disappointed the coalition of seven public worker unions, led by the Wisconsin Education Association Council (WEAC) and AFSCME's Wisconsin affiliates, who had challenged Walker's law in court.
A federal district judge last year upheld the key section of Walker's law, killing collective bargaining rights for 200,000 state and local government workers. But he tossed the rest. The appeals court panel reinstated the entire law. That included Walker's ban on contract provisions allowing collection of union dues and Walker's requirement that the unions must submit to re-votes – recertification of their right to represent the workers – yearly. Each re-vote costs unions a $10,000 fee to the state.
The ban on public workers' bargaining led to mass protests against Walker and the GOP-run legislature, and an unsuccessful union-led recall election against the governor last summer. The recall temporarily cost him a majority in the state senate, but he won it back on Nov. 6 while the GOP kept control of the state house.
The votes and the court ruling open the way for more anti-union Walker moves. Other GOP state governments nationwide have followed his lead.
WEAC President Mary Bell said unions are discussing next moves. "Wisconsin educators are extremely disappointed with the court ruling." Walker's law "was never about addressing the fiscal needs of the state but instead a ploy to eliminate workers' rights to have a voice through their union – political payback for citizens who didn't endorse the governor. This marks a setback, but…our members will not give up on their commitment to restoring their rights to negotiate for fair wages and safe conditions," Bell concluded.
This story, by Mark Gruenberg, was distributed by PAI. Photo: Tens of thousands march to recall Wisconsin Gov. Scott Walker, March 14, 2013. Marcus Hollowell/PW