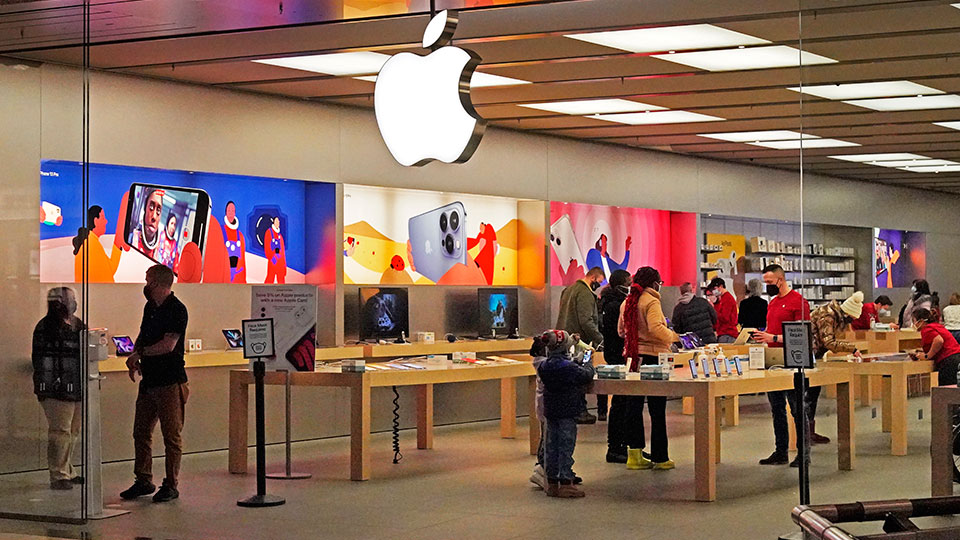 SILICON VALLEY, Calif. (PAI)—First it was Fight for $15 and a Union. Then it was fast food workers. Then adjunct professors. Then the Los Angeles port truckers. Then—more recently—workers at Amazon and Starbucks. Now Apple workers are organizing, too.
The tech giant's workers at retail stores are joining the crusade of low-wage exploited workers who are organizing from the bottom up but with two twists.
One is that even before the workers officially announced their organizing drives, their contacts on social media were so ubiquitous that Apple retaliated last year by summarily firing lead organizers Cher Scarlett and Shanneke Parrish. They started the organizing using rampant sexual harassment and discrimination as key issues.
The other is that there are two organizing drives. One aims at improving working conditions at Apple, store by store, with some Apple techs in Silicon Valley giving sub rosa support.
The other targets Apple's shareholders, urging them to vote for accountability at Apple's March 4 annual meeting. That means, among other actions, dumping two-thirds of the nine nominees to the publicly held corporation's board. The vote is online, of course.
The exceptions are former Vice President Al Gore, Monica Lozano, president of the College Futures Foundation and a fighter against prejudice against people with AIDS and for racial equity and for immigrants, and Andrea Jung, a former Avon executive and current campaigner for racial and gender equality.
The workers' group lobbying the shareholders also wants them to vote against paying Apple CEO Tim Cook 1,400 times what a median Apple worker makes, along with a $750 million 10-years-of-service bonus.
It also advocates shareholder proposals for transparency, for civil rights, for pay equity, for denouncing Apple's kowtowing to foreign government censorship, and—the tie-in between the two campaigns—a "Concealment Clauses Risks Report."
"Apple uses concealment clauses in settlement agreements" in sexual exploitation cases "to prevent employees from speaking about their and their colleagues' experiences" on the job, the group targeting the shareholders, naming itself Apple Together, says.
Which is the issue that led the first Apple worker group, #AppleToo, to organize.
The stories that pushed them to do so are harrowing. Apple Too withheld the names to prevent company retaliation. After all, their original leaders, Scarlett and Parrish, were already fired—but not before organizing a Dec. 24 Apple retail worker walkout. That led to labor law-breaking charges. The first 50 replies to Apple Too's posting included:
"What you don't understand is that women get harassed 100X more than men when they stand up for anything. That harassment in the digital age might not ever cease and can go viral. Think mob mentality. This can include the kind of intimidation tactics that specifically harm women in our misogynist society.
"I should add I worked for Apple and saw firsthand the way people, including myself, were mistreated. As a cisgender hetero white male, I didn't have any protection from the managers in the white male good ol' boys club either. Difference is my entire retail store didn't turn against me spurred on by corporate watchdogs who only care about the bottom line to ruin my reputation."
"You have to realize what company they are fighting," one person wrote to commenters who supported Apple or told its workers to quit. "Most people here are 'Apple can do no wrong' types. I am supporting the workers 100%, just as I support the Amazon workers taking a stand.
"Terrible working conditions are terrible working conditions no matter what company it is. Most people here think Apple's farts smell like roses and baby powder. They are a megacorporation that does not care about anything other than the almighty dollar. End of story."
That reply was shortly followed by one who recommended the Apple workers "go out and learn a skilled trade," adding: "Yeah, you might need to get dirty, work outside, in the cold or blazing heat, but in the end, it's an honest living, and skilled trades of all types are in desperate need of younger workers." The writer then specifically recommended the Road Sprinkler Fitters Union. A second reply said that if RSFLU members were treated like Apple mistreated its workers, they'd walk out, too.
"For too long, Apple has evaded public scrutiny," Apple Too's mission statement says. "For many Apple workers—disproportionately our Black, Indigenous, and other colleagues from minoritized racial, gender, and historically marginalized groups—the (company's) culture of secrecy creates an opaque, intimidating fortress.
"When we press for accountability and redress to the persistent injustices we witness or experience in our workplace, we are faced with a pattern of isolation, degradation, and gaslighting. No more. We've exhausted all internal avenues. We've talked with our leadership. We've gone to the People team. We've escalated through Business Conduct. Nothing has changed. It's time to think different (their emphasis).
"A group of Apple workers have joined together to organize and protect ourselves. We are asking fellow Apple workers who want to see real change at Apple to share their stories. When our stories are collected and presented together, they help expose persistent patterns of racism, sexism, inequity, discrimination, intimidation, suppression, coercion, abuse, unfair punishment, and unchecked privilege. We must work together, as colleagues—corporate, AppleCare, and Retail, salaried and hourly, part-time and full-time—to demand systemic change in our workplace."