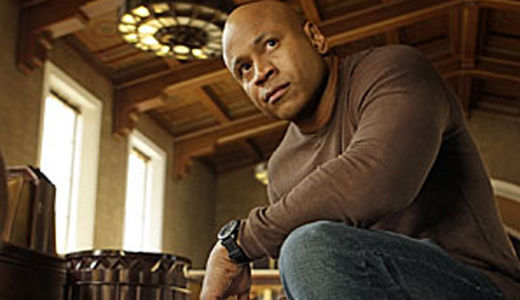 Every year on April 1 pranks are the norm. This year, a massive April Fools joke is being played on unsuspecting Fox News viewers.
Get this, tea party leader Sarah Palin and her new show, "Real American Stories," slated to debut tonight on Fox, was planning to air an old interview of rapper-actor LL Cool J, making it seem like it was given for the show.
Fox aired ads on television earlier this week to promote the show, which was going to feature Cool J about how he overcame adversity to achieve success.
But Fox never contacted Cool J, also known as James Todd Smith, and was promoting the show as if he was going to be a featured guest and interviewed on the program.
Wrong! Fox and Palin were trying to fool the public.
Cool J tweeted, "Fox lifted an old interview I gave in 2008 to someone else and are misrepresenting to the public in order to promote Sarah Palin's show. Wow."
A spokesperson for the rap star, who is also an actor on the hit TV show "NCIS Los Angeles," said contrary to what was reported, LL Cool J was never scheduled to be a guest on the show.
"The show had planned to use an interview from 2008 that had been re-purposed without LL's permission," said the spokesperson. "This statement is not a reflection of any feelings LL has toward Fox News or Ms. Palin, whom he has never met, rather a clarification of what we have seen published in the media."
Fox responded saying it owns the footage and that it didn't need LL's permission to use the old footage on Palin's show.
But, then, Fox decided to eventually pull LL's segment saying, "Real American Stories features uplifting tales about overcoming adversity and we believe Mr. Smith's interview fit that criteria. However, as it appears that Mr. Smith does not want to be associated with a program that could serve as an inspiration to others, we are cutting his interview from the special and wish him the best with his fledging acting career."
Boo-hoo!
Their April Fools joke doesn't stop there.
Fox is also planning to feature country music star Toby Keith.
A representative for Keith told CNN that she, too, was unaware that Fox was using an old interview of Keith's, conducted sometime in early 2009.
"I had no idea Toby's interview was going to air on Sarah Palin's special. I found out after the press release went out and was contacted by a reporter asking about the show," Keith's publicist said. "It is an old interview…. I was never contacted by Fox requesting permission. I still have not heard from Fox."
Maybe Fox News should consider doing a show about how multi-million media conglomerates abuses the rights of people it interviews, including famous artists, and its viewers, to enrich its profits and spread its one-sided views.
Photo: LL Cool J in a scene from CBS' "NCIS: Los Angeles." Cliff Lipson/CBS