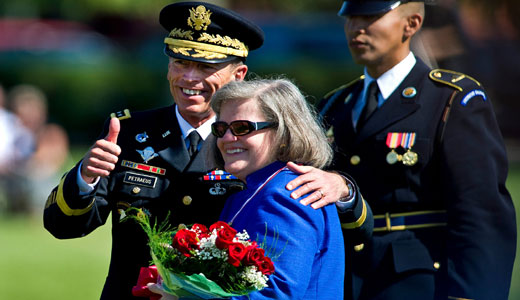 The headlines about the Petraeus affair in the Arab world this morning almost universally read something like "Lebanese woman brings down CIA." The woman who seems to have destroyed three careers and kicked off the FBI investigation of Gen. David Petraeus, ex-director of the CIA, goes by Jill Kelley. But her maiden name is Gilberte Khawam.
The Khawam family is Maronite Catholics from Jounieh in Lebanon, and came to the US in the mid-1970s. The father, Hanna ("John") Khawam, had been a musician in Beirut. His wife is Marcelle, also a Lebanese Christian.
Once the elder Khawam came to the United States, he at one point ran a restaurant, the "Sahara," in the Philadelphia area, and also an auto store. Gilberte or "Jill" was born in 1975, and it isn't clear whether she was born in the U.S. or in Lebanon. She later married a surgeon named Kelley and 12 years ago they moved to Tampa. They have three daughters.
The 1970s were a turbulent time in Lebanon, with the rise of the PLO in Palestinian refugee camps, student strikes, and then from April of 1975 the beginnings of a civil war that lasted a decade and a half. (I myself lived in Lebanon on and off in the 1970s).
Read the rest of the story here.
Photo: U.S. Army Gen. David H. Petraeus gives the thumbs up with his wfe Holly at his retirement ceremony at Joint Base Meyer-Henderson Hall, Va., August 31, 2011. Petraeus recently resigned as the nation's top spy chief because of a reported affair with his biographer Paula Broadwell. (DoD/Chad J. McNeeley)