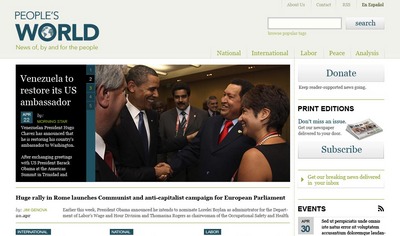 Hey, PWW readers, are you ready for a new, sleek, fresh and modern website? Well that's what we have in store for you and we can't wait for you all to see it.
So here is a sneak peak of the new People's World website.
• Plenty of space for wonderful photos
• Daily stories with the potential of reaching millions
• Labor features, opinion, analysis, international solidarity, the fight for peace, culture and sports can be easily reached and circulated at the click of a mouse.
The PWW is taking responsibility to be up to par with other online media outlets because of the growing importance of working-class and people's news.
This sneak peak will be part of an awesome new site, which we will share with partner publications and organizations. A "one stop" portal for "people before profits" news, views and activism.
This investment in the future will cost $100,000. It costs close to a million dollars a year to produce the PWW online and in print.
So help us help you make this world a better place. Donate today.