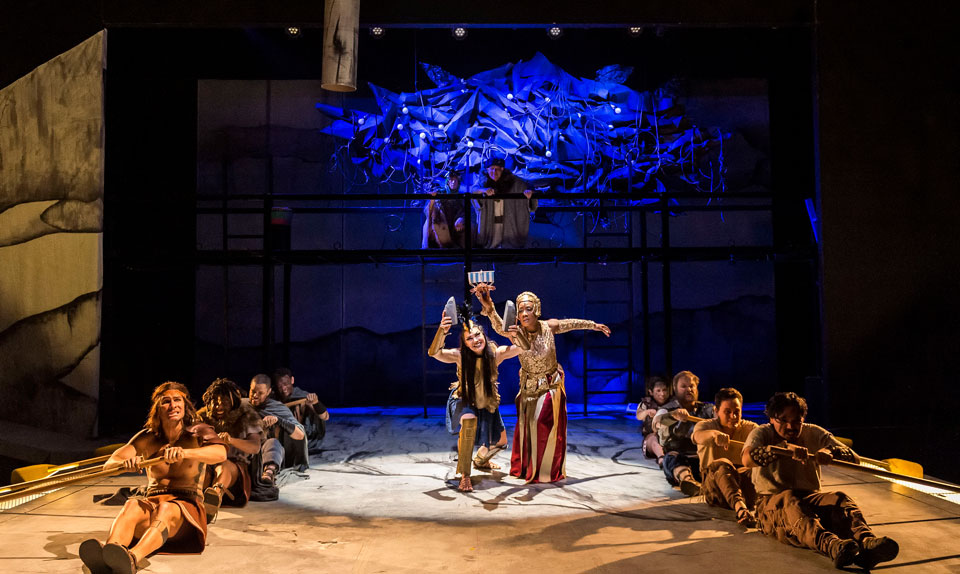 PASADENA, Calif.—I do love my Greek mythology! Under the influence of Homer's Odyssey and Apollonius Rhodius's Argonautika—especially inspired by the 1963 screen version of that third century BCE epic poem called Jason and the Argonauts, co-starring Todd Armstrong as the title voyager and a pre-Pussy Galore Honor Blackman as the goddess Hera, with Ray Harryhausen's scintillating special FX and Bernard "Psycho" Herrmann's score—when I was a lad of 21 I embarked on my very own oceanic odyssey.
While Ulysses and Jason journeyed around the relatively puny Mediterranean, I, in search of paradise and lured by them thar South Seas sirens, peregrinated around the Pacific Ocean's vast expanses, often on cargo boats to far-flung Kapingamarangi and Nukuoro atolls and the Marquesas, on outrigger canoes, zigzagging from Raiatea to Bora Bora aboard motorboats amidst purple sunrises, riding the wild surf to Molokai's Kalaupapa in a kayak or on a yacht from Oahu to Lanai in choppy seas. When I think that I could have squandered my youth in New Yawk City and gone corporate, I am endlessly slapping myself on the back for having been such a hardy adventurer and would-be Argonaut!
But I digress…
As A Noise Within's production of Mary Zimmerman's version of Apollonius's myth launches, its inventive, imaginative verve is charmingly infectious. With its rollicking music, delirious dancing, and staging throughout ANW's space, I was carried away. About 20 or so minutes in, I experienced the rare sensation that only truly joyous, eye-popping works of art (and great sex) can impart to the fortunate beholder and I felt that glowing sensation of "Ain't life grand?"
And unlike many adaptations and updates of ancient Greek myths, costume designer Jenny Foldenauer's Grecian garb actually includes some honest-to-Zeus togas! As my legions of loyal readers know (hiya Ma!), I am often lamenting and griping about those latter day Aristophanes, Sophocles, Aeschylus productions mounted at the Getty Villa or Boston Court that are sans togas. The last play in ANW's 2019 repertory season was its modern-dress Othello, which actually worked quite well: Watching the players march about in 21st-century military uniforms and the like added a whole other dimension to the Shakespearean tragedy. So Argonautika's toga party aspect was a good counterpoint to ANW's previous foray into creative costuming. [Editor's note: The reviewer alone is responsible for his opinions. People's World takes no position on the toga question.]
But alas, that blissful sense I felt creep up on me as the Argonauts embarked on their island odyssey in quest of the legendary Golden Fleece (now there's a Freudian symbol if ever there was one, although this show's auric pelt is a bit of a lackluster letdown) was merely momentary. All of the frenetic activity and carrying on goes on too long: Act I is about an hour and 15 minutes, and by this theatrical navigator's dead reckoning, it should have been cut by about a quarter hour.
Less is more: All the rip-roaring pyrotechnics become too much and wear away at the uniqueness of other vignettes. The frenetic frivolity overwhelms the truly inspired tomfoolery, so the latter is not so outstanding. The worst recent example of this excess is in Aquaman, starring that other Jason (Momoa), wherein the violence and what passes for "action" is so repetitive that all the mayhem actually becomes boring. Argonautika never becomes that extreme, however.
As the Argo traverses the Aegean Sea and crisscrosses the Greek Isles (my favorite is Lemnos!), sailing into the saga after an intermission, the second act is entirely different. ANW advertising promotes this play as "comedic," and much of Act I is. Particularly the good fun it has with the ripped Frederick Stuart's homoerotic Hercules (although he mysteriously disappears as one of the dramatis personae), and with the inimitable Alan Blumenfeld's cavorting in a double role as Pelias and Uncle.
But the second act has a completely different tone and at times is positively elegiac, especially when our man Jason (Ty Mayberry) encounters, then woos, wows and woes the magical Medea (Angela Gulner). Their romance is revelatory—probably because the myth's tragic denouement is omitted from Jason and the Argonauts. ANW's rendition on the boards of what is likely Ray Harryhausen's most memorable movie special effect on the screen is spot on—brief, but perfectly, cleverly executed onstage as directed by Julia Rodriguez-Elliott.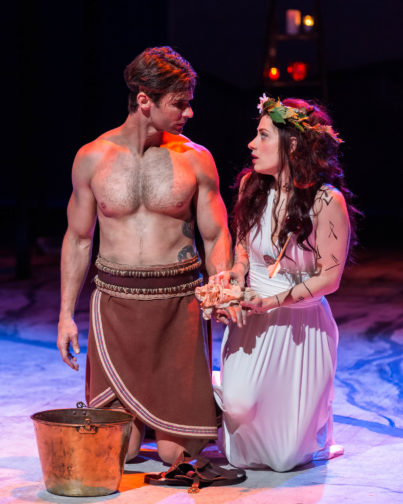 Stuart reappears toward the end as Aeetes, King of Colchis, where the Golden Fleece that Jason must capture is found. Notably, Aeetes has what may be the first lines in literature about Western imperialists showing up uninvited and unwanted on the shores of sovereign nations, interfering, making demands, looting and the like. His lament to Jason is reminiscent of the new president of Mexico's recent request that Spain and the Pope should apologize for conquering indigenous peoples 500 years ago. "There were mass killings…[the] so-called conquest was made with the sword and the cross," Andrés Manuel López Obrador said. Aeetes seems to regard Jason and his Argonauts as prototypes of the conquistadors.
Although it goes over the top and misses the boat at times, Argonautika is still well worth embarking on a voyage of discovery over to the Pasadena classical theatre company to see its iteration of Apollonius's odyssey and find out why A Noise Within just won the coveted Ovation Award for Best Season. After all, it did generate that all too rare "Ain't life grand?" feeling, albeit fleetingly. Plus at long last: Members of the Grecian cast actually wear togas!
To view an informative rehearsal and background video use this link.
ANW's Argonautika plays in repertory with Othello and The Glass Menagerie through May 5 at A Noise Within, 3352 East Foothill Blvd., Pasadena 91107. Free parking is in an adjacent garage. For exact times, dates and more info, call (636) 356-3121 or visit www.anoisewithin.org.
Ed Rampell is moderating a panel on "Blacklist Exiles in Mexico" April 2 at the San Francisco Art Institute. For details see here.