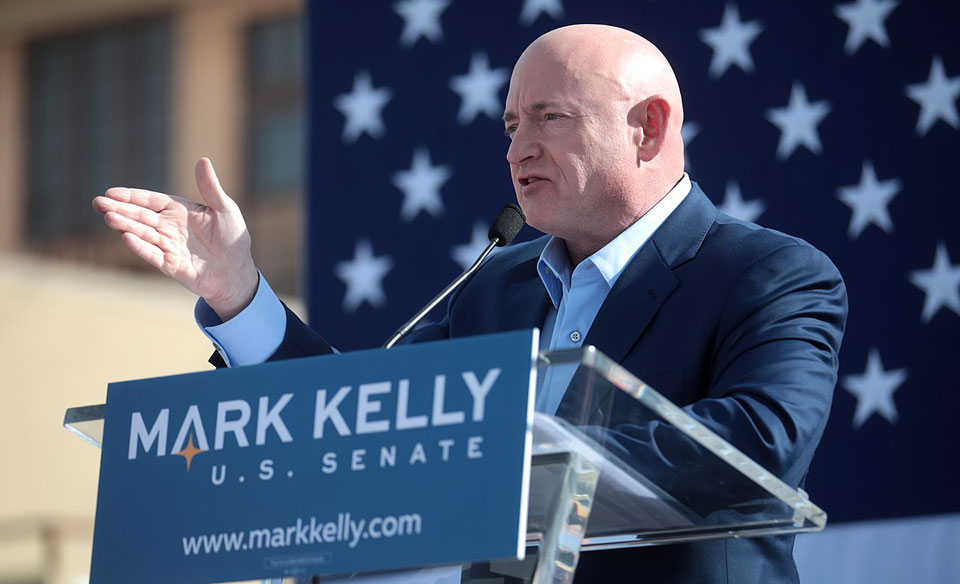 TUSCON, Ariz. — The land of Barry Goldwater, ultra-conservative senator from Arizona who opposed incumbent President Lyndon B. Johnson in 1964, and home of an almost unending parade of right-wing senators and governors, is gradually and inexorably turning from scarlet red to ever more luminescent shades of blue.
Don't let the pro-Trump militia/QAnon/rifle-toting/pistol-packing conspiracy crazies protesting ever since Election Day outside the Maricopa County vote-counting center in Phoenix distract your attention. It's a last gasp effort to hold a state with 11 Electoral College votes for the sitting president against all odds and reality, based on the specious claim that Democrats have "stolen" the election.
Hundreds in the crowd are chanting "Count the votes," which is exactly what the counters are faithfully doing, but not coming up with the results the Trumpies want to see. The state (at this writing) still has not been officially called for the Biden-Harris ticket, but the major news media have seen the results so far and the trends in the remaining votes to be counted and have felt secure enough to put themselves on the line and call the state for the Democrats. The demonstrators are chanting "Fox News sucks": Even their beloved ruby-red Faux News channel sees the writing on the wall and has woken up to smell the coffee.
Protest leaders are stoking the fire with a barrage of conspiracy theories: COVID-19 is a hoax, the Democrats' secret plan is to turn the U.S. communist, and that the "Lame Stream Media" and social media platforms have colluded against the president and the Republican Party.
Did Arizona "flip" in the 2020 elections? To the casual outsider, so it would appear. But to many politically engaged Arizonans, it doesn't feel like it. As the last ballots are being counted, it looks like Biden's half-percent lead over Trump will hold. Democrat Mark Kelly, husband of former Democratic U.S. Representative Gabby Giffords from Tucson, defeated incumbent Republican Martha McSally for what's left of John McCain's Senate seat by some 83,000 votes (and counting), an insurmountable spread of 51.3% to 48.7%. Because it's a special election, Kelly can assume office as soon as the vote is verified by the state's election officials. And all the incumbents will keep their U.S. House seats.
Democrats will now hold both Arizona Senate seats (the other is held by Kyrsten Sinema, who had bested McSally in that race in 2018), and five out of nine House seats in Congress.
Arizona last went for a Democratic presidential candidate in 1996 (Bill Clinton) and 1948 (Harry Truman), both times in support of a familiar incumbent. So progressive Arizonans will be pleased if Trump loses here, making him a one-term president—the failed right-wing dream for Barack Obama!
But figuring out what to do next on the electoral front will not be easy. The slow move to the left is helped by a growing labor-community coalition that often works independently of the Democratic Party. This year they even ran labor candidates. Many organizations, like Mi Familia Vota, LUCHA, and others, were involved in voter registration and get out the vote campaigns.
Pre-election polling showed the Democrats would do well, but failed to accurately gauge the rural vote. For example, polls had incumbent Democratic representatives leading by 10% margins in both C.D.s 1 and 2, but Rep. Tom O'Halloran won by a mere 3% in rural C.D. 1, while Rep. Ann Kirkpatrick carried the mostly urban C.D. 2 by 12%. It appears that Trump at the top of the ballot was able to energize and turn out rural voters in the last few days of the campaign.
Probing deeper
Probing deeper, however, you see that Arizona's ultra-right Republicans managed to retain control of the state legislature which, with the help of far-right governors, has for decades sustained an unrelenting attack on working people, their unions, immigrants, public education, and democratic rights.
Arizonans have not sat back passively. They've been forced to fight back by taking advantage of petitioning for voter initiatives in order to bypass the legislature and put propositions on the ballot for voters to decide. This year the Coronavirus pandemic and obstructionist Chamber of Commerce lawsuits interfered with signature gathering efforts, so only two measures made it onto the ballot. The voters passed both of them.
Proposition 207 legalizes recreational weed. More important, Proposition 208 imposes a tax surcharge on individual earnings over $250,000, and over $500,000 for a joint return. The revenue collected is earmarked for public education. Prop 208, also known as "Invest in Education," stemmed directly from the 2018 teachers' strike across the state, and the teacher, parent, student, and community coalition that came together in support of Arizona's educators.  Labor made Proposition 208 one of its priorities.
Arizona is divided into 30 legislative districts, each electing one Senator and two House members at large. In a preliminary analysis of election results, it seems that in some areas the Democrats failed to educate their voters of the need to vote for two House candidates. In L.D. 4, a district with a large Mexican-American population, African-American Democratic incumbent Dr. Geraldine (Gerae) Peten lost to a lone Republican, while the other Democratic candidate, House Minority Leader Charlene Fernandez, won big—a clear sign of Democratic voters failing to cast their second vote. Had Peten retained her seat, Democrats would have made a 30-30 tie in the House: In the absence of a Lt. Governor in Arizona to cut a tie, they could have blocked Republican bills.
Although Indigenous and Mexican Americans make up about 40% of Arizona's population, they are completely absent among the Republican majority in the legislature, showing the persistent narrowness of the GOP's appeal and outreach. In stark contrast, half of the Democratic legislators come from those communities. The only statewide offices in contest were three seats on the Corporation Commission, the body that regulates public utilities and such. Democrats won one of these seats to add to a seat won in 2018. The other two seats and six other state offices were not up for election this year. The Corporation Commissioners now include two Chicanas, an African-American woman, and two white guys. That's three women of color holding statewide office. Progressive, equality-minded Arizonans are quite amazed and proud of their state, which has 11 statewide officers, yet until now had only ever elected two people of color to state offices since achieving statehood in 1912.
Further thoughts on the pro-Trump protests
Back to the presidential race: It was amusing to watch Steve Kornacki on MSNBC explaining that there were three batches of votes in Arizona. First, the 60% majority whose ballots were mailed in and counted before Nov. 3; second, the much smaller number of ballots cast traditionally on Election Day; and third and last, the mail-in ballots dropped off or arriving in the mail on Nov. 2 and 3. There were lots of those and they take longer to process, but once you start counting them you can notice how they trend, allowing news organizations to predict outcomes. What he didn't appear to know about is a fourth group, the 150,000 or so provisional ballots that are now being counted that traditionally had run overwhelmingly Democratic. So far they do not look to be so predominantly Democratic this time, but the early count indicates they are also not the dramatic Trump votes needed to overcome Biden's half-percent lead.
And now, returning to the protesters outside the vote count in Phoenix: Are Trump's protests and lawsuits about a supposedly fraudulent 2020 vote to be taken with utter seriousness? Only he and a coterie of über-loyal Republicans around him believe in them—or claim to.
There is a larger meaning to this picture, and that is to continue to sow doubts and suspicion about the election, and about the norms of democracy (however flawed) that have prevailed most of the time until now. Trump is energizing his base for his own possible political future, and that of the rest of the proto-fascist right, by delegitimizing the outcome of this election.
And before you know it, there's the state of Georgia, which the president is also on course to lose in the Electoral College, ripping the frayed fabric of the Confederate flag and the cherished values of the sacred Old South's Jim Crow racism.
The critical final determination of the U.S. Senate's composition, as President Biden and Vice President Harris embark on a new progressive agenda for the nation, will be settled on the fast approaching Jan. 5 special election in Georgia. Since no Senate candidate won an outright 50% majority on Nov. 3, not one, but two U.S. Senate seats are on the ballot, pitting two forward-looking Democrats, the African-American Rev. Raphael Warnock and the Jewish Jon Ossoff, respectively against two of the Senate's wealthiest and most corrupt members, the appointed incumbent Republican Kelly Loeffler and loyal Trumpista David Perdue.
What's going on in Arizona right now, and elsewhere in the country, is not so much a realistic movement to win the presidency back for Donald Trump—the voters have already decided that one—but to continue besmirching the Democratic Party and building the right-wing consensus (and funding!) on behalf of Perdue and Loeffler to retain a 52-48 Senate GOP majority. If Georgia, too, is turning inexorably blue, then this is the time and place for Republicans to stop that movement now in its tracks. Mitch McConnell would lose his perch as Senate Majority Leader if the Georgia election produces a 50-50 parity, with Vice President Harris the deciding vote in case of a tie.
Democrats and progressives have a unique opportunity in Georgia and in the nation that could hardly have been imagined before Nov. 3. It won't last long—a window of only eight weeks, until Jan. 5—and should not be squandered.
Additional material was supplied by PW staff.