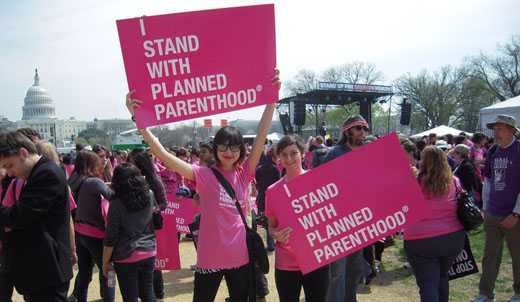 Over 300 women and men braved the hot Arizona sun on Apr. 28 to call for an end to the the Republican Party's "war on women."
The rally at the state capitol in Phoenix was one of dozens of similar actions planned for all 50 state capitols and other cities across the country.
Arizona protesters came by bus and car from from Tucson, Flagstaff, small mining towns, mountain resorts, and the vast Phoenix metro area. They were united by their anger at the Arizona legislature's attacks on reproductive rights, public education, and health care. They were also angry that similar attacks are taking place throughout the country.
Speaking at the rally, Wenona Benally-Baldenegro, Candidate for Congress in Arizona's Dist-1, summed up the mood of the day by reminding us that so many women fought hard for the gains now under attack: "It's important not to let the Right Wing roll back the clock." she said, adding that the Arizona legislature's attacks on Planned Parenthood, is particularly dangerous given that Planned Parenthood is often the only organization that provides services in some rural areas.
If elected this November, Benally-Baldenegro will be the first Native American woman ever elected to the US Congress.
This new and growing movement called Unite Against The War On Women is saying "enough is enough," and mobilizing women and men to push back. Their ability to organize the Phoenix and national actions in just a few short weeks is inspiring. They are a vital part of the broad peoples' coalition needed to turn the ultra-right out of Congress and our state legislatures next Fall.
Photo: Planned Parenthood Facebook page.