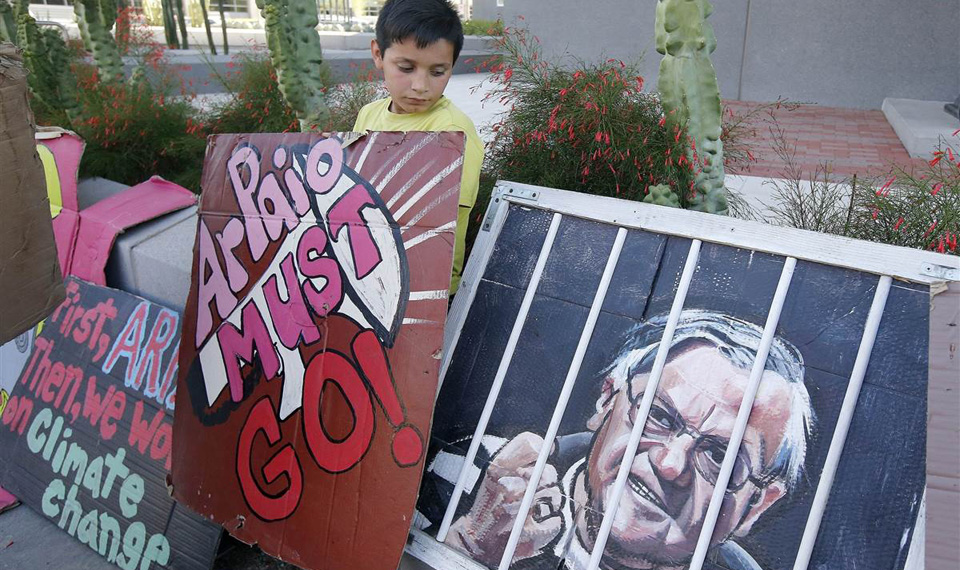 TUSCON – Arizonans woke the day after the elections quite shocked. Some were somber and worried, others were scared, and many were angry. Latino high school students walked out of classes and marched to the state capitol shouting, "Not our President." Thousands rallied at the University of Arizona here last Monday. Demonstrations and marches continue.
Others tried to find a silver lining within the bad news. Some found a little humor in the election results, joking that while Arizonans defeated a ballot proposition to legalize recreational Marijuana, the Trump presidency will be painful enough to enable anybody to qualify for medical pot.
But there were also some major victories in Arizona. Maricopa County, home to two-thirds of Arizonans and bigger than half of the states in the U.S., resoundingly defeated racist Sheriff Joe Arpaio in a landslide. Democrat Paul Penzone beat him by 13 percent despite Arpaio's $12 million election war chest donated by the ultra-right fringe from across the country. His close association with Donald Trump did not help him here.
Massive campaigns to register new Latino voters and getting them out to the polls played a huge role in defeating Arpaio. Also losing, albeit more narrowly, was Republican Maricopa County Recorder Helen Purcell. Purcell was punished for the huge mess that was the presidential primary last winter. And another far-right Republican racist sheriff, Paul Babeu of Pinal County, lost a bid for an open U.S. Congress seat in District 1.
The other big victory was the overwhelming vote for Proposition 206 to raise the minimum wage to $10 an hour on January 1, 2017 and to $12 by 2020. The proposition will also mandate a small number of sick days to Arizona employees. The "yes" vote led by an 18 percent margin. Prop. 206 was heavily supported by Arizona labor unions, especially the UFCW and SEIU. Many of the young people staffing this campaign had been active in the Bernie Sanders campaign.
The "Fight for 15" movement, followed by the excitement generated by the Bernie Sanders campaign, helped politicize and mobilize thousands of new young activists. The lesson many took away was that when organized movements make bold demands and go out and fight for them, concessions can be won from bosses and their political cronies. All progressive measures won by Arizonans in the last three decades were the result of voter initiatives placed on the ballot by collecting signatures from the public.
Democrats also gained a small number of seats in each house of the legislature, but not enough for a majority. The rising Chicano activism has helped increase Latino membership to 22 in the 90-member legislature, which will also have four Native American members, one African American, and an Asian American.