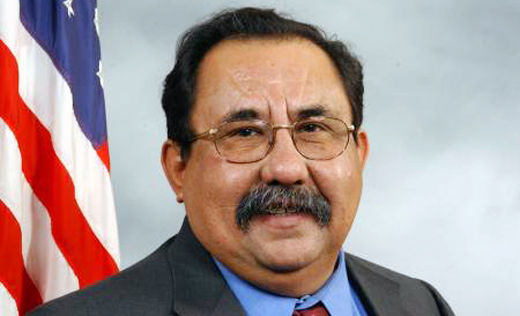 Democratic Rep. Raul Grijalva, an outspoken opponent of Arizona's immigration law, closed his office in Yuma yesterday after a bullet went through and shattered one of its windows.
The Tucson office was also closed due to threats there.
No one was hurt in the attack, which followed a court ruling that delayed implementation of what immigrant rights activists consider the most objectionable parts of the new law.
"A shattered window and a bullet inside the office were found earlier today. Police are investigating the incident and have not released details about a potential motive," Grijalva's office said. "Rep. Grijalva intends to open the office again as soon as possible."
Opponents of the new anti-immigrant law held protests in Phoenix and around the state, even after a judge blocked the most controversial parts of the law including requirements that police investigate immigration status of those stopped for other infractions and requirements that people carry proof of immigration status or citizenship.
Grijalva had called for a boycott of his state but rescinded that call after the judge's ruling.
Right-wing threats of violence against elected officials and ugly town hall meetings occurred during and in the aftermath of the health care reform fight in Congress, but subsided afterwards.
Grijalva is co-chairman of the Congressional Progressive Caucus and has been an active proponent of immigration, health care and financial reform, among other causes.
Right-wing hate blogs directed at Grijalva have, among other things, suggested that he "go back to Mexico."
Grijalva, like many in his family, trace their ancestry back through people who have been citizens of the United States for 10 to 15 generations.
Grijalva said late yesterday on C-Span that right-wing terror attacks would not deter him from remaining steadfast for immigration reform.
"On a personal level it's been a pain. On a political level, it's a risk. The smart thing, I'm told, is to stay out of this issue. The smart thing is to just talk about enforcement, and rail against the gods because there is no enforcement. But for me, the right thing to do, given what I think are the implications of the law in Arizona on a national level, was to take it up, period."
"You could be a Latino in Arizona," Grijalva said, "a citizen for 10 or 15 generations, but suddenly with this new law you became a suspect. This is an affront to many, many people."
Suspected right wingers shattered windows at four Democratic offices during the health care debates in New York, Arizona and Kansas, and ten members of Congress reported threats at that time.
Photo: Rep. Raul Grijalva