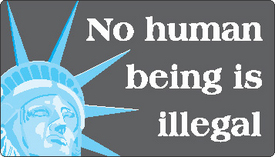 PHOENIX — Elected officials, religious leaders, community organizations and civil libertarians have joined a rising chorus here of Arizonans condemning the blatantly racist grandstanding of Maricopa County Sheriff Joe Arpaio.
Since Jan. 1, Arpaio's office has been conducting high-visibility sheriff deputy and posse raids on Latino and working-class areas of Arizona's biggest county.
Arizona Gov. Janet Napolitano has joined the opposition to Arpaio, calling the raids "troublesome." She also vetoed legislation April 28 to require police departments and sheriff's deputies to do more to crack down on illegal immigration despite its bipartisan support.
The raids, which Arpaio claims are aimed at crime and undocumented immigrants, are really designed to stir up prime time TV publicity for the notoriously racist sheriff, and at terrorizing working-class neighborhoods, critics charge.
The two-day raids start in the afternoon and last until after the evening news, allowing for lots of news cameras and opportunities for Arpaio to give sound bites on the prime time broadcasts.
Like a tornado that touches down at random, the sheriff and his 200-person patrols leave in their wake only arrests, deportations, harassment, paranoia and fear, not to mention the loss to the economy for the area's small businesses, the critics say.
Arpaio begins by setting up his traveling circus-like command center at a prominent parking lot near the area that is the target for his patrols. He then creates a perimeter with yellow crime tape, and within the perimeter he parks a caravan of squad cars and vans to transport detainees. Additionally, he uses large trailers for a mobile temporary detention unit and RVs for offices and communication towers.
Once assembled, the sheriff meets officers and deputized posse members who then set out in patrol cars. These "saturation patrols," as they have been called, look for any and all minor violations such as a broken windshield or tail lamp. Once they stop someone, they demand proof of citizenship or immigration status. They typically make arrests.
With 160 officers trained for immigration enforcement, the Maricopa County Sheriff's Office (MCSO) has the largest number of trained officers under contract with the Department of Homeland Security's 287(g) program. This is a contract that Homeland Security Secretary Michael Chertoff issues to outsource immigration oversight from Immigration and Customs Enforcement to the local, county and state police units.
Community and immigrant rights activists, mobilized by a grassroots network, have been showing up at these command centers to protest the onslaught on the community. Among the groups involved are Somos America, the organization that led the large street marches in 2006, the 35th and Thomas Organizing Committee, whose leader is Salvador Reza, a leader of the Union de Jornaleros (day laborers union), and Los Abogados, an organization of the Hispanic Bar Association, whose local president-elect Salvador Ongaro is always present at the raids.
Protesters frequently find themselves in confrontation with supporters of Arpaio, including a racist group calling itself "United for a Sovereign America" and other far-right and neo-Nazi groups.
Civil rights advocates have protested Arpaio's actions to the U.S. Department of Justice. The Arizona Latino Legislative Caucus, for example, sent a letter to Attorney General Michael Mukasey requesting that the Department of Justice investigate whether the MCSO "saturation patrols" violate civil rights. The Arizona Anti-Defamation League also issued a statement on April 11 calling on the Dept. of Justice to look into accusations of racial profiling by the MCSO.
Local elected officials and police chiefs have rejected Arpaio's actions or have broken off relations with the racist sheriff. Phoenix Mayor Phil Gordon has led the charge against Arpaio by publicly asking for a DOJ investigation of Arpaio. Phoenix, the nation's fifth largest city, is in Maricopa County.
Guadalupe Mayor Rebecca Jimenez accused the MCSO of racial profiling and asked that Arpaio's contract with the city be terminated after one of Arpaio's command center raids into her mostly Latino and Native American city. El Mirage similarly ended its contract with the MCSO to provide police services.
Police Chiefs Jack Harris of Phoenix and George Gascon of neighboring Mesa are openly at odds with and refuse to cooperate with Arpaio.
Even the right-wing Goldwater Institute has questioned the propriety of Arpaio's sweeps. Arizona Sen. John McCain, the Republican candidate for president, has been absent and has not spoken out against Arpaio's human and civil rights abuses.