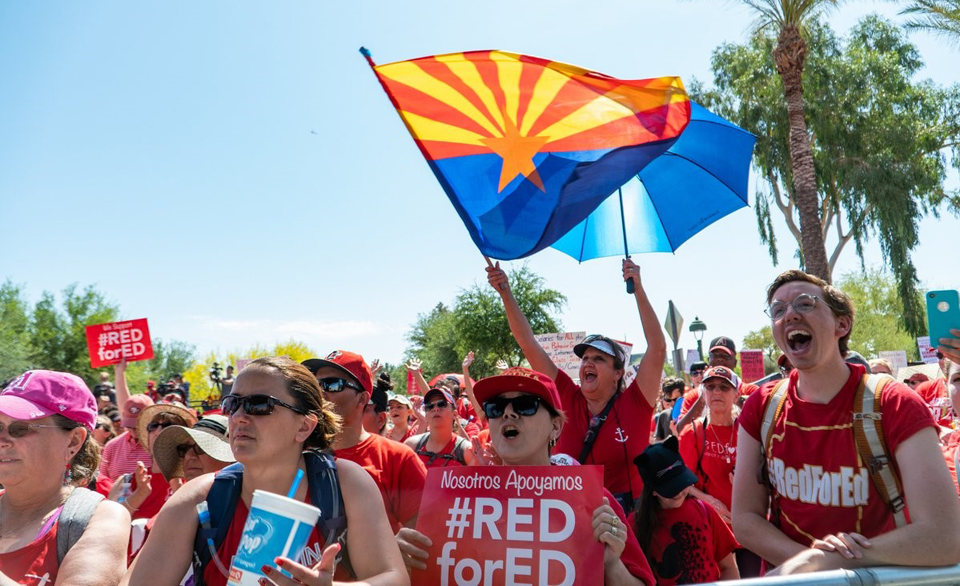 PHOENIX—Led by a happily blaring brass band, thousands of Arizona teachers rallied once again on the steps of their state capitol building in Phoenix to hail their legislative win for funds for their schools, kids, and books and better pay for themselves and their support staffers – and to vow they'll keep marching through this fall's general election.
To the tune of When The Saints Go Marching In, the joyous crowd sang "When Red for Ed goes marching on, When Red for Ed goes marching on, We will be back to vote in November, When Red for Ed goes marching on." The video is on their union's twitter feed.
"#RedforEd" was emblazoned on the red T-shirts Arizona Education Association teachers and staffers wore through their months-long struggle for funding the schools. It culminated when they had to strike for a week – and jammed the state Capitol during the legislature's final all-night budget session on May 2-3.
"We won the first battle, but now we must win the war," tweeted Noah Karevelis, the leader of Arizonans Education United, the citizens' group that rallied to the teachers' cause.
And even as many teachers linked arms and walked in their schools' doors just after the opening bells on May 4, others stayed out, still not trusting the legislature's ruling Republicans and GOP Gov. Doug Ducey to do the right thing and follow through on their promises.
"We will return to our schools, classrooms, and students knowing we have achieved something truly historic," said Arizona Education Association (AEA) President Joe Thomas and National Education Association (NEA) President Lily Eskelsen-Garcia. "We should take pride in what we have accomplished, and in the movement that we have created together."
"The plan is (for teachers) to return to classrooms on Friday, but it's up to each district to make that determination," NEA spokesman Miguel Gonzalez said. AEA's strike authorization vote two weeks ago saw 57,000 ballots returned and a 78 percent-22 percent strike OK.
The Arizonans and their citizen group allies ended the strike after solons, in an all-night session, finally passed a state budget restoring $138 million of the money yanked from the schools in the last decade, and giving the teachers and staffers a 10 percent raise for the 2018 school year and another 10 percent through the year 2020.
But the Arizona Education Association and its citizen allies still are warning the second hike, which like the first covers support staffers, might not come through because its funding is still unclear. Thus the continuing campaign for more money for the schools – and against lawmakers who have underfunded them for years.
The budget also includes money for new textbooks – Thomas, a middle-school history teacher, says his texts end in 1992 – infrastructure and upgraded technology. Many Arizona schools have leaky roofs and loose tiles and the state is near the bottom in national rankings in per-pupil spending and teacher pay.
"When we started this movement, Arizona educators pledged to keep fighting for the schools their students deserve until the end, and we were true to our word," said Thomas and Eskelsen-García, an elementary school teacher from Salt Lake City.
"The #RedforEd fight continues," the joint statement said. "And over the next few days, we will provide additional details about next steps."
The Arizona win was similar to prior teacher victories in West Virginia, Kentucky and a partial victory in Oklahoma. In all four states, the teachers' mass movements arose from the bottom up and gained wide local community support by emphasizing they were fighting for their kids. Union leaders went along for the ride.
All four are GOP-dominated states where governors and legislatures cut school spending and trashed teacher pay and pensions in favor of tax cuts for corporations and the rich. The teachers got hikes and more school spending for their kids, but not tax cut repeal.
Thousands of teachers in Colorado, which has a Democratic governor and a split legislature, are following the same bottom-up script. They've been descending on the state capitol in Denver with similar demands for more funding for the kids and fewer tax cuts for the rich.
The Oklahomans fared the worst, by yielding too soon, some teachers there said – leading to a movement to oust Oklahoma Education Association (OEA) leaders. But at least two other Oklahoma teachers took another tack: They're running for the state legislature.
And in Oklahoma, an influential right-wing State Rep. Todd Russ, R-Cordell, struck back after teachers there had a partial win in mid-April, filing legislation to basically decertify teachers unions there.
Russ rewrote an anti-child abuse measure, SB1150, to require a majority vote by teachers every five years to keep their union. Russ would also ban dues checkoff. Russ said some veteran teachers have never had a chance to vote their union in or out – or to decide whether to pay dues.
Oklahoma City Federation of Teachers (AFT) President Ed Allen told local media Russ' scheme is "a revenge bill." The OEA Vice President Katherine Bishop called it ""clear attack for teachers taking a stand and schools shutting down their doors and their voices being heard at the Capitol." OEA is the dominant teachers union in the Sooner State.
Oklahoma, like West Virginia, Arizona and Kentucky, is a so-called right to work state where non-union teachers and other non-union workers can take advantage of unions' gains and services without paying one red cent for them.