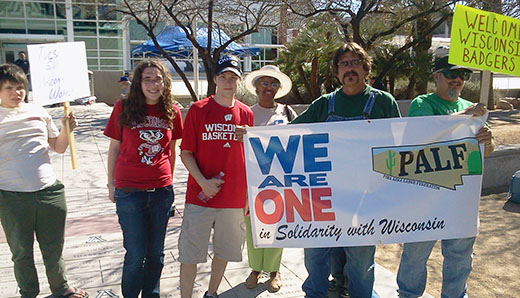 TUSCON – After Wisconsin Governor Scott Walker's attack on collective bargaining rights,Tucson unions put on a strong show of solidarity recently by showing up at the University of Arizona's McKale Center before the University of Wisconsin basketball team took to the court in a second round game of the NCAA tournament.
After campus police asked the union supporters to move to another location away from the arena, an agreement was made that the supporters would move a few feet away from where they were instead of to one of the main streets circling the campus.
After the move, fans began to exit after the first session of games and took notice of the supporters.
Wisconsin fans had no problem with speaking to the union members and were more than happy to take photos alongside their new found friends.
Television crews were quick to interview the fans and ask for their opinion of the local union support. A majority welcomed and thanked the unions.
Another group of union supporters gathered on another side of campus at one of the busy corners. Motorists honked their approval as fans on foot stopped and took the time to speak with them.
In light of Tuscon's recent tragedy, people more than happy to return the favor and show support to others in need and keep up the fight for worker bargaining rights.
Photo: Alexander Monarrez Maldonado