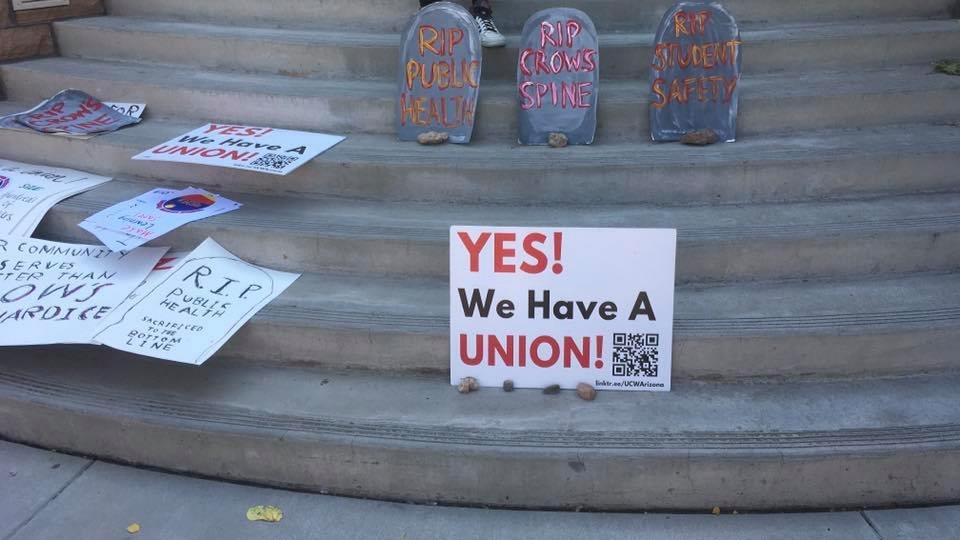 PHOENIX—"We are here, in part, to celebrate the incredible rise of labor organizing across the country," stated United Campus Workers (UCW) member Joya Scott at the "Funeral for Health and Safety" held at Arizona State University (ASU) on Sept. 30. UCW, a wall-to-wall union representing staff, students, and faculty at ASU and the University of Arizona (UA), took to their respective campuses that day to protest unsafe and unfair working and learning conditions.
The Funeral for Health and Safety event was centered around five demands proposed by UCW for safer and fairer conditions. Laurie Stoff, faculty at ASU, and UCW steering committee member said, "We are here to demand that our administration step up and find the moral courage to implement full masking requirements, robust testing, expanded remote teaching and learning options, and hazard pay."
Both ASU and UA have only mandated masks in classroom settings after much community advocacy for mask requirements. The reasoning university presidents gave for only a partial mandate was Gov. Doug Ducey's mask and vaccination mandate ban. The measure was recently ruled unconstitutional by the Arizona superior court, thanks in large part to a lawsuit filed by UCW members.
The ASU event began at Old Main at 12pm and proceeded with a march down to Discovery Hall. During the march, attendees chanted "What do we want? Workplace safety!" and "Who are we? UCW!" Marchers could be seen carrying tombstone-shaped signs reading "RIP Health and Safety." The UA rally began at 5 p.m. at the free speech corner on campus. Speakers led chants of "The people united will never be divided."
The funeral-themed protests at ASU and UA were sponsored by groups including ASU Young Democrats, Jobs with Justice Arizona, Salt of the Earth Labor College, Fight for $15 Tucson, and Arizona House Rep. Melody Hernandez. She gave an impassioned speech at the ASU rally declaring: "Being in a union is hard. The work is hard because it's necessary and Michael Crow (ASU president) needs to hear you." ASU student and Young Democrats president Cameron Adams voiced support for more safety precautions. "As a student and student worker at ASU, I do not feel safe. They can and must do better," he said.
The UA rally presented several speakers, including former candidate for Tucson Ward 6 Miranda Schubert and UCW member Sandy Soto. Soto declared with determination: "This is not the end, this is only the beginning. We will keep fighting so that every worker on this campus is safe, so they have job security and real contracts."
Arizona's COVID-19 cases continue to hover around 2,000+ a day, and ICUs remain at 93% occupancy. Gov. Ducey maintains his commitment to government inaction, and the Arizona Republican Party is more concerned with suppressing voting rights than with the spread of the virus. As Arizona continues to struggle with COVID, it is clear more action is required from political leaders and university leadership. Unions like UCW, meanwhile, are prepared to fight for the safety and well being of their communities.