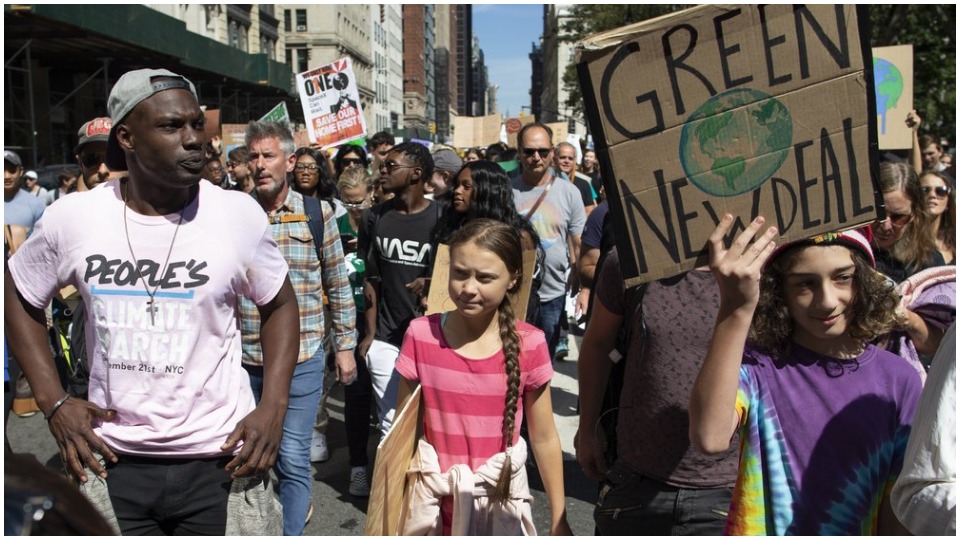 WASHINGTON—For Daniel Goldman of Arlington, Va., the reason for battling to reverse climate change is very simple.
"I don't want to die," he says.
Marching with a hand-drawn sign declaring "The wrong ICE is melting" – uniting two controversies on one piece of cardboard – the high school student was one of tens of thousands of students who descended on downtown D.C. on Sept. 20 as part of the worldwide student strike about climate change.
And more than a few adults, including union members from the Service Employees and the Communications Workers, among others, marched, too.
The students organized themselves into a worldwide coalition for the strike, which began Sept. 20 and is scheduled to run for a week, to demand world leaders get off their asses and battle global warming and its resulting climate change.
Marchers numbered in the tens of millions, from Anchorage to Miami and from London to Kuala Lumpur. All demanded world leaders act before it's too late.
In New York, a flood of people massed before the United Nations, which will hold a special session during the week of Sept. 23 on combating climate change. In Chicago, people marched from the southern end of Grant Park to the plaza in front of the federal building in the Loop.
In London, they descended on Trafalgar Square, and in Kuala Lumpur, they massed at a shopping mall.
One D.C. sign read: "Adults won't lead, so the kids will."
"Our generation faces a dystopian future," explained Chloe Lanyi-Lari, a classmate of Goldman.
The scientific consensus is the planet is warming so fast that another rise of two more degrees Celsius in heat trapped in the Earth's atmosphere will bring catastrophic changes. In some cases, it already has.
The evidence includes melting glaciers and Arctic and Antarctic icecaps, increasingly frequent and ferocious hurricanes, expanding African deserts, wildfires in California and the Amazon, and extinctions of birds and animals as their habitat disappears.
So the students and their allies took to the streets around the globe. In D.C., at least, their signs, chants, and comments were pointedly directed at a federal government – and particularly at GOP President Donald Trump – in climate change denial.
"My friend was giving me a bunch of ideas, including 'people before profit,'" said Sofia Monticelli of Silver Spring, Md., International School, while juggling three signs and leaning against a tree on the way to the U.S. Capitol. "I didn't understand that, so we came up with 'ecology before economy,'" which was the lead sign she carried.
"It's very important people know this is an actual problem. If we don't do something, no one else is going to. We're the first generation to feel the effects of climate change. We're the last who can fix it," said Monticelli's classmates, Hayley Brewer and Julia Pollak. The three were part of a group of 20 from the International School.
While high-schoolers made up the vast majority of the students who struck, some younger kids came with their parents. "My 7-year-old daughter understands climate change better than Trump's Cabinet," read a sign carried by a young mother, pointing to her child, wearing a pink T-shirt and shorts.
Speakers to the crowd urged students, and adults, to lobby lawmakers to move now against the carbon emissions that cause climate change. Frequent signs, both printed and handwritten, demanded an end to U.S. use of fossil fuels.
Other signs pushed the Green New Deal, advanced by "The Squad" of four young female first-term lawmakers: Democratic Reps. Alexandria Ocasio-Cortez of New York City, Ilhan Omar of the Twin Cities, Ayanna Presley of Boston, and Rashida Tlaib of Detroit. All are from communities of color.
Marchers – and their signs – indicated Trump, a virulent climate change denier, is a big part of the problem. Chants of "Hey, hey, ho, ho, climate change has got to go," alternated with second lines of "Donald Trump has got to go." "Vote them out" changed to "Vote Trump out."
And a frequent hand-lettered sign read: "Climate change is rising and so are we."
"We're out here hopefully to get some legislation changing the environment so the Earth doesn't die," said Benjamin Valdevisio of H.D. Woodson High School in Fairfax, Va. He lofted his handmade sign: "I don't want to live in a world without flowers." Blossoms festooned its final word.
But the students – and many accompanying adults – made clear they won't wait forever for the pols to act. "Vote climate 2020," one sign read.
"Voting and peaceful protest is the alternative to us violently showing up on their (politicians') doorsteps," said Goldman, who also wore a button with the Hebrew word zakhor – remember – on it. "The system needs to change."