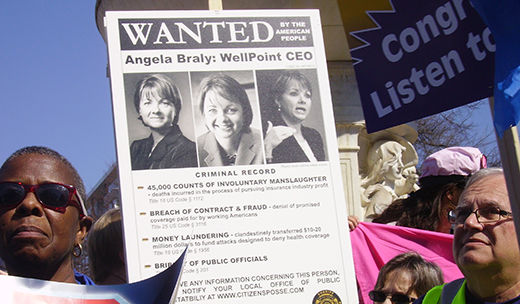 WASHINGTON -Some 5,000 activists demanding "Health Care Now!" descended on the nation's capital March 9 to call for the arrest of the nation's leading health insurance executives, who had gathered at the Ritz Carlton Hotel here. Arriving on buses from up and down the east coast, demonstrators jammed the streets around the hotel, filled the air with their chants and let the "titans" of big insurance know that the battle for health care is anything but finished.
The enthusiastic crowd heard William McNary, president of US Action, urge Congress to "listen to us: we want an up or down vote on health care." McNary then presented a people's warrant for the arrest of the CEOs who were meeting inside the hotel. Reading from the warrant, he charged them with: "violating contracts and denying people agreed upon coverage, laundering money through the Chamber of Commerce and subverting democracy by bribing public officials." He pointed out that Congress has a duty to protect Americans from enemies, foreign and domestic, and that "big insurance, big Wall Street banks, and big oil" have proven themselves to be domestic enemies of the people. McNary called on the American people "to bring criminals, corporate and otherwise, to justice."
Richard Trumka, president of the AFL-CIO, told the crowd, "Inside that building are the titans of the healthcare industry, the titans of greed." He noted that the average CEO in the industry makes 212 times what the average health care worker makes. "They won't stop unless we stop them," he continued. "The only thing that will stop them is legislation that forces them to become more humane. We're here to turn them over to the police and to say 'do your duty, we're here to help you.'"
Family members and relatives of victims who have died from health insurance company abuse along with some survivors attempted to enter the hotel to serve the warrant and perform citizens arrests. They did not gain entry and this reporter and others saw some being arrested and led away when they refused to move from the entrance.
Among those demonstrating were members of organized health care groups, Working America, and many unions including, Communications Workers, Steel Workers, AFSCME, SEIU, AFT, UFCW, Teamsters, Government Employees and Postal Workers. In addition to Richard Trumka, union leaders who addressed the crowd included Gerald McEntee of AFSCME and the AFT's Randi Weingarten.
Photo: Ben Sears