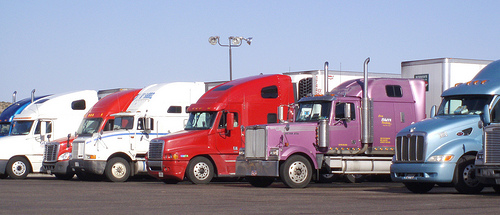 It was days before Christmas when 1,400 truck drivers got the news. Their employer, Arrow Trucking, suspended its operations, leaving them high and dry just before the holiday.
The company, based in Tulsa, Okla., did not notify any of its workers that it was shutting down. Some drivers found out through the Internet or radio. Some found out when they stopped for fuel and their fuel cards weren't accepted.
Eventually, a couple of larger freight companies, some of them financial backers of Arrow, told drivers that if they could get to their terminals they'd receive either $200 or bus fare home.
But that help may have been due to a tremendous grassroots effort using the Internet and social media to help the abandoned and stranded Arrow drivers get home.
On Facebook, the Owner-Operator Independent Drivers Association, OOIDA, set up a page called "Support for Stranded Arrow Trucking Drivers – Coordinate Efforts HERE." With its 7,550-plus fans, the organization began mobilizing help, providing job information and updates on the Arrow Trucking situation. It also set up a special Frequently Asked Questions page on its web site.
Others in the trucking community set up "Arrow Trucking Volunteer Efforts" on Facebook. Currently this page is working to locate a missing driver, John M. Eischens. According to Tulsa World, Eischens called his mother and asked her for a bus ticket home. "Arrow bounced John's last two paychecks and cut off all advances in the week prior to the shutdown," said Marie AuBuchon. "John only worked for them for about a month. He would have had no money for food or shelter."
More information on how to help can be found on Rhianna Weir's blog.
The nonunion Arrow faces a class action lawsuit by its employees for violating the WARN Act, a federal law (Worker Adjustment and Retraining Notification Act) that requires employers with at least 100 employees to give 60 days' notice before a plant closing or mass layoff. The suit will also address other violations of state and local laws that Arrow employees have alleged, including bounced paychecks, unpaid medical premium payments and nonreimbursement of out-of-pocket expenses, according to news reports.
Arrow has faced a substantial number of lawsuits and payouts on issues ranging from damaged goods to racial discrimination. Records also show the company is delinquent on taxes on its property in Tulsa, according to local news media.
Abrupt layoffs and shutdowns have afflicted many industries, especially during this current economic recession, leaving working families high and dry. Workers at Republic Windows and Doors in 2008 took over the plant because the employer had violated the WARN Act. The action helped the workers win back pay due them.
For its part, the federal government has ordered Arrow and its officers to move and secure abandoned trucks. The Federal Motor Carrier Safety Administration, an agency of the U.S. Department of Transportation, "directed Arrow Trucking management and officers to take steps to ensure the safe transfer of its vehicles and cargo to secure areas."
The agency has a toll-free hotline, 1-888-DOT-SAFT (368-7238), for drivers nationwide to call if they see any possible safety violations caused by abandoned Arrow trucks, or other similar situations.
According to the Journal of Commerce, Daimler Corp. pulled its financial backing for the company, making Arrow the trucking industry's largest failure since Mid-States Express in early 2009.
The Christian Science Monitor offered the following information to help Arrow drivers:
A number of firms have advertised that they are hiring Arrow Trucking drivers and/or staff. These include:
System Transport: (800) 762-3776
Waggoners Trucking: Tim Edie at 888-246-1406, ext. 1313.
TL Express: Hiring in the Georgetown, Ky., and northeastern Ohio at www.tlexpress.com.
Prime, Inc.: (800) 224-4585
Where to go if you need help? Here are three lines connecting truckers with help:
Owner-Operated Independent Drivers Association: (800) 444-5791
The Road Dog Show: (888) 876-2336 extension 4
Fikes: (800) 873-4537
Photo: http://www.flickr.com/photos/cjc4454/ / CC BY-SA 2.0