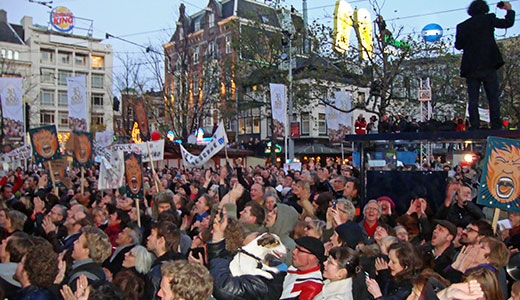 Singers, painters and television presenters demonstrated across the Netherlands on Saturday against government plans to slash funding and subsidies for the arts as part of an 18 billion euro ($24 billion) austerity package.
Around 75,000 people attended anti-cuts events across the country.
The protests followed the Dutch parliament's approval on Thursday of plans to raise the sales tax from 6 percent to 19 percent on tickets to theaters, movie theaters, rock concerts and other cultural events.
The new right-wing administration has also pledged to cut arts funding by 200 million euros ($272 million) in the next five years.
In Amsterdam musicians, presenters and comedians gathered on the Leidseplein to hear one-minute speeches, sing protest songs and scream against the regressive plans.
Members of the public gathered in The Hague after theaters and cinemas closed to listen to a trumpeter from a local orchestra play "The Last Post" and hold a minute's silence.
Organizers warned that the cuts will narrow access to culture.
"A 13 percent rise in sales tax hits all of the public because tickets get more expensive," they said.
"By cutting culture budgets and raising tax on tickets culture will become an elitist pastime and less accessible for people with less money."
Prime Minister Mark Rutte of the neoliberal VVD party presides over a right-wing coalition with the Christian Democrats and the xenophobic Freedom Party, led by Geert Wilders.
Wilders has characterized state-sponsored cultural programs as a "left-wing hobby."
Reposted from Morning Star.
Photo: Saturday's protest in the Leidseplein, in central Amsterdam. Karen Eliot CC 2.0