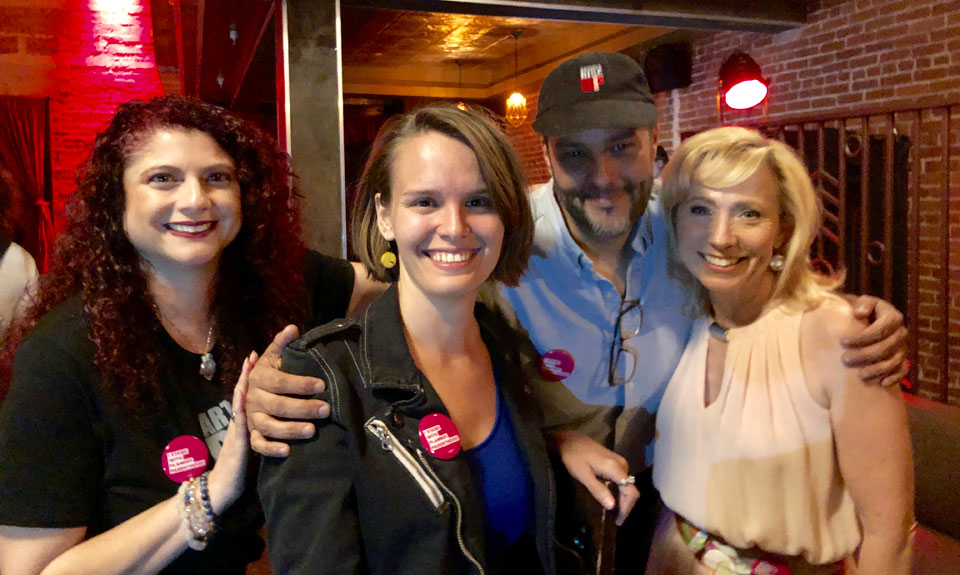 LOS ANGELES—Artists Rise Up Los Angeles (ARULA) returned to the stage on August 27 at The Federal NoHo in order to raise consciousness and cash for a cause. The live performance also raised lots of laughter, as the show was co-presented by Minority Reportz, a comedy "consortium" that highlights mostly non-white, female comics who are often underrepresented by the "mainstream" comedy club scene.
ARULA founding executive producer and artistic director Sue Hamilton kicked off the fun- and fundraiser, taking the mic on the stage of the upstairs space within the North Hollywood eatery and nightclub to welcome the capacity crowd and introduce speakers and entertainers. The day after 2016's presidential election, Hamilton, an L.A. theater director and acting teacher, resolved to "take our emotions and our art and put it on stage and to give the proceeds to" progressive groups. By January 2017, ARULA was on the boards, raising hell and money.
Since then, in a series of live performances plus one shorts film festival, ARULA has gone on to "feed two birds with one seed"—raising money at stage events that also heighten awareness about issues confronting people as a resurgent reactionary authoritarianism threatens our democracy and freedom. Left-leaning organizations that have benefited from ARULA's shows at L.A. outlets ranging from NoHo's El Portal Theater to the Atwater Village Theatre to the Downtown Independent Theater and beyond, include the Southern Poverty Law Center, ACLU, Council on American-Islamic Relations, Chrysalis, Human Rights Campaign, NARAL Pro-Choice America, and the Natural Resources Defense Council.
The recipient of the funds raised at The Federal NoHo was Planned Parenthood Los Angeles. Hamilton introduced Stella Stahl, special events manager of the organization dedicated to providing family planning, education and healthcare, including reproductive rights, to both women and men. Stahl informed that PPLA has served millions of women in the L.A. region and was opening a new health center in Compton in August, with another one slated to open later this year in Carson. Although Stahl described L.A. as a "safe space," she warned against increasing attacks on Planned Parenthood—which provides abortion, among many other services—in many parts of the country.
Of course, what's at the bottom of the current frontal assault on groups such as Planned Parenthood is patriarchal society's sexual repression and oppression of women by denying them the ability to control their own bodies. Being free of the fears of STDs and unwanted pregnancies is an important factor for women to be able to enjoy their sexuality. What may be the wittiest party favors or swag I've ever seen at a fundraiser was provided on tabletops at The Federal—condoms in packets bearing Artists Rising Up LA's logo.
After Stahl's talk, the evening's stand-up comedy got underway. Donna Maine, the show's "token" Caucasian, took the stage as host for Minority Reportz. After performing her own routine, with jokes about being a middle-aged divorcee, Maine proceeded to introduce five multiculti cut-ups.
Brooklyn Jones, who originally hails from the New York City borough of that name, regaled the room with her hilarious take on being an African-American woman in today's racist, sexist USA. She was followed onstage by Pauline Yasuda, who dispelled stigmatizing stereotypes about Asian women, challenged the racist notion to "go back where you came from," discussed interracial relationships, and also reminded audiences that "a one-night stand is not a piece of furniture."
Monrok, who is of Indian ancestry ("dot, not feather," as Iranian wag Maz Jobrani has put it), presented a routine notable for her wry wit and topical observations that weren't particularly progressive (although this is not to say that the new mom will be sent to a Khmer Rouge re-education camp). The aptly monikered Vietnamese transgender jester Robin Tran broke her audience up with her unique take on, literally, "looking at life from both sides now." Her routine included, of all things, jokes about the heretofore taboo topic of suicide hotline operators. Is nothing sacred!?
Pakistani-American comedian Mona Shaikh, an ARULA mainstay since the group's first live extravaganza and the producer of Minority Reportz, was the night's headliner. Mona unleashed lots of material mixing the political and personal that to my ears sounded new. Shaikh had revelers, uh, shaking with laughter.
A hilarious time was had by all at the all-female funfest. According to ARULA's Enrico Villanueva, this was probably its final show of 2019, although he promised that the anti-Trump showbiz outfit would be back throughout the presidential election year.
ARULA co-founder Sue Hamilton will be a panelist on the upcoming Left Coast Forum's "Enter Stage Left: Theater, Film and TV for a Better World" panel, which is as of this writing scheduled for 12:40 p.m.-1:50 p.m. on Sun., Oct. 13, moderated by myself. See here for details. ARULA is also helping find performers to entertain and enlighten at the Left Coast Forum, such as spoken word artist Camila Greenberg.
For more info see: ARULA, The Federal, Planned Parenthood L.A., and Left Coast Forum.