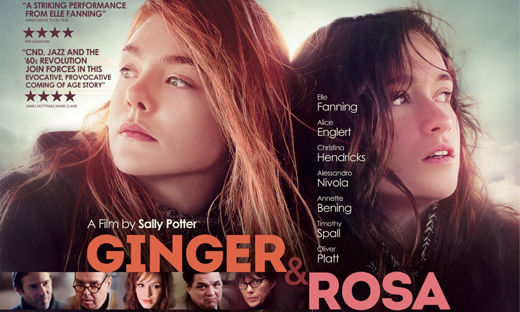 There aren't enough accolades to describe Elle Fanning as Ginger in this lovely movie. She has a close-up view in almost every scene, because the movie isn't really about the Cuban Missile Crisis in 1962, nor about family life among the artsy set of England in that period.
It isn't about the pitiful mother (played with excruciating pain by Christina Hendricks), who laments giving up her career as a painter to have her daughter and to serve her willful husband. It isn't about the self-serving megalomaniac father (Allessandro Nivola) who has found a 1960s excuse (existentialism) to do anything he wants without regard for anyone. It isn't about the wonderful and caring extended family of godparents and genuinely concerned people. It isn't about the lost and lovelorn Rosa (Alice Englert) either.
It's about Ginger and what everybody else does to her. It's about expressing her fear of nuclear annihilation and hiding all the more immediate fears. It's about being very young in 1962, or any time. Every move made by others in the film, whether it's President Kennedy, Nikita Kruschev, Ginger's girlfriend or other meaningful adults, amplifies through the trembling face of young Elle Fanning and directly into us.
"Ginger and Rosa"
Directed by Sally Potter
90 minutes
Photo: Official site