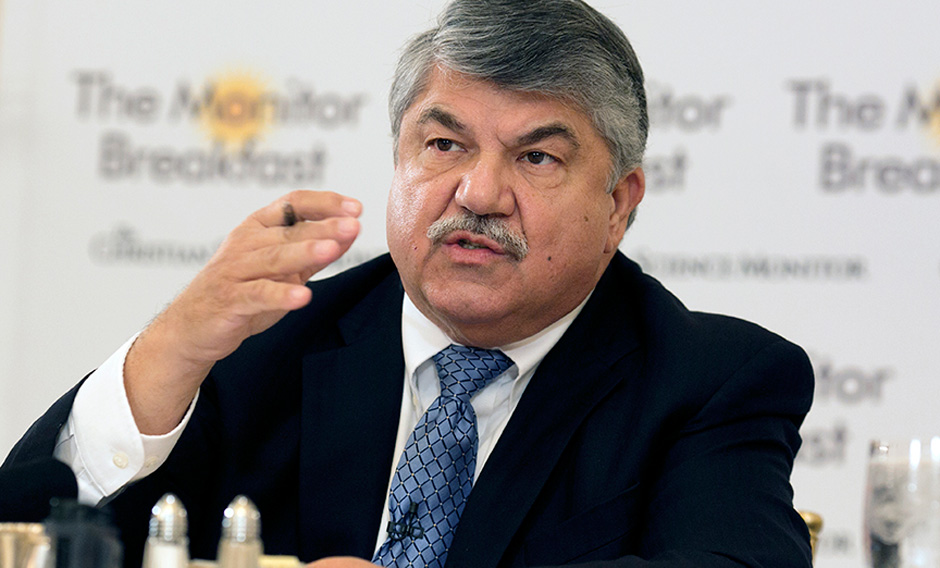 ST. LOUIS—Income inequality and the wage gap are far more than simply unfair according to Richard Trumka, president of the AFL-CIO. In a talk with labor communicators here this weekend at the International Labor Communications Association convention just before the opening of the AFL-CIO's convention, Trumka said income inequality is "tearing apart" not just the United States but the entire world.
A big part of the solution, he said, is to guarantee that people have the right to come together to form unions and that unions themselves be strengthened. He said this solution will work for all workers, union and non-union and that the mission of the labor movement is to fight back against the forces responsible for widening the income gap.
He issued a call to reject the idea that individual initiative will automatically triumph over all problems and instead reminded people that for the 99 percent workingclass majority collective action is the way to go when it comes to solving the income gap.
"Workers never get more by acting alone. They get more by acting together," he added.
Trumka took on the issue of the right to work wave sweeping states all over the country.
"We'll do more than just simply fight back" Trumka told the ILCA discussion of right to work, held in a state – Missouri – where unionists successfully petitioned a RTW law onto a referendum ballot next year, thus delaying it.
"We'll use these fights" on right to work "to fight back internally, by encouraging our members to build power," he said. "That's how we lift each other up and make right to work irrelevant."
AFL-CIO staffers and officials are also working to change the way language is used when it comes to important issues. They have been  emphasizing that so called right to work threatens the  freedom to organize, while in Missouri unions have emphasized the question, "Who wants to work for less money?"