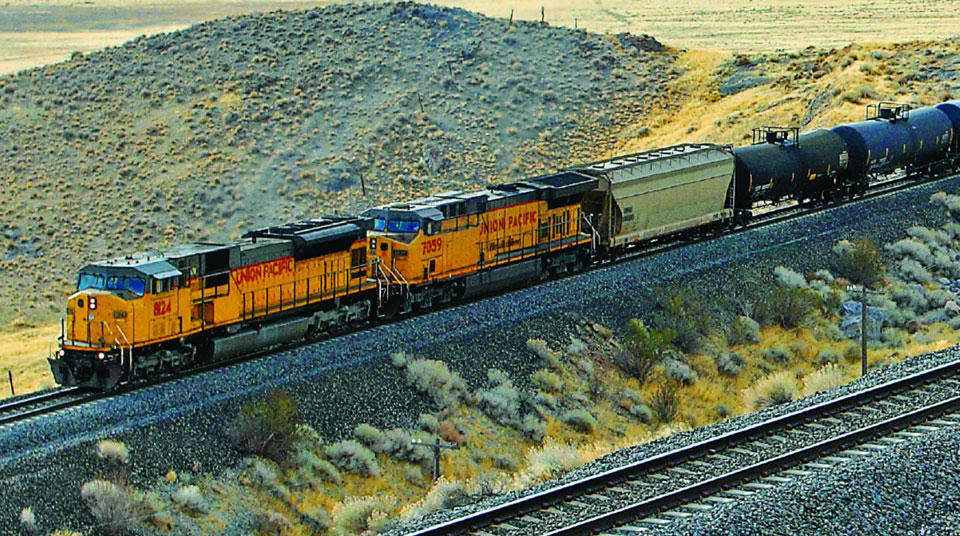 WASHINGTON—As expected, Democratic President Joe Biden named a three-member Presidential Emergency Board to take testimony and try to solve the long-term dispute between 14 railroad unions and the nation's freight railroads over a new contract.
By naming the board, Biden automatically triggered a "cooling-off period" of up to 60 days where the rail bosses can't lock out the workers and the workers can't strike.
His action also froze in its tracks the possibility that one of the 14 unions, the Brotherhood of Locomotive Engineers & Trainmen/Teamsters, could have ordered a walkout of their 23,000 engineers on July 18. Its engineer members had authorized the board to call a strike, with 99.5% voting to do so. It also produced a 4-minute YouTube explanatory video.
A forced engineers' walkout would have brought the nation's rail freight traffic to a dead halt, stranding everything from coal to cars to oil to corn and putting the nation's already strained supply chain under further stress.
Key issues in the dispute are wages—the workers haven't had a raise since before the coronavirus pandemic began—and the carriers' continuing demand that trains can be run with only one person, the engineer. Execs at one of the four largest carriers, Burlington Northern Santa Fe, have floated the idea of long freights with nobody aboard at all.
"The rail unions remain united in their efforts, and are now working together in preparation of a unified case representing the best interests of all rail employees before the Presidential Emergency Board," the unions said in a prepared statement.
"Our unified case will clearly show the unions' proposals are supported by current economic data and are more than warranted when compared to our memberships' contribution to the record profits of the rail carriers."
Biden named George Washington University law professor Ira Jaffe to chair the board, with Boston College professor David Twomey and independent arbitrator Barbara Deinhardt as the other two members. The two professors are veterans of prior PEBs in other rail disputes under prior administrations. Jaffe is a full-time arbitrator and mediator. Deinhardt is a former chair of the New York State Public Employment Relations Board and its workers comp board.
"Keeping supply chains running means keeping America's railways running," a White House statement said. Biden "considered input from relevant stakeholders. The president's goal is to make sure America's freight rail system continues to run without disruption, delivering the items that our families, communities, farms, and businesses rely on."
"Now that this business is finally out of the way, we can get on with the next order of business—preparing for a strike" if rail workers reject the PEB's recommendations, said Railroad Workers United, an organization of rank-and-file workers in all rail crafts. "We may still get a kick at the carriers in September…It is high time to mobilize."