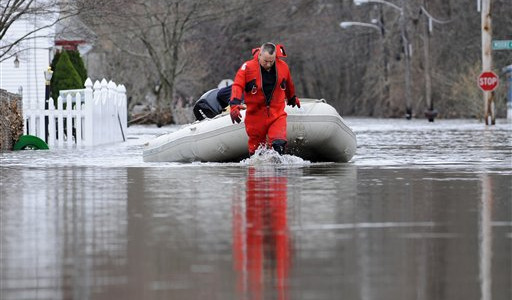 PROVIDENCE, R.I. – As Rhode Islanders recover from the state's worst flooding in 200 years, questions are being raised about why the damage was so great.
The damage, some here say, can in large part be blamed on decades of paving over flood plains for malls and other private development, often subsidized by taxpayers, leaving flood water no place to drain naturally. The harm has been compounded by outdated flood control systems and inadequately maintained roads and bridges, de-funded by tax breaks for the rich.
Tens of thousands of homes and businesses in Rhode Island were affected by rising river waters that inundated basements and parking lots on Tuesday and Wednesday, following several days of torrential rain, on top of flooding from previous rainstorms two weeks ago. As the waters rose, hundreds of people fled to Red Cross shelters or area hotels.
Interstate 95, the state's main artery, was closed for two days in the Warwick, R.I., area south of Providence because of water on the eight-lane highway. It reopened Thursday after state workers, joined by firefighters, private contractors and the National Guard, worked through the night to pump the water out. Travelers re-routed onto another road in Warwick got a view of one of the state's major malls sitting in a sea of water covering its vast parking lots.
Amtrak turned trains around and finally stopped all service in the busy Northeast corridor route because of high water on the tracks.
Costs of repairing flooded homes will be overwhelming for many in this economically ravaged state, where long-term unemployment rates are among the nation's highest. FEMA is setting up six disaster relief stations in Rhode Island for people to apply for federal aid.
With the sun out on Friday, homeowners worked to dry out their houses and start repairs. But it won't be easy. One Warwick resident who had managed to scrounge five pumps to clear his basement, where water had risen nearly to the ceiling, reported this afternoon that the power had gone out in his neighborhood, shutting off the pumps.
Faulty flood release mechanisms on dams, many dating from the 19th century, failed to open automatically, requiring workers to open them manually, the Providence Journal reported. Surging rivers appeared to be contaminated with sewage, "probably from overburdened sewer lines," the paper said. "It is clear that much of the infrastructure relating to flood control is seriously out of date."
Even as public workers labored around the clock to contain the flooding and aid the public, the corporate-minded Journal blamed "vast public-employee benefits, especially retirement benefits" for taking municipal funds from infrastructure repair.
But the Rev. Duane Clinker, minister at Open Table of Christ, a Methodist church in Providence, has a different view. He said as a community organizer in 1973 he saw how the city used a flood plain along one of its rivers as a waste dump, and then turned the land over to a speculator to build a high-rise project. Today, "the high-rise still exists but the flood plain doesn't and so the Valley Street neighborhood floods instead," he said. "Much of the flood plain in Warwick was filled and now the Warwick Mall floods. Developers made money on the destruction of the plains, now they will be compensated by the public for their loss of property."
He added, "All of this is made worse, of course, by decades of planned neglect of Rhode Island bridges and roads in order, in part, to cut taxes for the very wealthy. Now it is considered a 'natural disaster' that bridges buckle or wash away."
Ben Jones, a local Sierra Club activist, cited "massive taxpayer subsidized private development of flood plains for big box retail, industrial parks, and suburban development, on land that for tens of thousands of years provided fertile soil and rich ecology for all sorts of critters, including humans." In that undeveloped land, water from cyclical floods would be absorbed, "measured and evenly distributed across the whole flood plain, replenishing the soil for all in the process."
"Hard surfaces, like roads and parking lots, don't absorb water," he said. "The runoff that would have been absorbed by the land is instead channeled into rushing torrents."
"Unfortunately, we've been so convinced of the infallibility of the free market that sitting in our cars, delayed by rushing waters and the infrastructure our taxpayer dollars created for the benefit of channeling wealth, we think that God wrought this disaster," Jones said. The real costs, he added, are borne by working people.
Humans need to adapt to the fact that floods happen periodically, and design cities and infrastructure accordingly, said Chris Wilhite, a Sierra Club leader here. He and Jones say the nation's wildlands need to be restored. Instead of urban-suburban sprawl, they say, our society needs to move toward transportation systems designed around human needs, with denser clusters of human population, surrounded by agricultural rings, and then wildlands.
Photo: Cranston, R.I., firefighter David Atkinson visits homes to check on pumps and fill requests from neighbors to leave food for left-behind cats, April 1. (AP/Gretchen Ertl)