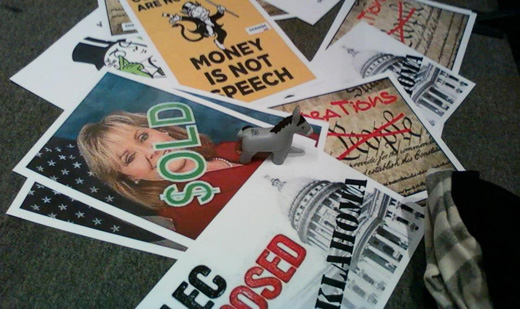 CHICAGO – The American Legislative Exchange Council (ALEC) is running a secret, multi-million dollar slush fund that pays for lavish junkets for state lawmakers and has lied to the Internal Revenue Service about the fund's activity, two government watchdog groups charged today.
The charges come as labor and allied groups prepare to demonstrate against ALEC when it meets at the Palmer House here on Aug. 8.
Common Cause and the Center for Media and Democracy said the slush fund, falsely labeled as a "scholarship fund," raises serious questions about ALEC's compliance with state gift and disclosure laws and with the ethics of lawmakers who accept ALEC's "travel payments."
The watchdogs said that by funneling money through ALEC, that group's corporate sponsors are able to take a tax deduction for the cost of wining, dining and housing lawmakers and their families at resorts including events like the ALEC 40th anniversary bash this week at the posh Palmer House Hotel
ALEC, while writing lawmakers' checks to cover their trips, conceals both the sources of its funding and the amount it earns from both the public and the IRS by claiming that it only holds the funds in "trust."
Common Cause and CMD laid out the details of the scheme in an IRS tax whistleblower complaint and letter to the IRS Commissioner.
The groups have built their case on documents obtained through open records requests and are taking a number of actions this week to urge a crackdown on the ALEC slush fund operation.
First, they have filed the complaint with the IRS Whistleblower Office and have submitted a letter to the IRS Commisioner charging ALEC with filing fraudulent tax returns that massively underreported and grossly misrepresented its so called "scholarship" program, and of operating the fund in violation of ALEC's 501 c(3) tax exempt status.
They have also released a report this week, Buying Influence, that documents how ALEC's member corporations have funneled at least $4 million for lawmakers since 2006 into the "scholarship" fund.
ALEC's corporate funds have been used to fly lawmakers to resorts for closed-door meetings with corporate leaders and lobbyists, and to finance purchase of exclusive tickets and receptions at professional baseball games, cigar parties and skeet shoots. "The slush fund leaves constituents in the dark about who is really footing the bills for their representatives," the report says. (article continues after video)
The groups are also sending letters to state ethics oversight agencies urging authorities to carefully review the ALEC "scholarship" scheme and determine if it complies with state gift and disclosure laws.
ALEC's state chairs have each received a letter asking for the names of legislators who have received ALEC corporate funds to travel to the conference in Chicago this week, and which corporations are underwriting that travel. CMD and Common Cause also asked ALEC chairs to provide a full public accounting of legislative "scholarship" recipients and funders for the past five years.
"ALEC pledged this spring to be more transparent. This is a chance for the organization to keep that promise," said Arn Pearson, Common Cause's vice president for policy and litigation. "Our elected officials really should not accept expense-paid trips and lodging from special interests, but if they choose to do so the voters are entitled to know who is paying, and how much."
"We know which corporations funded trips to posh resorts for hundreds of lawmakers to vote behind closed doors with lobbyists on proposals to change state laws," said Lisa Graves, executive director of CMD and alecexposed.org. "It's disgraceful for ALEC to use its tax-exempt status to act as a conduit for gifts to facilitate influence peddling that advances the lobbying agenda of special interests to the detriment of ordinary Americans. This is corruption."
The CMD-Common Cause report said ALEC promotes its meetings in "vacation -like terms." One of its invites promised legislators "endless sandy beaches, sunny days, beautiful sunsets and the cool gulf breezes." The event was at a luxury hotel, near a golf course where ALEC funder R.J. Reynolds Tobacco sponsored a clinic and tournament for lawmakers and lobbyists, the report said, one of many such events.
"The ALEC confabs bring together corporate executives, lobbyists and state lawmakers for closed-door meetings where they vote side by side on pro-corporate legislation to take back to their states. ALEC's agenda includes the privatization of schools and other public assets, anti-labor laws, weakened protections for clean water and air, and telecom deregulation bills. ALEC's legacy includes a national drive on behalf of Stand Your Ground laws like the Florida statute at issue in the Trayvon Martin shooting, and restrictive Voter ID measures that make it hard for students, elderly and minority and disabled voters to cast their ballots."
Photo:ALEC is NOT OK March and Rally,NE Oklahoma Central Labor Council Facebook page.