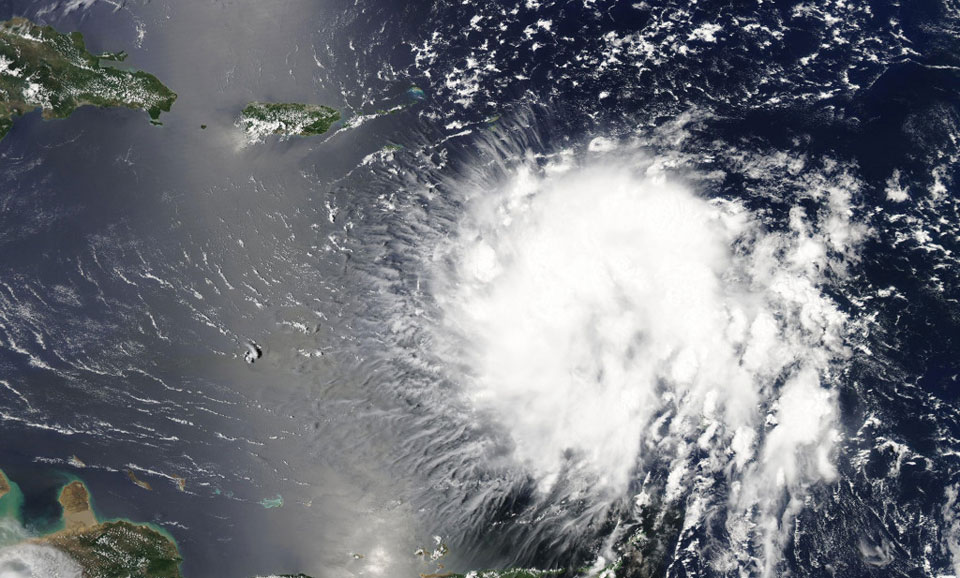 WASHINGTON—With Hurricane Dorian poised to smash into Puerto Rico, the U.S. Virgin Islands and then Florida, GOP President Donald Trump's decision to transfer disaster relief money and Coast Guard funds from those uses – among other things — to build migrant detention camps in the Southwest has sparked outrage.
The catch is that there's not much lawmakers can do about it: Trump sent his transfer notice, officially called a "reprogramming" within the Homeland Security Department (DHS), to Congress on July 26, and Congress had a month to block it. That month expired two days before Dorian hit.
That leaves only one actor ready to immediately aid Puerto Rico, which is still trying to recover from Hurricanes Maria and Irma and their 3,000 deaths and multibillion dollars' worth of massive destruction two years ago: The U.S. merchant marine fleet, its unionized crews, and its customers.
"Our merchant marine already has supplies lined up in advance in Jones Act ships," AFL-CIO Maritime Trades Department Secretary-Treasurer Dan Duncan said in an interview. "They're realizing what could happen and they're prepared."
The Maritime Trades Department is also keeping an eye on its own members and their families in the Southeast, since Dorian is expected to hit Florida by August 29 and then head up the coast.
Trump is yanking $271 million from the Coast Guard and the Federal Emergency Management Agency, both parts of DHS, and sending to the Immigration and Customs Enforcement (ICE) and the Border Patrol, also within DHS. The yanked funds include $155 million in emergency disaster relief money — $100 million of it appropriated three years ago for "disaster pre-mitigation" but never spent.
Among other funds being shunted to Trump's camps: $13.9 million for air marshals and just over $670,000 for hiring and training airport screeners.
Some $101 million of the transferred money would go to build 9,000 more beds for migrants at various camps. Another $14.5 million would go to transport them around the country.
The Border Patrol and ICE are the two DHS agencies that round up migrants at the border – and inland – separate screaming children from their parents and detain both groups in vastly overcrowded camps and shelters.
Lawmakers and other visitors whom ICE and the Border Patrol reluctantly let into the camps and shelters report vast overcrowding, masks distributed to both occupants and visitors to try to stop the spread of infectious diseases, 24/7 lighting preventing people from sleeping, and no showers, toothpaste, toothbrushes and other basic hygiene needs and meals that consist of snacks. And the migrants are held far longer than DHS's own standards of a maximum of 72 hours.
Trump wants to use the money to build more such camps. That upset, among others, San Juan Mayor Carmen Yulin Cruz, Trump's most outspoken critic of federal aid – or lack of it – after Maria and Irma.
"The president continues to express lies because the truth really does not suit him," she told CNN. "As you said, it's not $92 billion, it is close to $42 billion," that's been appropriated for Puerto Rican recovery. "It's close to between $12.6  (billion) and $14 billion dollars that have come to Puerto Rico and still, things have not worked appropriately.
"It seems like some people have learned the lessons of the past or are willing to say that they didn't do right by us the first time and they are trying to do their best. That is not the case with the president of the United States."
"So get out of the way, President Trump, and let the people that can do the job get the job done," she added.
Lawmakers aren't happy, either. House Speaker Nancy Pelosi, D-Calif., called Trump's transfer "reckless." Senate Minority Leader Charles Schumer, D-N.Y., termed it "backwards and cruel." He also cited the link to preparing to aid Puerto Rico and the Virgin Islands.
"Taking these critical funds from disaster preparedness and recovery efforts threatens lives and weakens the government's ability to help Americans in the wake of natural disasters. Congress appropriated these funds to meet the American peoples' priorities and I strongly oppose this effort to undermine our constitutional authority" to order where federal money should go, Schumer said.]
"Once again this administration is flouting the law to fund its extremist indefinite detention immigration policies," said Rep. Bennie Thompson, D-Miss., whose House Homeland Security Committee authorizes and sets priorities for FEMA, though it does not actually dole out the money.
"This is reckless and the administration is playing with fire — all in the name of locking up families and children and playing to the president's base leading up to an election year," Thompson continued.  "Taking money away from TSA and from FEMA in the middle of hurricane season could have deadly consequences. Congress should work to undo the damage this administration is continually doing to our homeland security infrastructure."
The one lawmaker who protested before the August 26 deadline was Rep. Lucille Roybal-Allard, D-Calif., who chairs the House Appropriations subcommittee that actually helps dole out FEMA funds, including money for the screeners, disasters, the Coast Guard, ICE, and the Border Patrol.
"I have significant concerns about the intended use of funds, and consequently, about the tradeoffs between that use and activities that would otherwise be funded from the source accounts," she wrote Trump's acting DHS Secretary, Kevin McAleenan, on August 23. The "source accounts," of course, include disaster relief.
"I strongly disagree with DHS's decision to transfer and reprogram funds to pay for more ICE detention beds and for hearing facilities to support the administration's inhumane Migrant Protection Protocols program," Roybal-Allard added in a statement. She called the funds transfer "unnecessary."