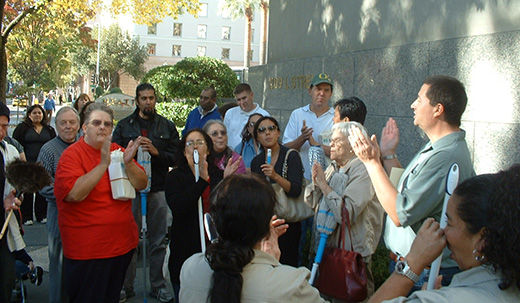 SACRAMENTO, Calif. – With brooms and mops held high, our group of 35 people, including the president of the Central Labor Council and religious leaders, marched into the Hyatt Hotel lobby. Our mission on Nov. 18 was to offer to help the severely overworked housekeepers clean their allotted number of rooms.
At the same time that we were carrying our brooms and mops into the Hyatt here in Sacramento, similar actions were taking place from Vancouver to Honolulu, Chicago, Indianapolis, San Francisco, Los Angeles and Long Beach.
The Hyatt hotel chain is known among hotel workers as perhaps the worst of the national hotel corporations, which pay low wages, cut health benefits and demand more work than people can safely do. Our demonstration was a part of Unite Here!'s determination to do something about this treatment of hotel workers.
Of course, our offer to help the housekeepers was not enthusiastically received by management. But after a brief discussion, we felt we had made our point, and so ended our demonstration for that day. Further protests are planned until some kind of relief is given these workers.
In a 2010 study of hotel worker injuries in 50 hotels around the country, published in the American Journal of Industrial Medicine, housekeepers working in Hyatt Hotels had the highest injury rate of all hotels studied.
At some Hyatts, housekeepers must clean 30 rooms a day. That is double what is usually required. This workload means that a housekeeper may have as little as 15 minutes to clean a room – to make beds, change linens, clean the toilet, the bathtub and all other surfaces, to dust, vacuum and empty the trash. And of course the more rooms cleaned, the more exposure to the chemicals used by the cleaners.
A significant change in the hotel industry in the last decade, as these nationwide chains compete for business, is the upgrading of rooms and the addition of customer-pleasing amenities. An example of such amenities is the Hilton hotels' "serenity bed." The mattress alone is 12.5 inches thick and weighs 113 pounds. The linens for each bed weigh 16 pounds. A housekeeper who changes one serenity bed per room and cleans 15 rooms per day strips over 500 pounds of soiled linen and replaces it with 500 pounds of clean linen.
The sheets and blankets are tucked under the mattress, requiring the housekeeper to lift the heavy mattress at least eight times in the course of making one bed. As there is often more than one bed in a room, and housekeepers must often clean more than 15 rooms in a day, the workload can far exceed what I've just described.
A few common sense solutions would make a huge difference. For example, fitted sheets would save much lifting of heavy mattresses, and replacing rags with long-handled mops and dusters would mean not getting down on hands and knees to do the floor or climbing on the bathtub to clean high surfaces.
Another study, also published by the American Journal of Industrial Medicine, found hotel workers had an injury rate 25 percent higher than all other service workers. Housekeepers had the highest rate of injury, 50 percent greater than other hotel workers.
Ninety-one percent of housekeepers say they have endured work-related pain. Two out of three visit their doctor regularly for relief of pain. Two-thirds regularly take pain medication on the job. And of course the fear of losing one's job is always there, to keep the worker from complaining.
Nearly all housekeepers are women, and the majority are immigrants and women of color.
Unite Here! has requested that the five largest hotel chains in the U.S. provide any study or analysis they may have conducted on worker health and safety or on the prevention of injuries.
So far, the union has received no answer.
Photo: Unite Here! Local 49.