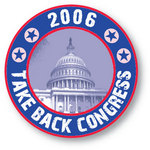 This old truism may still be true.
As everyone knows, Ohio's vote tipped the scales for George W. Bush in 2004. Many questions were raised at the time about the security and accuracy of that vote. The recent May primary elections in Ohio, in which electronic or optical scan voting machines were in place statewide for the first time, raised many of the same questions.
In November, Ohio voters will choose between Republican Kenneth Blackwell and Democrat Ted Strickland for governor, in a race that will have national implications. Blackwell, an African American arch-conservative, is the current Ohio secretary of state. Strickland, who is white, is a moderate, with left-of-center views on some social issues. He is an ordained minister and is backed by most of the labor movement.
The May primary voting in Cuyahoga County, which includes Cleveland, was marred by the failure of the electronic voting machines to accurately read over 15,000 absentee ballots. Why that happened is still being investigated. The ballots had to be hand-counted by hired temporary employees. The result of some close races is still unknown as of this writing.
While it appears that most voters were pleased with the new electronic voting machines, there were numerous reports of problems at various polling locations. Poll workers received only three hours of training on how to set up the machines, program voter cards, take down the machines at the end of the day and transmit the voting tallies to a central receiving location. As many as 20 percent of the poll workers did not show up at the polls on election day, causing some polls to open late and some wrong instructions to be given to voters.
All of these problems are the subject of investigation by a special committee set up by the Cuyahoga County Board of Elections. The chairman of the board, Republican heavyweight Bob Bennett, and its director, Michael Vu, a declared Democrat, have pledged complete openness in this investigation. A preliminary report is due June 15 and a final report July 15. The secretary of state has called for an investigation into what went wrong in Cuyahoga County.
In addition to the problems that occurred with the electronic voting machines, there are unsolved problems with provisional ballots, poll worker training, public education and registration. An independent, nonpartisan community-based coalition has studied these problems, offered solutions and demanded resolution since 2004. These problems may also be addressed by the board-established investigating committee.
Voter confidence in the election system in Cuyahoga County, Ohio's largest county, has no doubt been shaken by the failure of the system to work properly during the May primary. Whether the problems will be fixed in time for a fair and honest election in November remains to be seen.