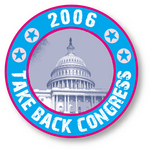 Ohio, Indiana, Missouri and Pennsylvania were big players in the national tidal wave for change Nov. 7. Below are quick highlights from some of our volunteer correspondents on the ground in those and other states. Look for more analysis next week.
Ohio: 'Victory for progressive values'
"This is a victory for mainstream progressive values," a jubilant Sherrod Brown told hundreds of supporters celebrating his unseating of incumbent Republican Mike DeWine in the race for U.S. Senate. "It is a defeat for the politics of fear and smear."
Fellow Democrat Ted Strickland easily defeated Republican Secretary of State Ken Blackwell to become the first Democrat elected governor in 16 years. His slate won all but one of the statewide offices. Democrats also gained one House seat as Zack Space won in the 18th Congressional District previously represented by corruption-tarnished Bob Ney.
Democrats made gains in the state Legislature, although Republicans kept control of both houses, as well as the Supreme Court.
Brown said the progressive values that voters embraced included raising the minimum wage, affordable health care for all Americans, promoting alternative energy, ending job-killing trade agreements and ending the war in Iraq.
"Today in Ohio, in the middle of America, the middle class won," he told a cheering crowd in Cleveland. "And because of progressive principles, mainstream progressive values, as Ohio goes in '06, so goes the nation in '08."
The progressive working-class sentiments of the voters were also reflected in the passage of a constitutional amendment to raise the minimum wage to $6.85 an hour with annual cost of living increases, and in the election of pro-evolution candidates to the state Board of Education.
Ohio voters also enacted a ban on smoking in all public places, including bars and restaurants, and rejected an effort by gambling interests to legalize slot machines. — Rick Nagin
Indiana: Labor creates big win
Workers in union halls were rejoicing as U.S. House seats in three key districts changed hands from Republican to Democratic and the Republicans conceded the majority of the Statehouse seats to the Democrats.
Joe Donnelly defeated incumbent and Bush favorite Chris Chocola in the South Bend area. Down in the Indiana University area of Bloomington, former Democratic Congressman Baron Hill defeated incumbent Republican Michael Sodrel. In the southwestern corner of Indiana, Democrat Brad Ellsworth easily defeated six-term incumbent Republican John Hostettler.
Labor insiders credit the strong campaigning by union workers across the state, including 30,000 calls made for the 2nd CD race the weekend before the Election Day, for the vote that gave Donnelly the win.
Labor had pushed hard for the Democrats to take back control of the Statehouse in order to block the Republicans' announced plans to pass "right to work" legislation. Republican Gov. Mitch Daniels, whose first act in office was to strip 35,000 state workers of their union rights, has made an anti-union "right to work" law his goal. The six Republicans in the state Legislature who voted with the Democrats to defeat an earlier attempt to pass the legislation were run out of office by the Republican Party before or during the primary. — Paul S. Kaczocha
Missouri: 'We made history'
"We made history," state Rep. John Bowman told the World shortly after Claire McCaskill announced she had defeated right-wing Republican incumbent Jim Talent in the hotly contested U.S. Senate race. Voters also OK'd measures to raise the minimum wage from $5.15 an hour to $6.50 and index it to inflation, and to advance stem cell research.
"We've sent a clear message: 'Enough is enough! It is time for a change!'" Bowman said.
Grassroots mobilization and door-to-door voter turnout was key. For example, Jobs with Justice, a member of the Give Missourians a Raise Coalition, spent Election Day "knocking and dragging" voters to the polls.
In Jefferson County, union members Mike Frame (SEIU) and Sam Komo (UAW) won Statehouse races. — Tony Pecinovsky
Pennsylvania: Putting the smile back
A multiracial army of union volunteers and their allies in "Working America" played a key role in Bob Casey's convincing victory over pro-Bush Sen. Rick Santorum, as well as in key House races in Philadelphia suburbs. In one of the highest profile races, retired admiral Joe Sestak ousted pro-war 10-term Republican Rep. Curt Weldon, 57-43 percent. Sestak's message that "national security begins at home" with jobs, education and health care clearly resonated with voters in suburban Delaware County. Sestak said his special focus on affordable health care was a result of his daughter's battle with brain cancer, during which he met other parents who did not have the benefit of the military's health coverage.
Pennsylvania AFL-CIO President Bill George appeared at numerous rallies during the final days calling on union members and all Pennsylvanians to "put the smile back" on his 101-year-old father's face and begin to "lift the country up" with a big Democratic victory.
— Ben Sears
Arizona
In what may be a historic result Arizona voters rejected a constitutional amendment to ban gay marriage and prohibit "domestic partnership" ordinances. Democrats gained two congressional seats: former Tempe Mayor Harry Mitchell defeated Christian right Republican Rep. J. D. Hayworth, and state Sen. Gabrielle Giffords routed extreme anti-immigrant Republican Randy Graff for the seat being vacated by retiring Republican Jim Kolbe.
Democratic Gov. Janet Napolitano and liberal Attorney General Terry Goddard won landslide victories against ultra-right opponents. But Democrat Jim Pederson failed to unseat incumbent ultra-right U.S. Sen. Jon Kyl.
Arizona, one of only nine states with no minimum wage law, voted to establish a $6.75 minimum wage with yearly cost of living adjustments. The measure passed by large margins in all 15 counties.
Voters did succumb to anti-immigrant hysteria and passed several propositions targeting immigrants and making English the official state language.
— Joe Bernick
California
In a major upset, Democrat Jerry McNerney ousted seven-term Congressman Richard Pombo, 53-47 percent. McNerney won despite major Republican efforts to protect Pombo, who chaired the powerful House Resources Committee. McNerney emphasized clean government, a timetable to leave Iraq and environmental issues. With McNerney's victory, 32 of the state's 53 members of Congress are Democrats.
In Republican Gov. Arnold Schwarzenegger's win over State Treasurer Phil Angelides, immigration was an issue. Last-minute Schwarzenegger campaign phone messages hammered Angelides for opposing National Guard troops on the border and backing driver's licenses for undocumented immigrants.
Schwarzenegger has cast himself as a moderate able to cooperate with the Democratic-dominated Legislature. But observers predict sharp clashes ahead on health care, prison reform and water issues. Three leading Bush staffers served on Schwarzenegger's campaign team.
Democrat Debra Bowen, who vowed to get rid of Diebold voting machines, beat her Republican opponent — a Schwarzenegger appointee — for secretary of state. But a racist campaign defeated Democrat Cruz Bustamente for insurance commissioner.
— Marilyn Bechtel and Rosalio Muñoz
Connecticut
Democratic state Sen. Chris Murphy delivered a stunning defeat to 12-term Rep. Nancy Johnson, the longest serving member of Congress in Connecticut history, in the 5th CD. Johnson, architect of the infamous Medicare D bill that has benefited the pharmaceutical industry at the expense of seniors, used vicious attack ads, robo-calls and other negative tactics. Murphy emphasized universal health care including prescription drugs, and opposition to the Iraq war, with an incredible voter-to-voter mobilization by labor and other forces. He also appeared on the Working Families ballot line.
In the internationally watched U.S. Senate race, Joe Lieberman retained his seat running as an independent after losing to Ned Lamont in the Democratic primary. Lamont challenged Lieberman's support for the Iraq war and Bush policies, emboldening Democrats across the country to make the war and the Bush administration a main campaign issue.
Lieberman continued to pose as a Democrat while positioning himself as the de facto Republican, campaigning with Republican House candidates and accepting support from Bush and Cheney. Lieberman drew upon loyalties built up over years in elected office, moderated his rhetoric and spent huge sums on attack ads. In difficult circumstances, Lamont finished with a credible 40 percent of the vote, losing by 9 points.
— Joelle Fishman
Illinois
Democrat Tammy Duckworth came up short after a courageous effort to capture the 6th CD seat in Chicago's western suburbs. State Sen. Peter Roskam won narrowly, 51-49 percent, after Republicans nationally became alarmed by the threat of an embarrassing defeat in the home of the state Republican machine and poured massive resources into the race. Roskam relied on the machine and anti-immigrant racism to win.
Duckworth, a disabled Iraq vet, and the coalition backing her made strides in building a serious political infrastructure in the district and winning a significant share of independent voters.
In Chicago's northwest suburbs, Democrat Rep. Melissa Bean, targeted nationally by the Republicans, defeated reactionary millionaire David McSweeney. Bean had lost support among labor and others by moving to the right. A third candidate, Bill Scheurer, got 5 percent of the vote running on a peace platform.
Democrats made inroads in other traditional Republican suburban districts. Political newcomer Dan Seals, an African American, narrowly lost to incumbent Rep. Mark Kirk.
Democrats swept all statewide offices and expanded their majorities in the Legislature. Gov. Rod Blagojevich won re-election despite scandals around his administration. Green Party gubernatorial candidate Rich Whitney tapped into disillusionment with the two major parties, garnering 11 percent of the vote. It assured permanent state ballot status for the Green Party.
— John Bachtell
Michigan
Democratic Gov. Jennifer Granholm overcame July polls showing her 5 points behind and soundly defeated far-right Republican Dick DeVos by a 14-point margin. When DeVos's arch-conservative views on taxes, abortion and other issues became known, not even his personal wealth (he spent almost $40 million of his own money) could help him.
The Republicans also targeted Democratic Sen. Debbie Stabenow, sending in President Bush, Laura Bush and Vice-President Cheney. However, Stabenow trounced opponent Mike Bouchard by 16 points.
Although Republicans were able to hold on to the state Senate, the state House, which previously had a 58-49 Republican majority, will now see the Democrats hold a five or six seat advantage.
Unfortunately, the anti-Republican wave did not prevent passage of Proposal 2, outlawing affirmative action, by a 58-42 margin. It effectively overhauls the University of Michigan's selective admissions process and jeopardizes all state outreach, recruitment and financial aid programs for minorities and women.
University of Michigan President Mary Sue Coleman said in a statement the university remains committed to diversity. "We defended affirmative action all the way to the Supreme Court because diversity is essential to our mission as educators," she said. "We must keep the doors of opportunity open to all."
— John Rummel
Texas
Although Republicans continued to dominate all major Texas offices, they took some bitter lumps. The most satisfying election result was Democrat Nick Lampson's victory in the 22nd CD, the "safe" Republican district formerly dominated by GOP "mastermind" Tom DeLay. Rep. Chet Edwards of Waco, the only Democrat to stay in office of the six targeted by DeLay's now-discredited redistricting plan, defeated his opponent in a nominally GOP district. Eight-term Republican Henry Bonilla of San Antonio was forced into a runoff by longtime labor ally Ciro Rodriguez, one of DeLay's earlier victims, leading seven challengers.
Incumbent GOP Gov. Rick Perry scraped by with 40 percent of the vote. Two "independent" candidates, one pretending to be "leftish," divided the vote sufficiently to block labor's favorite, Democrat Chris Bell.
Dallas Republicans were shocked to lose 41 of 42 contested local races. Voters elected Dallas' first-ever African American district attorney, Craig Watkins.
— Jim Lane
Washington state
Despite record rainfall and flooding, voter turnout was the largest in decades for a non-presidential election.
Democratic Sen. Maria Cantwell, nationally targeted by Republicans as their best shot at stealing a Democratic Senate seat, won re-election by about 56 percent. She successfully discredited opponent Mike McGavick over his actions as CEO of regional insurance giant Safeco, where he laid off 1,700 workers and then took many millions in bonuses and a $28 million golden parachute of when he quit to run for the Senate. Cantwell also moved from earlier support for the Iraq war to calling for a change in direction there. Libertarian and Green candidates each won about 1 percent of the vote.
The 8th CD, thought to be a safe Republican re-election bet, turned into an apparent razor-thin margin for incumbent Republican Dave Reichert over challenger Darcy Burner in the most expensive House race ever in the state. In the 5th CD (Spokane), Democratic challenger Peter Goldmark lost, but came much closer to unseating Republican Cathy McMorris than expected.
Two phony Republican-supported initiatives went down to defeat: an "Eliminate the Death Tax" proposal which would have helped no more than 200 multimillionaires each year, and a "property rights" measure which would have made the state pay private landowners for any restrictions on the sale or development of their land — a similar measure passed in Oregon has resulted in billions of dollars of claims against the state and huge legal bills.
Democrats increased their majorities in the state Legislature.
— Marc Brodine