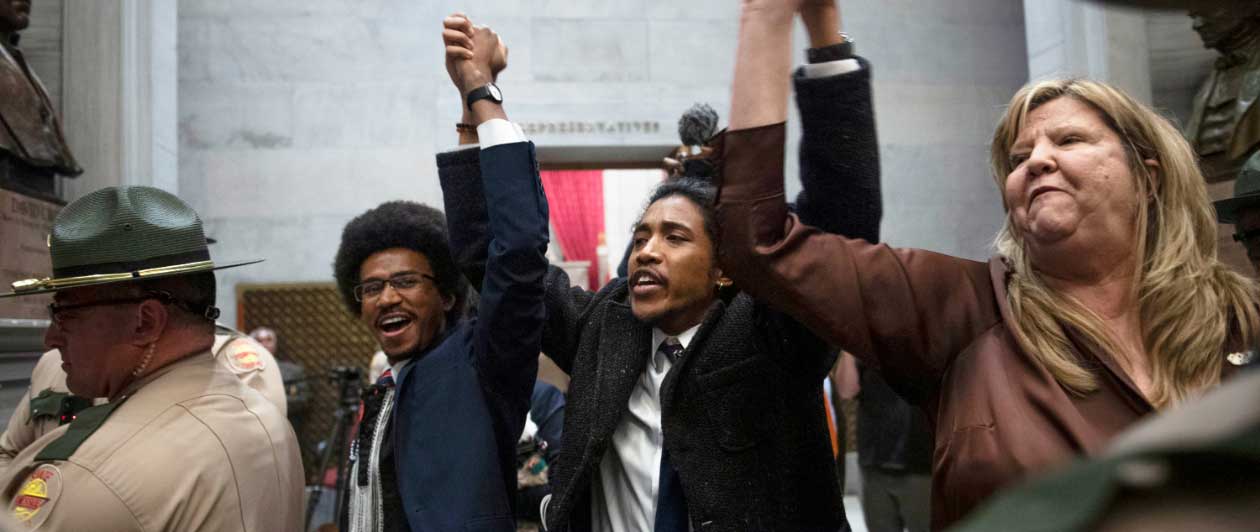 NASHVILLE—As outrage builds over Tennessee white Republican lawmakers' expulsion of Black State Reps. Justin Jones and Justin Pearson, who advocated for strong gun control, local officials in Nashville and Memphis prepared to re-install them in their now-vacant seats.
The 40-member Nashville Metro County Council, which has the power to fill Jones' seat, was expected to vote Monday to send him back. Twenty-nine of the 40 councilors are co-sponsoring the resolution to do so. Memphis officials plan to meet Wednesday to re-seat Pearson, the council president said. Both Pearson and Jones are Democrats. The expulsions left 140,000 Tennesseans without representation.
A third lawmaker who participated in the gun protest, veteran white woman Gloria Johnson, D-Knoxville, survived expulsion by a one-vote margin. She said afterwards the other two were thrown out because they were Black, and she is not.
The heavily gerrymandered Tennessee House white Republican supermajority voted the two out of their seats on April 8 after they led a protest on the House floor against the Republicans' refusal to curb gun violence.
First-termers Pearson and Jones and veteran Johnson spoke on the House floor for stronger gun control. Jones also led chants from the galleries with a bullhorn. They all joined together with 7,000 gun control advocates, many of them students, who jammed the State Capitol Building in Nashville to demand stricter laws. Yet another massacre in a school 17 miles away from Nashville prompted the action.
The Republican-run House voted on party lines, except for one GOP dissenter, to throw out Pearson and Jones following their protest. Johnson, first elected in 2012 after a 27-year teaching career, had joined the two in solidarity. Collectively, they're now known as "The Tennessee Three."
Johnson stayed in the House, but only because the GOP fell one vote short of the supermajority it needed to throw her out, too. In a jammed press conference afterwards, she said it was obvious why she kept her seat: She's a white woman, and they're two Black men.
"It might have to do with the color of our skin," Johnson said of the expulsions.
Civil rights groups and several unions bluntly denounced the expulsions as anti-small-D democratic, and racist. The NAACP planned to sue Tennessee if necessary and blamed the expulsions not just on the racist Republican majority in the legislature but the corporate class that funds those lawmakers.
The expulsion of Pearson and Jones is "horrific" but "not surprising," the civil rights organization said. "Extremist legislators, funded by corporate interests, have a history of undermining our democracy and failing to protect their constituents—especially in the South. The fact of the matter is, these so-called 'leaders' would rather line their pockets than uphold their sworn oaths."
The racist expulsions of two young Black men were especially ironic since it was to decry the shootings of nine-year-old white school children that they were exercising their first amendment rights to demonstrate for gun control in the legislative chamber.
Pearson said it was also fear of facing the outrage from constituents who know they have done nothing to control gun violence and murder despite the fact that there have already been 141 mass shootings this year.
"They were hoping this could draw attention away from their inaction," he said. "But what they have done is draw worldwide attention not just to their inaction but to their racism."
President Obama said on national television that the voices of these expelled legislators will "result in national action to finally change things for the better on this issue."
Rev. Al Sharpton of the National Action Network pointed out that "this should not be seen as a defeat. At first, we thought Bull Connors's attacks on people demonstrating for the right to vote in the 1960s were a victory for him but those attacks were the catalyst in a movement that brought about nationally the exact opposite of what he intended."
Pearson said he saw the fact that the white woman legislator retained her seat by one vote, while the Blacks were expelled for doing exactly what she had done, made it "obvious that this was racism but let us not allow what the Republicans intended with that, which is to divide and conquer, to come about. This brave white sister remains in the fight and together we must all continue the fight."
"From Florida to Texas to Mississippi they are doing the same thing," he declares, trying to marginalize the power of Black Americans and using divide and conquer tactics to do it."
"All of this is the residue of slavery," said State Rep. Harold Love. "That residue is the idea that Blacks are 'less than,' and that therefore they can have lesser schools and lesser health care and lesser everything else and this hurts not just Blacks but all people in this country."
Swift condemnations also came from Democratic President Joe Biden and Vice President Kamala Harris, who happened to be in Nashville at an historically Black college, Fisk University, for another event the day after the ejections.
Tennessee Republicans, said Biden, expelled lawmakers "who stood in solidarity with students and families and helped lift their voices" for gun control in the wake of yet another school massacre, at The Covenant School, a Christian school 17 miles outside Nashville. Gun-wielding Audrey Hale murdered the school administrator, two other adults, and three nine-year-olds.
"Rather than debating the merits of the issue, these Republican lawmakers have chosen to punish, silence, and expel duly-elected representatives of the people of Tennessee," Biden continued. In a Zoom call with the three, he invited them to visit the White House.
"A strong majority of Americans want lawmakers to act on commonsense gun safety reforms that we know will save lives. But instead, we've continued to see Republican officials across America double down on dangerous bills that make our schools, places of worship, and communities less safe. Our kids continue to pay the price," Biden concluded.
To frequent applause, Harris told the Fisk University crowd the expulsions were "about who they"—the lawmakers—"were representing."
"A democracy says you don't silence the people. You do not stifle the people. You don't turn off their
microphones when they are speaking about the importance of life and liberty. That is not what a democracy does," Harris said.
"So they turned off the microphones. They tried to tell them to sit down and be quiet." But, she said of the Tennessee Three, "They understood the voices must be heard."
"You know, we will continue to fight for our constituents," Jones told NBC's Meet The Press. "This attack against us is hurting all people in our state. You know, even though it is disproportionately impacting Black and brown communities, this is hurting poor white people. Their attack on democracy hurts all of us."
But the expulsions didn't surprise Zack Beauchamp of Vox, who covers democracy, or lack of it, in all 50 states.
Beauchamp reported a long-term statistical analysis by the University of Washington political scientist Jake Grumbach shows Tennessee ranks dead last in democratic norms, due to the heavy gerrymandering on top of the state's polarization by race. Grumbach ran 100,000 combinations of factors through a computer, by state, and the Volunteer State came out on the bottom every time.
Jones said so, too. "What the nation is seeing is that we don't have a democracy in Tennessee," he stated immediately after being thrown out.
Government Employees President Everett Kelley, a Black veteran and native of next-door Alabama, called the expulsions of Pearson and Jones "inexcusable, inconsistent with the law, and a dangerous precedent.
"In a clear racial double-standard, the partisan majority delivered a disparate, harsher treatment to the two Black representatives than the white representative who participated in the same protest. Although let's be clear: No lawmaker of any race should be punished for standing up for their principles.
"Not only is the idea of punishing elected representatives for demanding legislative action on issues affecting their communities shockingly anti-democratic, it is also inconsistent with a Supreme Court decision" in 1965 ordering the Georgia legislature to seat Black State Rep. Julian Bond—the civil rights leader—whom lawmakers had expelled because, they said, he opposed the U.S. war against Vietnam.
Tennessee AFL-CIO President Gloria Johnson called the expulsions "a sad, disgraceful chapter in Tennessee politics and one that clearly exposes the dictatorial tendencies of Speaker Cameron Sexton, the supermajority, and the bulk of current state leadership." Sexton is a white rural male Republican.
"Attempting to silence the voices of hundreds of thousands of Tennesseans by expelling two dedicated and passionate representatives, and nearly succeeding in doing the same to a third, who are simply listening to their constituents is wrong." The three, Gloria Johnson said, deserve commendation "for speaking up and expressing the will of the voters who sent them to Nashville."
Teachers (AFT) President Randi Weingarten, a New York City civics teacher, focused on the cause—gun control—that got Pearson and Jones evicted from their seats. She's been on a gun control crusade ever since the 2018 Valentine's Day massacre of 14 students and three teachers, AFT members, in Florida. So has the student-led movement that resulted, in March For Our Lives.
"Students are fighting against school shootings, and I am proud of their fight," said Weingarten. "They are engaged in what the late congressman and civil rights activist John Lewis would have called 'good trouble,' turning their outrage into action—and their teachers are with them.
"Today in America, guns are the leading killer of young people, so it's long past time to be silent or throw up our hands. Commonsense gun safety measures work: We must act—and, at the very least, support our kids in their actions—to stop the violence happening on our streets, in our communities, and in the places we're meant to feel safest, including our schools."