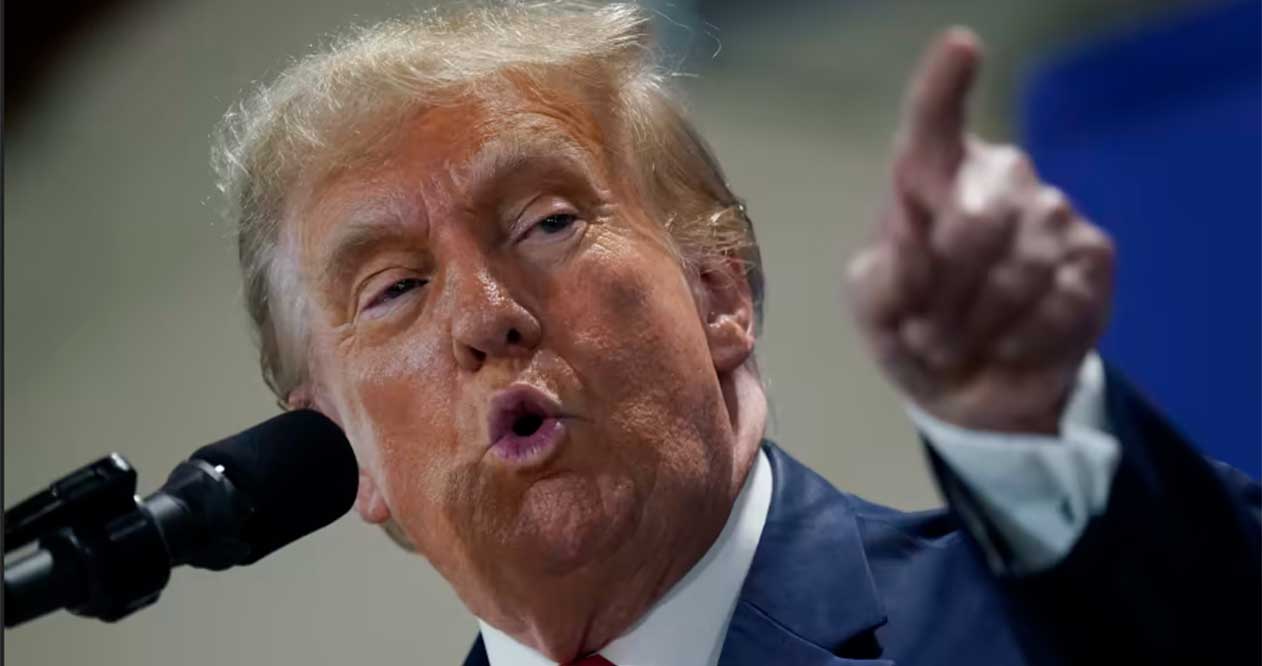 United Auto Workers (UAW) President Shawn Fain said that it is pathetically ironic that Donald Trump would hold a rally for workers tonight as the UAW continues its strike against America's "Big Three" automakers.
The UAW, which represents nearly 150,000 autoworkers nationwide, went on strike this month against the Big 3 Automakers demanding wages and benefits they gave up years ago to keep the companies afloat.
The walkout began at targeted locations on September 15 but has since expanded to encompass 18,300 workers across 21 states.
Trump, in a desperate attempt to try to win the votes of workers in critical Midwest states, is meeting with workers at the non-union Drake Enterprises—an auto supplier north of Detroit. In doing so he is avoiding a GOP primary debate tonight which features a group of Republican leaders equally as anti-worker and right-wing as himself.
Shawn Fain, the UAW president, condemned what he called the "pathetic irony" of Trump trying to follow President Biden's support for workers and their union with a visit to a non-union plant, one of the only types of plants that would host the notoriously anti-labor former president.
"I find the pathetic irony that the former president is going to hold a rally at a non-union business," Fain declared. "And you know, all you have to do is look at his track record. His track record speaks for itself."
"In 2008 during the Great Recession, [Trump] blamed UAW members, he blamed our contracts for everything that was wrong with these companies," Fain continued. "That's a complete lie."
"The ultimate show of how much he cares about our workers was in 2019 when he was the president of the United States," Fain said Tuesday. "Where was he then?"
On strike for 60 days
"Our workers at [General Motors] were on strike for 60 days," he added. "For two months, they were out there on the picket lines. I didn't see him hold a rally. I didn't see him stand up at the picket line."
In a historic appearance yesterday, the first-ever by an incumbent U.S. president on any union's picket line, Joe Biden told United Auto Workers members, "It's time to get back what we lost" and win wage and benefit hikes from Ford, GM and Stellantis/FiatChrysler."
Sporting a black UAW baseball cap and blue windbreaker, the Democratic president joined red-shirt-clad members of the union's Local 174 picketing Ford's historic Willow Run Ford assembly plant for around 15 minutes on September 26.
"You guys, the UAW, have made a lot of sacrifices and gave up a lot," Biden declared through a bullhorn. "The companies were in trouble, but now they're doing incredibly well. And guess what? You should be doing incredibly well, too. You deserve a significant raise."
"It's time to get back what we lost.
"You've earned what you've earned and you should be earning a helluva lot more."
That means "the significant increase you need" in wages "and other benefits," he added. "It's time for them to step up for us," Biden said of Detroit's Big 3.
Trump, the current front-runner for the 2024 Republican presidential nomination against Biden, plans to blow his own horn before a hand-picked crowd of 500, including current and former UAW members, about being "pro-worker," despite a mountain of evidence that he's lying.
At Willow Run, the UAW members, who interrupted Biden's remarks with cheers several times, are among the almost 18,000 UAW members nationwide who now walk lines in the union's growing "Stand Up!" strike against the Detroit-based car companies.
It's UAW's first-ever strike against all three, just as bargaining is the first-ever against all of them at the same time. Combined, the car firms employ 150,000 UAW members, not counting those in non-Big 3 parts suppliers or the 5,600 workers whom Ford employs in Canada, represented by Unifor.
The UAW strike has political and class aspects, too.
"It's a different kind of war we're fighting," not against the Axis powers of World War II, "but against corporate greed" here at home, Fain said. "Our people choose to stand up and fight for economic and social justice." His Axis reference cited Willow Run's enormous production of B-24 Liberator bombers during that conflict.
Could call out more locals
If there is no movement by GM or Stellantis in the talks, the UAW will call more locals out on strike. Ironically, though Local 174 in Willow Run picketed the plant there, it's the only Ford plant where workers are striking because Ford has moved significantly in bargaining.
The last expansion of the strike, on September 22, saw locals at 38 GM-unionized and Stellantis-unionized parts factories called to walk out, joining one plant from each automaker that began picketing a week before. But the UAW bargainers asked no other Ford locals to walk.
Key issues in the talks with all three automakers are wages, restoration of traditional defined-benefit pensions and health care, an end to the hated two-tier pay system at all three automakers, a shorter work week, curbs on mandatory overtime and mandatory work on the third Sunday of every month, and restoration of cost-of-living (COLA) increases.
The workers demand a 36% hike over four years to make up for losses to inflation since the 2008 financier-caused Great Recession. That crash forced GM and FiatChrysler into bankruptcy.
A Democratic Obama administration loan guarantee plan saved the two but at the cost of imposing the two tiers, eliminating COLAs, a freeze on retiree pensions which continues, and the sell-off of health care coverage to the UAW, among other givebacks.
Ford agreed to the COLAs, the end of two tiers, and several other UAW member goals, including the right to strike over domestic plant closures. GM and Stellantis have barely budged. Their sole reported agreement: Adding Juneteenth as a paid holiday.
Politics enters the picture because Trump is shrugging off four indictments, multiple corporate bankruptcies, and numerous other scandals while campaigning to retake swing-state Michigan in 2024, along with other union and UAW-heavy swing states around the Great Lakes: Pennsylvania, Wisconsin, and Ohio.
Trump is also shrugging off the second scheduled GOP presidential hopefuls' debate, to be telecast at the same time. UAW has already filed an unfair labor practices complaint against another Republican debater, Sen. Tim Scott, R-S.C., for illegally demanding that all strikers be fired.
The ex-White House denizen lost to Biden in Michigan in 2020 by 154,188 votes and Biden won an outright majority of the popular vote there, 50.2%-47.8%. Four years before, Trump won a 10,800-vote plurality, not a majority, in Michigan, over Democratic nominee Hillary Clinton.
Trump beat Clinton in all four Great Lakes swing states, thus winning the national electoral vote. Biden beat Trump in the first three of those in 2020, losing Ohio. Meanwhile, Trump screamed lies about vote fraud and "stolen" elections in majority-minority Detroit, Philadelphia, Cleveland, and Milwaukee.
In his speech, Trump is not going to discuss his anti-worker agenda from his four years in the Oval Office. He schemed to abolish worker protections for all two million federal workers and appointed an anti-worker National Labor Relations Board majority, among many other attacks on unions.
Sought to roll back the clock
He wanted to roll back the clock to before the New Deal. He also won't tell the crowd how he stiffed union workers and contractors on pay for building the Trump Taj Mahal casino hotel in Atlantic City, N.J.
Trump also tried to politicize 20,000 or more top federal civil servants—who could then be fired at a moment's notice for no reason—and plans to do so if he wins again. And Trump named right-wing Supreme Court Justices Brett Kavanaugh, Neil Gorsuch, and Amy Coney Barrett, who are the core of the court's majority that is dismantling worker rights.
By contrast, "President Biden is demonstrating once again he is the most pro-union president in history," AFL-CIO President Liz Shuler said in a statement afterwards. "Working people know he has our backs every day and that he understands UAW members' fight for a fair contract is deeply connected to the struggle over the soul of our country.
"We stand with President Biden, the UAW, and workers across the country who are sick and tired of getting the short end of the stick. Together, we're organized to fight back against the corporate CEOs who have rigged the system against working people for far too long."
Biden's remarks on the picket line also occurred even though the union was a notable absentee from the giant AFL-CIO-organized joint union endorsement of the Biden-Harris ticket earlier this year. That conclave, in Philadelphia, even drew non-AFL-CIO unions, notably the Service Employees.
But not the UAW. The first two federal loans to build electric vehicle battery plants went to firms in anti-union Kentucky and Tennessee, not pro-union Michigan. The UAW, of course, wants all federal funding to go to unionized plants.
The car companies also are using the conversion of their plants to electric vehicle assembly, which will cost billions of dollars, as an excuse to both pause EV battery plant construction, and to deny workers' demands for the big raises. UAW also wants EV plant workers included in its contracts with the Detroit 3, rather than in contracts with separate and lower pay tracks for auto parts workers.
University of Rhode Island labor history professor Erik Loomis told CNN Biden's picket line walk and talk was "absolutely unprecedented." He said presidents—going all the way back to Theodore Roosevelt—"saw themselves as mediators. They did not see it as their place to directly intervene in a strike or in labor action."
Presidential mediation doesn't always work. In 1902, Roosevelt forced coal mine owners to reach a contract with the Mine Workers. But just months ago, a Biden-named mediation board rejected rail unions' campaign for paid leave and saner scheduling in talks with the nation's Class I freight railroads. Congress imposed that settlement, leaving the paid leave issue to talks between the unions and the carriers.
And when JFK mediated between the Steelworkers and steel firm magnates in 1962 during an economic crisis, the companies agreed not to raise prices —and then reneged. They also refused to raise wages.
"My father always told me that all businessmen were sons of bitches, but I never believed it until now," Kennedy told aides after the double-cross. He also used tough language in an April 11 press conference but minus the insult. The firms backed down.
>>> READ MORE PEOPLE'S WORLD COVERAGE OF THE UAW STRIKE.