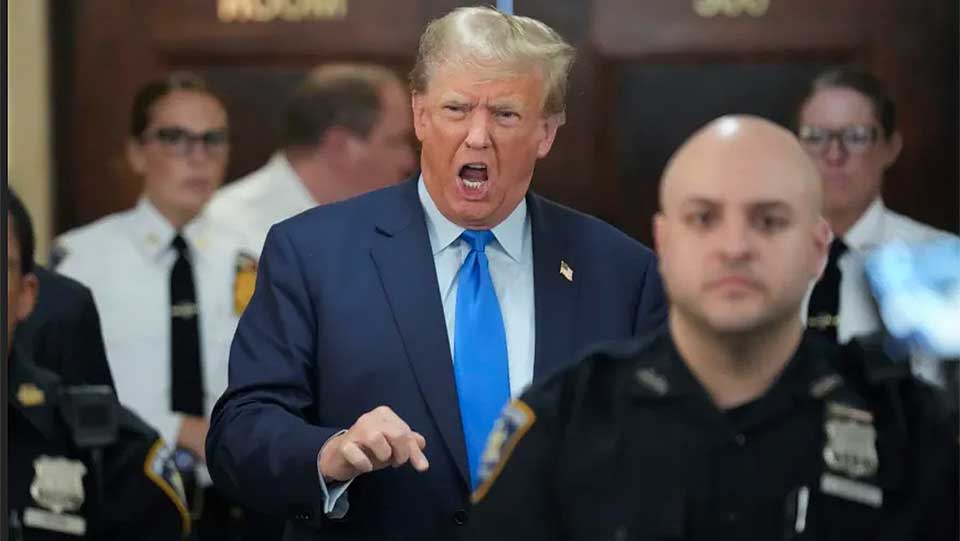 The many trials of Donald Trump began yesterday here as the ex-president entered the courtroom in what looks like it will be a losing fight to save his crumbling financial empire – one built on lies, fraud, intimidation, and mob-style violence.
Following the time-tested fascist playbook, he issued racist threats against the Attorney General of New York, Letitia James, who has been relentless in a battle she has said must be fought because no one person in the nation is above the law.
He slandered the judge – also proving that attempts by Special Counsel Jack Smith to get the court in Washington to impose a limited gag order on Trump are more than justified. In recent days Trump has intimidated witnesses too, particularly with his call for the execution of former Joint Chief of Staff General Mark Milley who he characterized as a "traitor."
James filed the case against Trump that opened in court yesterday and she filed also against his adult sons and the Trump family business. If she proves her case Trump could have to pay some $250 million in penalties and faces losing his entire business operation in New York, the seat of his criminal financial enterprise.
In violation of rules governing his earlier release from jail in the Washington court case, Trump fired a barrage of incendiary attacks against James and against Jusge Artther Engoron in New York. He called the judge "rogue" and accused James of being a "terrible person" and a "racist in reverse."
Similar attacks on lawmakers, judges, witnesses, and others by Trump over the last few months have resulted in actual death threats and physical attacks on individuals and have caused many to have to go to great expense to protect themselves from attacks by Trump supporters.
Trump supporters in Iowa, where the first Republican primary will be held, have said that they agree that General Milley should be executed. One woman interviewed by MSNBC said she was "surprised" that he had not already faced a firing squad for treason.
Milley accused of treason
Trump publicly accused Milley of treason because he had assured his Chinese counterparts that the U.S. was stable and that they should not fear it would start military conflict or a war. It is the type of assurances generals in different countries frequently give to their counterparts in the overall effort to keep the peace.
The Attorney General in New York yesterday accused Trump of inflating the value of his assets by at least $2 billion in order to fraudulently obtain favorable loans.
This trial is only the first of a series to come including a trial for making hush money payments to a porn star in order to influence an election, a trial for stealing classified documents, and a trial for trying to remain in power illegally after the last general election.
Trump is already using yesterday's court proceedings to raise money for his 2024 election campaign, something that would be unthinkable in almost any other so-called democracy in the world. His plan is to make racist and incendiary remarks outside the courtroom while his lawyers try to save his financial empire on the inside.
The court has already decided he is guilty of fraud so the only real issue being decided in the New York court now is the extent of his penalty. His license to operate properties in New York has already been revoked on the basis of the court's findings of fraud.
Trump told the press yesterday that James was out to get him because he is doing so well in the polls. He directs so much fire at her because, on the first day of trial yesterday, his real estate empire started to topple even faster in the State Supreme Court in Manhattan.
The core of the charge is that Trump defrauded lenders, bilked Westchester County via a phony tax easement, undervalued his Trump Tower, lied about the size and value of his Manhattan condo, and low-balled his golf clubs and his Florida Mar-A-Lago estate and other properties all to make himself and his company, the Trump Organization, up to $1 billion they didn't deserve over a period of years, including his time in the White House.
Trump has already lost big once in Engoron's court when he upheld the AG's demand that he could be fined the maximum of $250 million for such frauds. He also appointed a retired judge to oversee pieces of Trump's empire pending its final disposition. And he suspended several Trump business licenses.
James also wants to break up the Trump empire, piece by piece, due to the fraud, ban Trump and his family from doing business in New York for five years, and pull all its licenses for doing so, effectively putting the Trump organization out of business. The remaining charges against Trump and his team include insurance fraud and false financial reporting.
Besides Trump, other defendants in the case are the Trump Organization and his adult children, who nominally ran the real estate empire while he was the White House denizen.
Offers insights about capitalists
While the trial focuses specifically on how Trump defrauded bankers, in New York and Westchester, it also offers insights into how members of the capitalist class manipulate the law, bamboozle regulators, buy willing accomplice accountants, and even defraud each other, all in pursuit of profits.
In one example, Trump overvalued his Manhattan condo by tripling its real size in his estate valuations. In another, his company told banks Mar-A-Lago is worth $490 million, but told Palm Beach County it was worth $27 million when assessed for property taxes. He's now claiming it's worth $1.8 billion.
The losers in such financial fandangos are regular taxpayers. The taxes capitalists such as Trump don't pay, and should have, they do.
James' team told Judge Engoron that Trump, his firm, his adult children, and their allies "ignored the most basic rules and standards for financial reporting," including "falsely claiming to have cash on hand, ignoring factors that lower property values and changing the valuation methodology without reason or notice."
"This is the continuation of the single greatest witch hunt of all time," Trump said yesterday. "This has to do with election interference, plain and simple. They're trying to damage me, so I don't do as well as I'm doing in the election."
Trump's also using the case to solicit campaign cash via incendiary fundraising messages. That includes smearing Engoron. "This is a judge that should be disbarred. This is a judge that should be out of office," Trump declared.
Trump's incendiary rhetoric is important. It's already led to threats against grand jurors in Georgia and federal Judge Tanya Chutkan in D.C. now needs armed security guards. Atlanta DA Fani Willis has asked courts there to keep trial jurors' names in the racketeering case under wraps. And a recent academic study also shows that fiery rhetoric from an authority figure—as Trump is to his Trumpite legions—increases the possibility of retaliatory violence.
Trump's history and the reactions, led 30 organizations, notably Public Citizen and the longtime labor group The Workers Circle, to publish an open letter in the Atlanta Journal-Constitution calling for protection of jurors in all the trials.
"Jurors–past, present, and future–are under attack from Donald Trump and those who do his bidding. The attacks are sure to accelerate with the approach of his criminal conspiracy trials in Washington and Atlanta for his attempt to undermine our constitutional republic and overturn the results of the 2020 election.
"Self-serving assaults on institutions and individuals are what Trump and his enablers do. These attacks threaten centuries-old American institutions designed by the Framers to hold to account any leader who would be king.
"Accountability is the centerpiece of the rule of law. No one is above it."
After enumerating Trumpite attacks on jurors and judges, the group, the Not Above the Law Coalition, concludes: "His attacks are designed to eviscerate an institution of justice… Juries protect individual freedom.
"Trump, by undermining institutions that check both government power and lawless individuals, aims to release himself from all constraints. For this reason, his vicious attacks on juries are sure to escalate.
"It is up to all of us…to speak up and defend such institutions under attack: "Institutions do not protect themselves. They fall, one after the other, unless each is defended from the beginning."