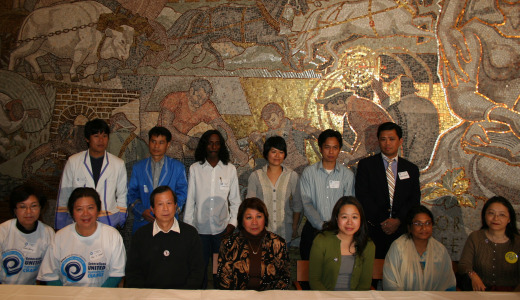 Electrician Ricky Lau and hotel worker Peter Ho were among a dozen workers from around the country who testified at the first-ever National Asian Pacific American Workers' Rights Hearing last week.
Before a standing-room-only crowd of more than 200 people, the workers told a panel of union leaders, public officials, community leaders and academics of the exploitation they have faced as immigrant workers and their struggles for the right to join a union. The Nov. 13 hearing, held at the AFL-CIO's Washington headquarters, was co-sponsored by the Asian Pacific American Labor Alliance (APALA), the AFL-CIO and more than 18 other organizations.
It was an emotional event for Asian Pacific American trade unionists, said Malcolm Amado Uno, APALA's executive director. They felt "extremely empowered and excited," he said in a phone interview today. For some long-time Asian Pacific labor leaders, this was their first time in the AFL-CIO national headquarters. They saw it as evidence of the commitment of the labor federation's new leadership to embrace and enhance diversity in the union movement, Uno said.
Uno noted that Kent Wong, director of the UCLA Labor Center, founding APALA national president, and a panelist at the hearing, hailed the event as a "step in the right direction," saying it "has been 150 years in the making."
This is an opportunity to "be very honest about some of the shortcomings of the American labor movement," and to celebrate the commitment of labor's leadership to diversity, Uno said. "We are very optimistic about the future."
AFL-CIO Secretary-Treasurer Liz Shuler, who was also a panelist, said the hearing "marks a significant milestone for the AFL-CIO, APALA and Asian Pacific American workers around the country."
Compelling testimony was provided by Lau, an immigrant from China who lives in the San Francisco Bay Area. He told how his former employer, NBC Contractors, forced him and his mostly immigrant co-workers, many of whom did not speak English, to work 60 to 70 hours a week, but paid them for only 16 to 20 hours, and at illegally low rates. They got no health coverage or other benefits.
After learning about their rights from representatives of the International Brotherhood of Electrical Workers (IBEW), Lau and three co-workers quit and joined the union. With the IBEW's help, the four workers are suing the company for back wages in a class-action lawsuit. The company was also recently charged by the Alameda County District Attorney's office with 48 felony counts, including massive wage theft, insurance fraud, forgery and perjury, involving millions of dollars. (See "Immigrant workers demand back wages from NBC Contractors.")
"Our case highlights how immigrant workers, who may not speak English or know their rights, can be victimized by unscrupulous employers who cheat workers by not paying the proper wage," Lau told the hearing. "It also shows how unions, in this case the IBEW, can and must play an instrumental role to assist immigrant workers in asserting our basic rights."
Ho said although he has worked for more than 20 years at the HEI Le Meridien Hotel in San Francisco, he will retire with no benefits and very little savings. He said he is fighting to form a union with Unite Here "so the next generation of hotel workers will be able to retire with dignity."
John Delloro, APALA's president, said, "Contrary to misperceptions about Asian Pacific Americans, segments of this workforce still experience a litany of abuses in their jobs and worksites, including wage theft, union suppression and immigrant worker exploitation."
Asian American and Pacific Islander workers are "likely targets of labor violations in the workplace" because they are often isolated immigrants who may be unfamiliar with labor laws, do not speak English and fear the government, said Rep. Judy Chu, D-Calif.
Other panelists included Jobs with Justice Executive Director Sarita Gupta, University of Maryland Asian American Studies Director Larry Shinagawa and United States Student Association President Greg Cendana.
The fact that the event had more than 20 cosponsors – including groups representing Hmong immigrants, Japanese Americans, Filipino Americans, Korean American, South Asian Americans and Southeast Asian Americans and others – shows a broad base of community support for workers, said Uno. It shows an awareness that "workers permeate all issues" – such as health care, education, civil rights – and a commitment to developing stronger labor-community partnerships, he said.
APALA will soon be releasing a report on Asian Pacific American workers, in partnership with the University of Maryland's Asian American Studies Department and the UCLA Labor Center. Along with highlighting the benefits of unionization, the report will provide detailed analysis of the nation's Asian Pacific workforce. It will focus on the importance of the right to organize and immigration reform, Uno said.
Asian Pacific Americans and Latinos are the fastest growing segments of the union movement. About 12.5 percent of Asian Pacific American workers are in unions or represented by unions at their workplace, according to a report by the Center for Economic and Policy Research, "Unions and Upward Mobility for APA Workers."
APALA, a constituency organization of the AFL-CIO, was founded in 1992 as the first and only national organization for Asian Pacific American union members to advance worker, immigrant and civil rights.
Photo: APALA members at AFL-CIO headquarters. Ricky Lau is standing in the top row, second from the right. Peter Ho is sitting, third from the left. (Photo by Jon Melegrito)