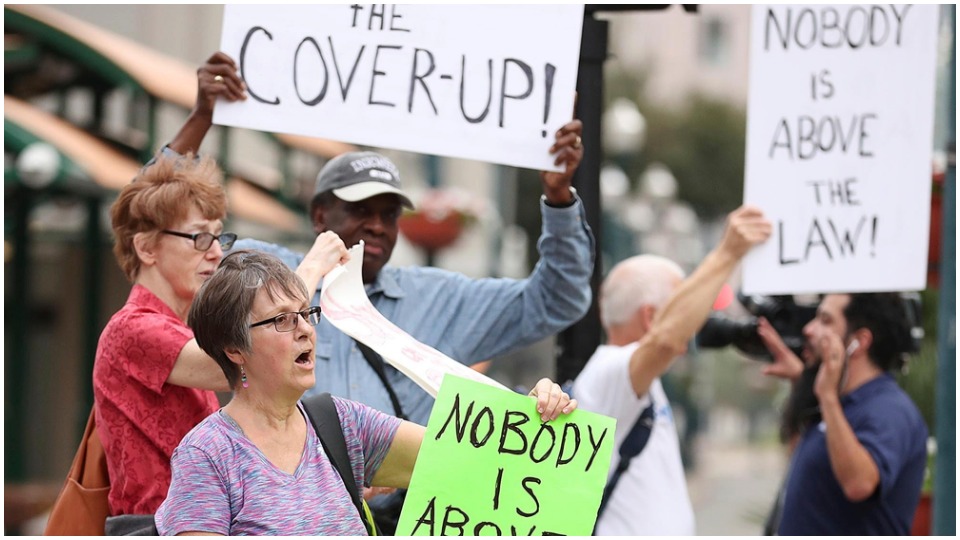 WASHINGTON—On to, and through, November. That was the prevailing vow foes of GOP President Donald Trump took in nationwide demonstrations on the evening of Feb. 5, just minutes after the GOP-run Senate voted almost unanimously along party lines not to convict him on impeachment charges of abuse of power and defiance of congressional investigations.
"Nov. 3, 2020. Write that down. Work toward it. We cannot afford four more years of a Trump presidency," Rep. Jim Himes, D-Conn., who voted to impeach Trump, told the crowd in Greenwich, Conn., via a message passed to a local official.
"The Senate chose Trump, not justice. We need to turn this around and choose justice, not Trump," Common Cause President Karen Hobart Flynn told hundreds of people on the U.S. Capitol lawn in D.C.
From Washington, D.C., to Washington state, tens of thousands of people poured into the streets as darkness fell, making clear they plan to agitate everyone else to vote out a chief executive viewed by many as overbearing, tyrannical, or worse. There were more than 300 protests nationwide.
"We have known who Donald Trump is for a long, long time," said Rep. Ayanna Pressley, D-Mass., a member of "The Squad" of four first-term female progressive Democratic lawmakers of color. All four skipped Trump's State of the Union address the night before. "He's consistent in committing crimes and coverups and driven by his own ego," Pressley told the D.C. crowd.
"This is a corrupt criminal enterprise and the president should be held accountable," added Sen. Jeff Merkley, D-Ore. "Lock him up!" the hundreds chanted in response. That's a riff on Trump's own demand to jail his 2016 foe, former Secretary of State Hillary Clinton. His crowds repeat it.
Marchers descended on Chicago's Loop before parading to the Trump-built skyscraper at 401 N. Wabash Avenue. They also hit six other sites on the South Side and northern and southern suburbs.
"We're mobilizing thousands of protesters across the country to make it clear voters are watching, and we'll remember who chose cowardice over patriotism," Sean Eldridge, an organizer in Chicago, told The Patch, a neighborhood paper, before the South Side rally.
Thousands jammed Columbus Circle in New York City, paraded to City Hall in Los Angeles, and drew sympathetic honks everywhere—plus a few counter-protesting Trumpites in Greenwich.
Trump wasn't the only target. So were the 52—out of 53—Senate Republicans who voted not to convict him on both impeachment counts. Sen. Mitt Romney, R-Utah, voted to convict Trump on abuse of power, but not on defiance of Congress. Romney still expects irate Trumpites to berate him. Trump and his staffers already are. Trump also planned "a victory lap" in a Feb. 6 speech from the White House.
Another top target for demonstrators Wednesday evening: Majority Leader Mitch McConnell, R-Ky. He worked hand-in-glove with Trump's defense team to orchestrate what speakers everywhere repeatedly deemed "a cover-up." McConnell is one of the 22 GOP senators up for re-election this fall.
"I'll focus my ire on the Senate Republicans who failed democracy and the American people," Pressley, who represents Boston, declared. Those lawmakers "have chosen the side of a bigot and a reckless dictator."
The Senate majority "put on a sham trial, a show trial," Common Cause's Flynn said. "Why did they not want the American people to see the truth? Because then the American people would know Trump is guilty" of the impeachable offenses the Democratic-run House charged him with.
A new chapter of Indivisible, one of the sponsoring groups, descended on the Billings, Mont., office of GOP Sen. Steve Daines to hold him accountable for his votes for Trump and against witnesses. Marchers in Maine got a jump on those in the rest of the U.S. They paraded in Portland on Jan. 30.
Their demand: GOP Sen. Susan Collins show some spine and vote to call additional witnesses—notably former Trump national security advisor John Bolton—who could testify first-hand about Trump's bribe.
"All we want is for Susan to do her job. For three years we have watched her be weak-kneed, abandon her oath of office, and pretend to be a 'moderate' while sneakily protecting and promoting the interests of Trump and her corporate masters," Dini Merz, a co-founder of Mainers for Accountable Leadership, told a press conference there. Collins, who faces a tough race this fall, voted not to convict Trump.
"We're not going to back down in this fight, and we're not going backwards," Diallo Brooks of People for the American Way stated in D.C. "We're here because we will always fight to protect democracy." He termed the GOP senators "cowards who let Trump dictate to them."
Abuse of power was the main impeachable offense against Trump. The U.S. House's prosecutorial team produced evidence showing Trump leveraged his office for personal political profit. He virtually bribed the right-wing Ukrainian government by withholding $391 million in U.S. military aid to fight Russia unless Ukraine produced political dirt on former Democratic Vice President Joseph Biden for the 2020 campaign.
The other charge was refusal to obey lawful congressional demands for evidence and witnesses. Left out of both legalistic charges: Trump's multitude of political offenses.
An incomplete list includes Trump enriching himself through his D.C. hotel, his racism, sexism, and xenophobia; his orders to ICE agents to rip 5,400 screaming children from their parents' arms at the U.S.-Mexico border; and his dismantling of rules, laws, and agencies designed to protect people. Those range from worker rights and the Environmental Protection Agency through the Affordable Care Act and more.
Those Trump traits, especially his racism and xenophobia, led Rep. Al Green, D-Texas, to also skip Trump's speech. Before the Feb. 5 protests, Green tweeted that Trump is still "reckless, ruthless, lawless, shameless, corrupt, and unapologetically bigoted." Green cited those characteristics in his own impeachment resolution against Trump, which the House voted down once in each of the last two years.
Some speakers brought a sense of history to the demonstrations. Comparisons with Watergate were rife.
Then, a guilty GOP President Richard Nixon was forced to resign before House impeachment was completed and certain Senate conviction and ejection loomed. Trump came out as more horrific in all those comments. Not only did Trump escape punishment, speakers said, but the Senate's refusal to convict and remove him from office, which needed 67 votes, leaves him free to abuse power for his own political gain, again, this year.
And Cheryl Kreiser, a retired Hebrew school teacher from Baltimore who came to the D.C. event, went even further back historically with her hand-drawn sign.
"GOP: At long last, have u left no sense of decency?" it read.
The last time that line was used was by Army Col. Joseph Welch in 1954, to take down lying, red-baiting right-wing GOP Sen. Joseph McCarthy of Wisconsin.