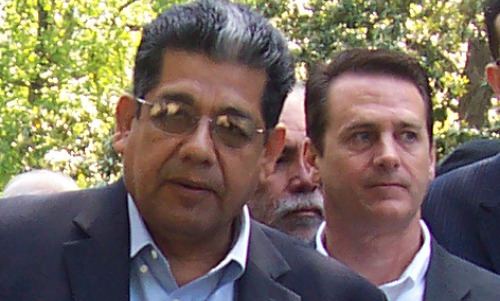 SACRAMENTO – The California State Capitol was the site of a unique conference on immigration reform on April 30, the day before the great May Day demonstrations across the country.
It featured an 11-member panel consisting of area labor and community leaders, along with Congressman Ben Miranda from Arizona, Haitian-born Professor Wilner Metelus of the Universidad Autonomica Metropolitana in Xochlmilco, Mexico, and Gemma Lopez Limon from the Universidad Autonoma de Baja California, Mexico.
About 70 people from Sacramento and nearby cities also attended as witnesses or audience. The conference was mostly conducted in Spanish, with volunteers translating for the few people who were English-monolingual.
Rep. Miranda outlined the new Arizona anti-immigrant law, pointing out that for the first time everyone is criminalized. Even being involved in an accident, or having garbage in front of your house, would allow police to question your immigration status.
He called for the U.S. government to hold back federal aid to local law enforcement in the state and put a moratorium on all deportations until the law is revised.
Students spoke about the hardships involved in getting an education when you are "undocumented," and janitors and farm workers spoke about current immigration law making the fight for better wages and conditions more difficult.
"Every day I wake up and say today is a day I could get deported," said one young woman. "If I were deported I don't know where my 4-year-old son would be – probably in a foster home."
Many immigrants are indigenous people, some speaking no Spanish, who are discriminated against in their own country, and then encounter racism in the U.S., said a student at Sacramento State University.
Most immigrants don't want to leave their country, but with no jobs and no shelter they have no choice, Metelus told the forum. Women, in particular, encounter special danger when emigrating, he noted. And Mexico is not the only Third World country with social problems created by U.S. corporations causing so much poverty that there is no option for workers but emigration, he added.
The North American Free Trade Agreement (NAFTA) forces people to leave their homes, by ruining agriculture in Mexico and privatizing national industries, said Gemma Lopez Limon. Mexico has been militarized on the excuse of "the war on drugs," she said, but there is collusion between the authorities and the narco-traffickers.
Renee Saucedo, of La Raza Centro Legal of San Francisco, called for immediate legalization for current undocumented people, and a reasonable citizenship process for future immigrants. Employer sanctions and temporary worker programs should be ended and the borders demilitarized, she said.
Workers in Mexico are hungry and need jobs, and don't always understand the consequences of bracero-type programs, said Luis Magana, director of the Organization of Agricultural Workers of California (OTAC), which defends the rights of Mexican "guest workers." What happened in Arizona could happen in California as well, he warned.
The concept of "legal" vs. "illegal" provides employers a cheap labor force without civil rights or labor rights, said Eric Vega, lecturer on ethnic studies at Sacramento State University. "We have to shift the discussion to the global economy and human rights," he added.
At the close of the conference, it was agreed to produce a bilingual report including all viewpoints, and to recommend similar forums be held around the country.
Photo: Arizona Congressman Ben Miranda (left) and Sacramento Central Labor Council Political Director Greg Larkin at press conference before the immigration forum at the California State Capitol building. (PW/Gail Ryall)