MEMPHIS – "This work is important not just in the history of the civil rights movement, but in the world," declared Mayor Jim Strickland in an opening remark, here at the first day of IAM2018. "Let us honor King and the sanitation workers, who took a stand for simple decency. Let us always seek to live up to their words and actions."
The 50-year commemoration of Rev. Dr. Martin Luther King, Jr.'s death began as his famous mountaintop speech echoed through loudspeakers on either side of the stage, creating a solemn and respectful atmosphere. The first day of IAM2018 took place here at Church of God in Christ, and its opening panel discussed the legacy of King's philosophy in a modern day political context. Stepping up first to the podium was Brandon Terry, assistant professor of African and African-American Studies and Social Studies at Harvard University.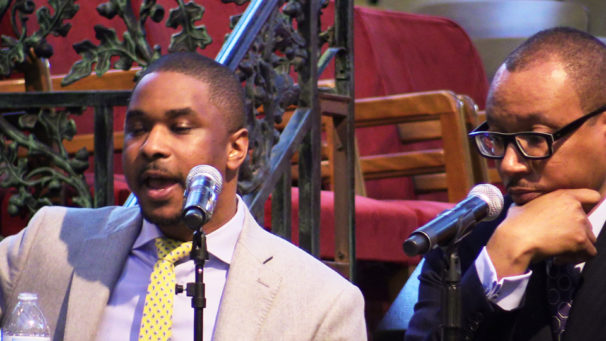 Pointing out the powerful relevance that King's final speech still holds today, Terry said, "Taking King's words seriously provides critical insight into our contemporary plight. We must live up to the ideals that are worth our suffering and our striving, but all too many people find themselves living in a period of great social change, yet fail to acquire the ideas and attitudes" that are reflective of such progress. In a 1968 speech in Washington, King cited the story of Rip Van Winkle, who slept twenty years. When Van Winkle went up into the mountain, he saw a sign depicting King George III of England; when he came back down two decades later, the sign showed a picture of George Washington. He had slept through a revolution. By contrast, said Terry, "people today are sleeping through a counter-revolution. We have come down from that mountaintop only to find a picture of Donald Trump."
"People are still poor, people are still fighting for wages and proper housing and equality," said Wanda Brown, President of UNITE HERE Local 23. "I'm going to IAM2018 because I want to remember what happened back then. We don't want the past to happen again, but it seems like we're on that path."
The consensus that labor and faith leaders have come to is that matters of civil rights and labor are inextricably entwined. "King warned that automation," – the replacement of workers by machines – "and capitalism would hit black people especially hard," said Brandon Terry. "Racism is deeply entangled with irrational fears people have of losing economic and social standing. The failures of reciprocity and fairness are hallmarks of a society that is structurally unjust. For King, stripping racism of its rationalizations was crucial to effecting change, but that change depends upon our ability to act. The answer is not apathy and alienation, but social movements, which must include the disadvantaged. Racism threatens solidarity, and when threats are existential, apathy is an avenue toward self-destruction."
"Events like this one absolutely strengthen the important relationship between civil rights and labor," said Jed Matalon, Vice President of AFSCME Local 1407, representing accountants, statisticians, and actuaries employed by the city of New York. "We're all about helping people gain their human rights. We and civil rights activists have been working hand in hand and will continue to do so, because we both have the same aim of helping working people be treated equally and fairly." As to whether any aspect of King's dream is being achieved today, he added, "There's certainly more equality. Look, we had Barack Obama as president. That could never have happened in the 60s. So things have gotten a little bit better, but we still have a very, very long way to go."
The issue of social and economic inequality is compounded by a lack of knowledge about labor and civil rights history. Chester Dunham, President of the A. Philip Randolph Institute, a constituency group of the AFL-CIO, and host of radio show The Dunham Report, agreed that lack of education is part of the issue. He told People's World, "Even, for example, a 'right to work' state – most people don't understand what it means. It's for corporations and big business, and to shut the doors in the face of unions. So now what we have to do is inform people and get them involved more in fighting what's happening, because the average person doesn't understand the important part the union plays. If we can educate the general public on the part that labor plays, it can really help, but there's a lot of work to be done."
"People are definitely uneducated," noted Jed Matalon. "Some people don't care, they just don't want to know. But now with social media and the Internet, there are tremendous forums to provide more education about the labor movement and the civil rights movement. But we really have to start in the public school system. We have to start in elementary school and take it from there." Even today, he said, can make people walk away with new knowledge. "I know that Dr. King's legacy will be improved and people will have a better understanding. What I would hope is that every individual at this event should take his message back to their organizations and better educate their members, so that we can be better and more informed citizens and achieve an equal society."
As the first panel drew to a close, Tommie Shelby, Professor of African and African American Studies and of Philosophy at Harvard, outlined why having an understanding of labor and unions is so important. If people do not stay informed and act upon what they learn, this leaves a void that capitalism will fill. "The driving ethos of capitalism is an indifference to the suffering of others," he remarked. "King makes it clear that labor organizations are an effective means to combat this by demanding fair wages for workers, but they wield limited power because unionization rates are low.
"Martin Luther King's dream is as distant today as it was 50 years ago. The question, then, is whether it will still be that far away in another 50 years. That all depends upon what we do now."
Video: MASON TEMPLE: CHURCH OF GOD IN CHRIST, Memphis #IAM2018